Payment
Paying with a credit or debit card for nootropics has always been difficult as such products are considered 'high-risk'. Indeed some of the items we sell can be viewed as strong medication in certain countries. Thus Visa and MasterCard have certain limitations on the marketing of such goods using their services. In turn, only a fraction of payment processors work with companies like ours. This is the reason why we offer several payment methods in our store.
Cryptopayments
This guide will show you the crypto payment process from start to finish.
We run our own instance of BTCPay Crypto Processing server, allowing us to avoid paying service fees to third parties. Thus we can keep our prices lower. It also means that we do not have to pass your info (email, name, order total) to other companies.
Before you start
Before you start, you need to get a crypto wallet and acquire some cryptocurrency. If you already have both, you are good to skip to the next section of the guide. —> Payment process.
Even if you never used crypto before, the whole process of setting up your wallet and getting the funds will take 1-2 hours at most.
Setting up a wallet
Basically you can set it up in two ways.
This type of wallet is similar to a bank account. You own the funds, but they are actually stored by the bank. Getting such wallet would usually mean registering with some service provider like https://localbitcoins.com/, Binance or some others. We highly recommend to refrain from using Coinbase platform as it is known to block users' accounts for transactions.
The nice feature of such wallets is that they usually have fast and direct access to crypto exchanges and offer the ability to buy crypto with your credit card. We will need this at the next step.
On the flip side, if something happens to the platform(i.e. it gets hacked), you are risking your funds. These platforms can also impose certain limitations on your wallet, like lock-up period, fees and commissions for transferring crypto. Some of them may have some weird 'security' measures, like being able to transfer crypto only after the receiving wallet has been in your address book for 24 hours.
For the purpose of just paying for your order and not storing crypto, such a wallet should be okay, but, if possible, we recommend using non-custodial wallets.
This type is more like a physical wallet in your pocket or a safe deposit box. You are the sole owner of your funds and only you can access them. To get one you won't need to register with any service. In most cases it is just a matter of installing software (Electrum for Windows, Exodus for iOS and Mac devices, Metamask for Ethereum, and other) and setting up your new wallet. Your only risk here is forgetting your password or losing access to your device. In this case you usually can use your recovery phrase to restore your wallet on a new device. This option is much safer and it's perfect for long-term storage of your crypto. You are also spared from lengthy KYC procedures, withdrawal limits and fixed high fees. Another nice perk of such wallets is that you can set your own transfer fees to either save some money or make your transaction faster.
For the purpose of paying for your order on CosmicNootropic both options are fine. In case of custodial wallets, just be sure to verify legitimacy of the company you are opening your wallet with. And, we, personally, use non-custodial wallets for payments for the reasons described above.
Getting the Crypto
Now we need to get the crypto into your wallet. You can easily do it with your credit or debit card through one of the crypto exchanges. The whole process takes about 10-25 minutes and varies a bit from exchange to exchange.
Here are some common steps you will need to take:
Visit the exchange of your choice and create an account
Complete the KYC procedures by verifying your account with the ID
Select the cryptocurrency and the amount you want to purchase
Enter your Bitcoin address for your wallet or use one provided by the exchange
Pay for the purchase with the card as you do when shopping online
As of right now, these are top exchanges that allow you to buy bitcoin (or other cryptocurrency) with your card:
99Bitcoins offer a description of a payment process for each of these in their article.
Payment process
Now, when you are all set up, you are ready to pay for your order at CosmicNootropic. Let's go through the process of paying:
Navigate to the checkout and select either 'Automated Cryptocurrency Payment' option with the BTCPAY icon or 'Ethereum' option.

'Automated Cryptocurrency Payment' allows you to pay with Bitcoin or any crypto. We will mainly cover this option in the next steps as it requires some additional actions from you.
'Etherium' option, as the name suggests, allows you to pay only with Ethereum. You will be simply provided our wallet address where you will need to transfer the funds and the total in ETH.

Make sure that your order and shipping info is correct and click the 'Place an order' button. Your order will be registered in our system with a 10% discount applied.
You will be redirected to the payment page and should see something like this: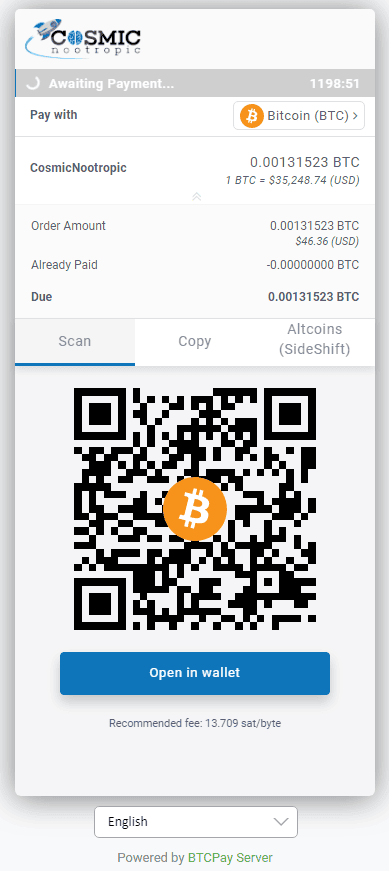 At the top the remaining invoice life in minutes is displayed. After 20 hours the invoice and your order will be canceled.
You can choose which cryptocurrency you want to pay with by selecting it in the 'Pay with' section. Our processing natively supports BTC, DASH, DOGE and LTC. For others you can use SideShift conversion service that we will cover a bit later.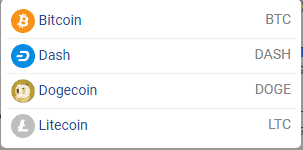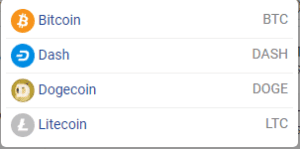 Next, your invoice displays how much cryptocurrency you need to pay and the exchange rate that has been used for conversion from the USD. We use the exchange rate from the CoinGecko service.
Already Paid and Due sections will display the amount that we have received and the amount that still needs to be transfered.
The QR-code below can be used by your wallet app to get all the info about the transaction to the app at instant. Scanning the QR-code will open a transfer with the amount and our wallet address already filled in. You just need to confirm the transaction. 'Open in wallet' button works exactly the same. This will only work if you are using an app on your phone or computer. See below, if you are using a web wallet or want to paste our wallet address manually.
Recommended fee below is a fee that you can set in your wallet app. Provided amount will ensure that we will receive the transaction within the invoice lifetime. In theory, you can set it even lower, but the transaction will be slow.
If you navigate to the 'Copy' tab, you can manually copy the amount and the address to make a transaction.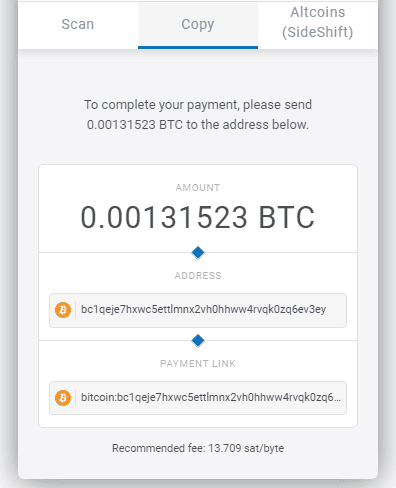 !IMPORTANT!: We generate a new wallet address for each invoice. If you are paying for multiple orders, make sure that you are transferring funds to the wallet address provided with the invoice.
After getting all this info, navigate to your crypto app or the wallet webpage and initiate a transaction with the provided wallet address and total. The transfer process may be a bit different for each wallet. If you are not sure how to do it, check out the help file or the help webpage.
As soon as the full amount arrives to our wallet, you will see a green checkmark on your invoice and an option to navigate back to the store. Congratulations! Your order is paid!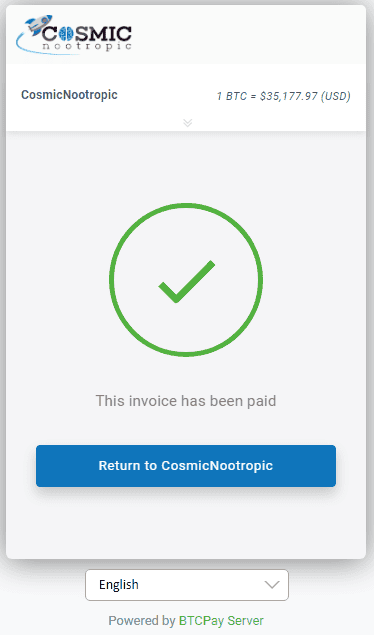 As you can see, the payment process is rather straightforward and is not much harder than paying with your credit or debit card. After paying this way once, you will do the next one in a couple of minutes.
Altcoins and SideShift
The steps described above cover only the natively supported cryptocurrencies. But what if you have some other crypto like, let's say, ADA, SOL, XRP, or SHIB? You can either convert them yourself via some exchange and transfer the supported coin. Or you can use the SideShift Conversion service that is integrated into our payment processing.
It is a no sign-up crypto exchange with relatively low fees, which allows fast exchange of 30+ cryptocurrencies. You can learn more about it in their very detailed help files.
Now let's see how it is done.
On the invoice page, select Altcoins (SideShift) tab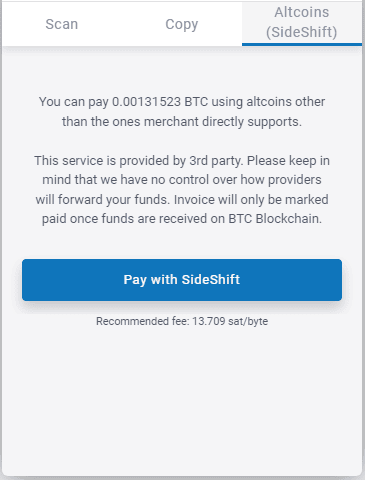 Upon clicking Pay with SideShift, a pop-up will open
Select the cryptocurrency you want to convert by clicking the 'You Send' image
The pop-up will display with exchange rate and how much you will pay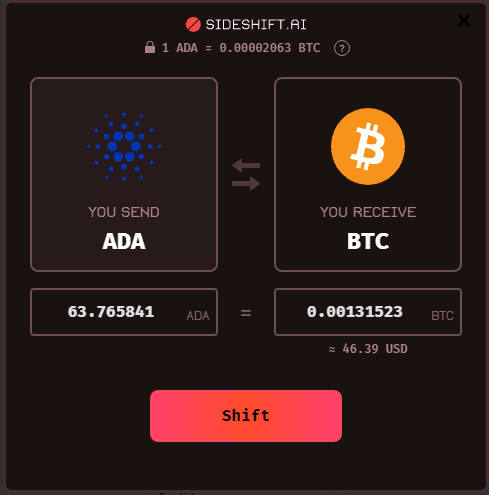 Click 'Shift'. New pop-up will appear with all needed information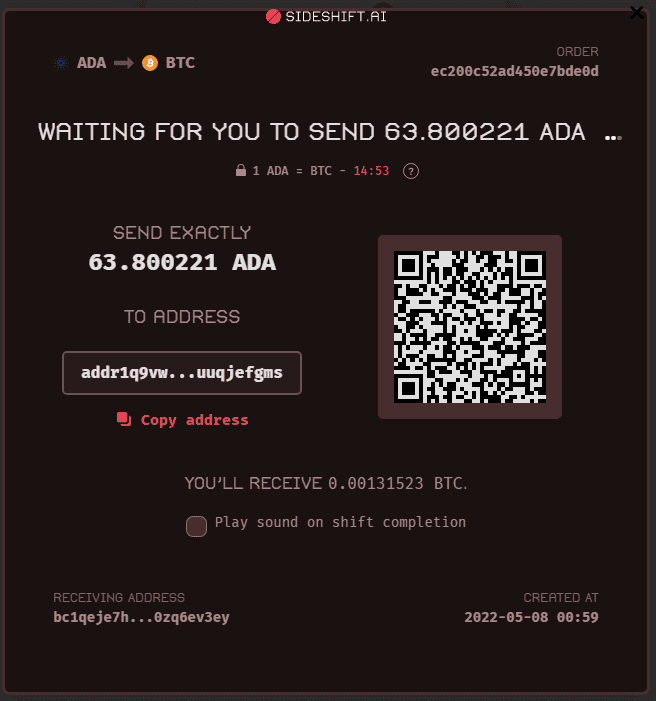 As with the regular transfer, you get wallet address, amount to transfer and the QR-Code containing this information.
By making a transfer to the given address you transfer money to SideShift and they, in turn, will transfer BTC to our account (which we already provided to them). You've paid for your order!
Additional Remarks
Here are some additional notes on the payment process:
Always validate the address you are sending funds to. Each invoice has its own wallet address assigned to it. If you will use some other wallet address, for example from your previous order, your order will not be automatically marked as paid. We will need to search for your transaction manually.
Same goes for the transfer amount in cryptocurrency. While our payment gateway accounts for some small deviation from the Order Amount given to you, if you overpay or underpay significantly we will have to search for your transaction manually after you have contacted us about the issue.
Use only reputable crypto exchanges. Unfortunately, scams are still present in the crypto world. And, due to the nature of cryptocurrency it is almost impossible to return funds that you lost due to scam.
If possible, stick to the cryptos natively supported by us. This will make life easier for you when paying as there will be no middleman between you and us. Our gateway currently supports BTC, LTC, DASH, DOGE.
Invoices have limited lifespan due to cryptocurrency prices fluctuating. Sure, it will be great to have infinite invoices, but, as prices fluctuate, we have to recalculate the exchange rate from time to time, thus canceling the invoice and the order.
When using SideShift write down your order ID. It is displayed in the upper-right corner of the SideShift pop-up. It may be helpful if there are issues with the transfer. For direct transfer to us, you don't need it.
HowToPay (Credit Card and ACH payments)
You can now pay for your order with a card! We currently accept payments via HowToPay processing provided by Confidia AG. It allows us to accept credit and debit cards from all over the world, as well as some other region-specific means of payment, such as ACH for the US or Bank Transfers in the EU. Here is a quick and easy guide on How To Pay With a Card:
To pay with this option, just select 'Credit Card Payment (HowToPay)' when checking out and placing an order.
In the next page you will see a payment link for your order. 
By following this link you will reach the HowToPay processing page. First local payment options will be displayed, followed by the Credit Card Payment option.
Follow the instructions on this page to complete the payment.
Be advised, that if you want to use the Credit Card payment option, you will need to complete the 'Know Your Customer' (or KYC) procedure before doing so. It is a one time process that will simplify further payments for you. You will have to confirm your identity. This requirement is mainly due to the aforementioned 'high-risk' nature of the products we sell. You can find more info on the procedure here. Additionally, for some forms of payments your total may be displayed in THB (Thai Baht), since the receiving bank is located in Thailand.
We understand that not everyone may be comfortable with the KYC procedure. But unfortunately, we don't have any way around it in this case. HowToPay assured us that the process is completely safe for the clients. You only have to do it once and then you should be able to pay straight away for your future orders.
After the KYC is completed, you will be redirected to the standard credit card payment page. Please be advised, that the order total may be displayed in a different currency (mainly Thai Baht). This is because the payment will be processed by the Thai branch of HowToPay.
After the payment is completed, your order will be marked as paid automatically. For Credit Card payments it will happen instantly and for Zelle payments it may take a couple of days.
Manual Transfer
We offer several non-bitcoin methods of transfer that you may find suitable. The availability of the services varies depending on your location, so please consult us if you want to know what non-bitcoin payment options are available for your country.
Use your card with any of the ones below:
Revolut to account. It allows you to make a transfer directly to our account from the phone app, this option is fast and simple.
WISE is a 'person-to-account' (or 'account-to-account') service. Through it, you can pay with VISA, MasterCard, and bank transfer. The whole process takes around 10-15 minutes. Same goes for the Opal Transfer transfer service.
Please note that it may take up to several days for the money transfer services to get the payment delivered to the recipient. Banks usually do NOT work during weekends and holidays.
Cosmic Credits
If you already have an experience with us, don't hesitate to tell about Cosmic to your friends. And, if you use your referral code, you will get Cosmic Credits that you can spend on your next order. To do that:
Navigate to your Account page
Copy your referral link and send it to your friend
After they pay for their first order you will be credited 20% of their total to your account (our service uses cookies, so they don't have to do everything in one go!)
1 Cosmic Credit = 1 USD that you can now use at the checkout.
At the checkout, just click 'Use Credits' button and your total will be reduced a number of credits you have!
You can pay for 100% of your order using this method!