We are currently working on replenishing our warehouse in the US as many products might be out of stock.
•
We are currently working on replenishing our warehouse in the US as many products might be out of stock.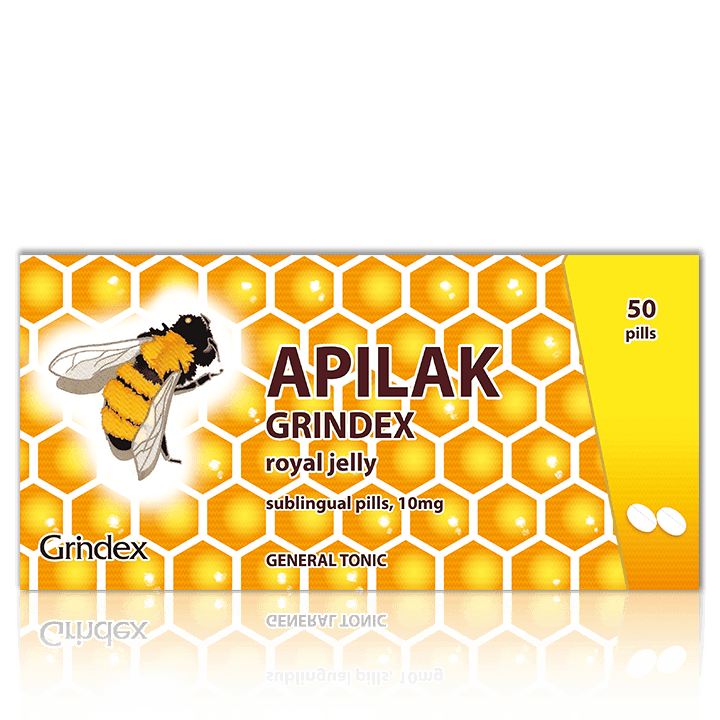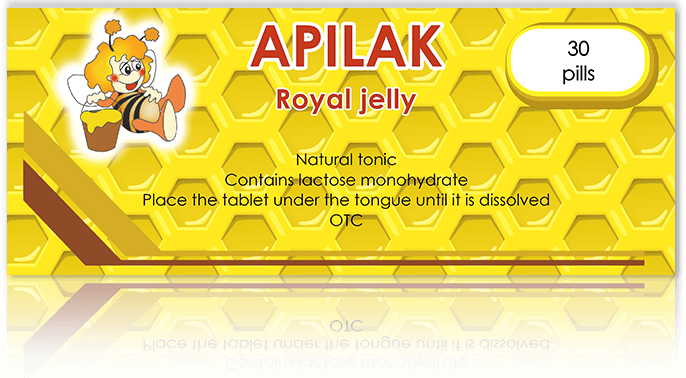 AUTHENTIC PRODUCTS
Only original pharmaceutical products that passed 3 stages of clinical trials.
GMP QUALITY
Our products are produced on GMP or state licensed factories.
10% CRYPTO DISCOUNT
10% discount for paying in BTC or other cryptocurrency.
PAYMENT BY CARD
Convenient Payment by Visa or MasterCard.
GUARANTEED DELIVERY
Guaranteed delivery times and clear Reshipment & Refund Rules.
PROMPT SHIPPING
Different shipping methods and same or next day shipping.
Buy Royal Jelly Apilak with fast delivery!
Apilak Grindex is a medicine based on royal jelly, a honey bee secretion from the glands in the hypopharynx of nurse bees. This is a mixture comprising a number of important vitamins (C, B1, B2, B5, B6, B8, B12, H, folate, and inositol), minerals (K, Na, Ca, Mg, Fe, and P), trace elements (Zn, Mn, Cu, Co, S, Si, Ni, Cr, As and Bi), 23 various amino acids, including the essential (such as histidine, valine, methionine, and tryptophan) and other components (cholinesterase enzyme, acetylcholine, etc.). This is a purely organic product.
The drug has tonic, antiviral and antitoxic effects. It improves the metabolism and function of the nervous and endocrine systems, helps fight fatigue, and stimulates the immune system.
Apilak also speeds up the restoration period after ARVI. It increases the body's nonspecific resistance towards various adverse factors of physical, chemical, or biological origin; improves performance and mood; stimulates blood flow and metabolic functions of body cells and tissues, as well as wound healing processes like granulation tissue formation and epithelialization.
The drug is compatible with many other medications and dietary supplements.
Royal Jelly (Apilak) is used for the following cases:
To activate the immune system in the recovery after illnesses;
To stimulate lactation and improve metabolism during pregnancy and breastfeeding period;
To treat neurotic disorders and hypotension. (as a complementary medication)
Manufactured by Grindex, Latvia. Read more about the producer in this blog post.
---
Legal Disclaimer
This product has not been approved by the US FDA. All statements on this page are for informational purposes only and have not been evaluated by the US FDA.
This product is not intended to diagnose, treat, cure, or prevent any disease. See more
Contents
Tablets for sublingual administration, 10 mg.
Active ingredient: lyophilized royal jelly 10 mg;
Inactive ingredients: lactose monohydrate 133.1 mg, talc 4.4 mg, calcium stearate 1.4 mg, potato starch 1.1 mg.
Dosage and administration
To be administered sublingually. Put a tablet under your tongue. Let it dissolve and be absorbed.
Royal Jelly's daily dosage is 1 tablet 3 times a day. Recommended length of the treatment course is 10–15 days.
Contraindications
Hypersensitivity to the components of the drug and bee secretion;
Addison's disease;
Children under 18 y. o.
Side effects
Allergic response and sleep disorders. In the case of an allergic response, discontinue administration. In the case of sleep disorders, it is recommended to reduce the dosage or discontinue administration.
Should any side effects occur, consult a doctor.
Drug interaction
No significant drug interaction was registered.
Overdose
No cases of overdose were registered.
Storage conditions
Store at a dark place at a temperature not higher than 25°C (77°F).
Shelf life is 2 years.
Manufacturer
Grindeks JSC, Latvia.
Thank you!
You will now receive regular updates from us!