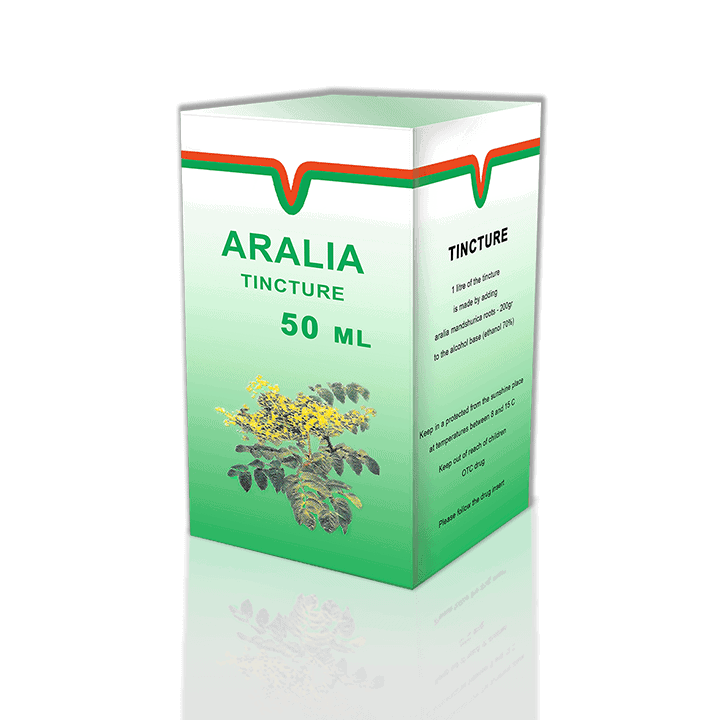 Buy Aralia tincture with the fastest delivery!
Aralia is a well-known gentle adaptogenic tonic herb popular for its wide range of pharmacological properties.
Aralia tincture contains a variety of beneficial oils and acids, vitamins B1, B2. Aralia stimulates the central nervous system (in activity exceeds the tincture of ginseng), has a tonic, hypertensive and hypoglycemic effect. Improves appetite, sleep, weakens the feeling of tiredness, strengthens the nervous system.
It is used to treat physical and mental fatigue, asthenic syndrome, arterial hypotension, decreased sex drive, mental breakdown, depression, enuresis, radiation sickness, and metabolic disorders.


The positive effects of neuropeptides were discovered in the late 1960s when D. de Vid – who coined the term neuropeptide – conducted a number of trials on white rats and found that fragments of adrenocorticotropic hormones facilitate learning abilities.
You can buy Aralia as an additional treatment when recovering from brain injury, contusion, meningitis, postinfectious arachnoiditis, and colds (in the complex therapy).
Aralia tincture is said to:
Activate the redox processes in tissues;
Promote glucocorticoid function of the adrenal glands;
Increase the phagocytic activity of leukocytes;
Increase the body's resistance to harmful external factors.
Produced in Russia.
---
To be used as a dietary supplement. 
Dosage and administration
The recommended dosage for Aralia tincture is 30–40 drops dissolved in clean water, orally, after a meal twice a day (in the morning and then in the middle of the day). The duration of the standard treatment course is 15–30 days. A second course can be conducted if prescribed.
Contraindications
Arterial hypertension, hypersensitivity, epilepsy, convulsive state, sleep disturbance, acute infectious or virus diseases, and chronic liver diseases. Aralia is not recommended for children below 12 years, pregnant and lactating women.
Side effects
Rarely: Sleep disturbance, hypertension, tachycardia, allergic reactions, euphoria, anxiety, and diarrhea.
Drug interaction
Aralia potentiates the action of psychostimulants and analeptics (including caffeine, camphor, and phenamine). The drug antagonizes with CNS depressants (including barbiturates, tranquilizers, and anticonvulsants) and hypnotics.
Special instructions
Not recommended to take Aralia tincture in the evening hours in order to avoid sleep disturbances. To achieve the best results use in autumn and winter. Important: tincture contains alcohol.
Country of manufacture
Russia.
---
To be used as a dietary supplement. 
Related products
Thymalin® is a polypeptide medicine containing an extract of young horned cattle thymus. Thymalin is a natural physiological immunostimulant. The medication is said regulate the T- and B-cell ratio. It can be used in case of immunosuppression of any origin and is compatible with antiviral medications. Fast US domestic shipping is available.
Ginseng (or Panax) is one of the most popular and widely-researched herbal remedies in the world. Ginseng contains 100 biologically active substances; vitamins E, A, F, B; nicotinic and folic, pantothenic acid; and other beneficial elements. It is believed to be a natural cure-all. The short list of Ginseng indications includes: physical and mental fatigue, arterial hypotension, asthenic syndrome, sexual dysfunction, neurocirculatory dystonia and long recovery after a number of diseases (incl. infections).
Dihydroquercetin® is a natural bioflavonoid. It is obtained from processed raw materials (Siberian larch bark). Dihydroquercetin has high bioefficiency and powerful antioxidant properties. Dihydroquercetin is included in many dietary supplements prescribed for the prevention of cardiovascular diseases (atherosclerosis, stroke, hypertension, coronary heart disease and heart failure); diabetes mellitus and cerebrovascular dysfunction.