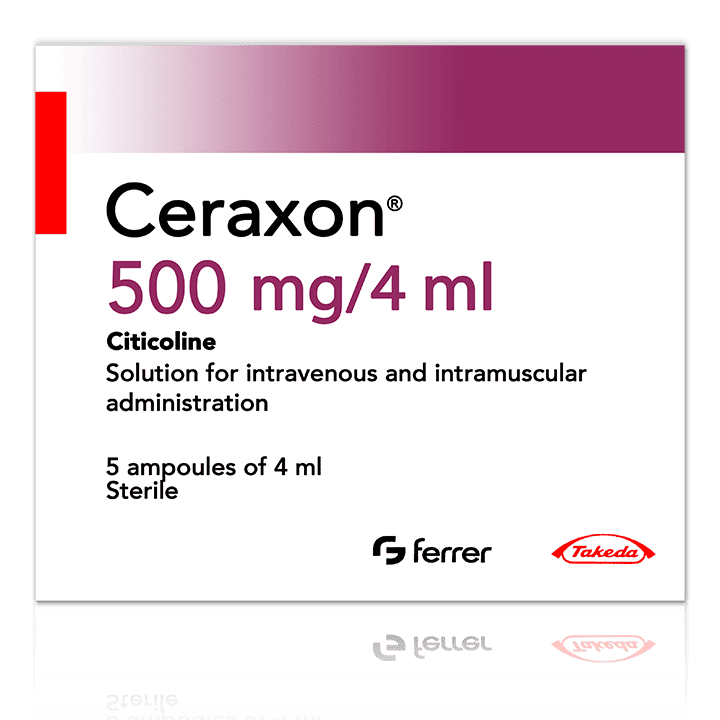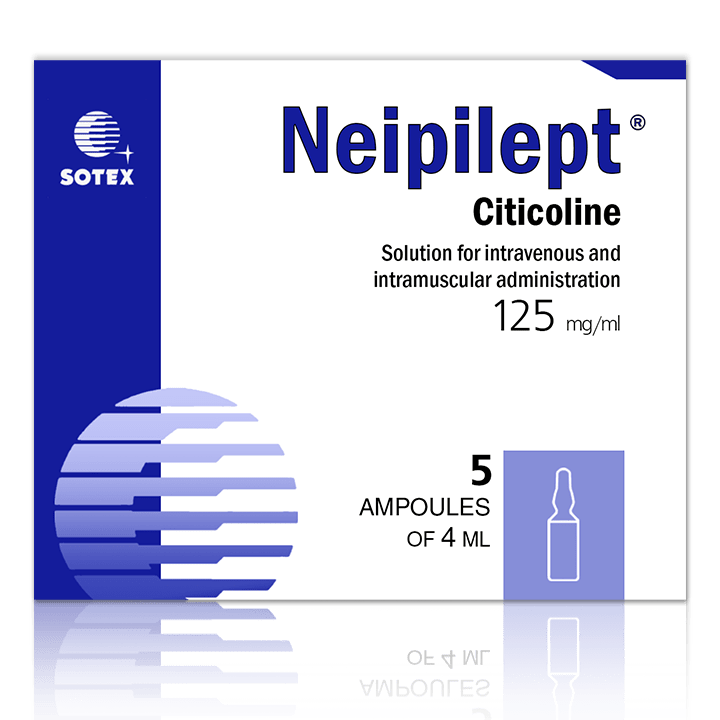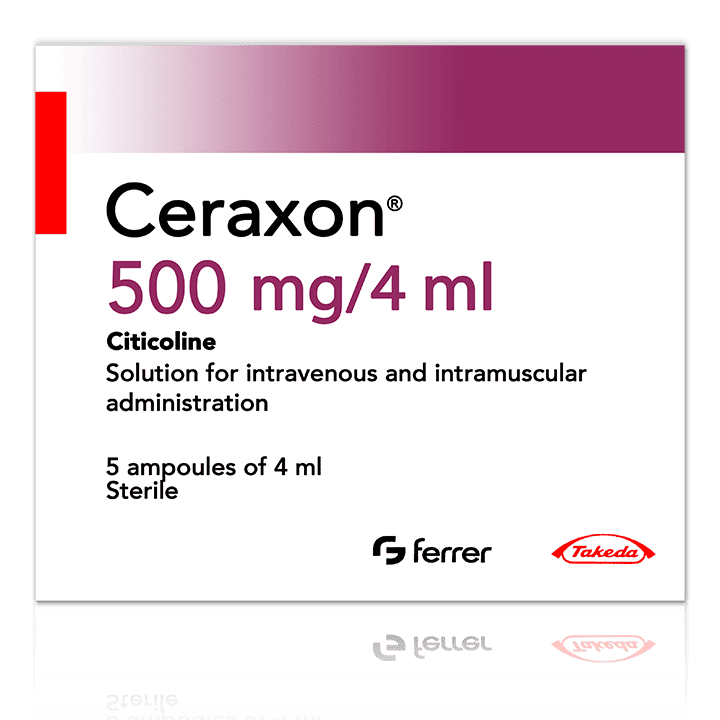 AUTHENTIC PRODUCTS
Only original pharmaceutical products that passed 3 stages of clinical trials.
GMP QUALITY
Our products are produced on GMP or state licensed factories.
10% CRYPTO DISCOUNT
10% discount for paying in BTC or other cryptocurrency.
PAYMENT BY CARD
Convenient Payment by Visa or MasterCard.
GUARANTEED DELIVERY
Guaranteed delivery times and clear Reshipment & Refund Rules.
PROMPT SHIPPING
Different shipping methods and same or next day shipping.
Buy CDP-Choline (Ceraxon ®, Recognan ®) Online!
CDP-Choline (under brand names Ceraxon ®, Neipilept ®, and Recognan ®) is one of the most efficient supplements of choline to maintain brain health. It has a cognitive-enhancing effect and is used to treat patients with choline deficiency, and cognitive and cerebrovascular disorders.
Purchase CDP-Choline with fast US delivery 📦 Save with the volume discount 📦
---
| | |
| --- | --- |
| Synonyms | Cognizin / Citicoline / Neipilept / NeurAxon / Somazina / Synapsine |
| Form: | 5 vials of 4ml / 10 sachets of 10ml |
| Form description: | Transparent colorless liquid / Transparent colorless liquid with a strawberry smell. |
| Active ingredient: | Citicoline sodium |
| Excipients for vials: | Hydrochloric acid 1М or sodium hydroxide 1М to рН 6.5–7.1, water for injections to 4 ml. |
| Excipients for sachets: | Sorbitol, glycerol, methylparahydroxybenzoate, propylparahydroxybenzoate, dihydrate of sodium citrate, sodium saccharinate, strawberry flavor (strawberry essence 1487-SLucta), potassium sorbate, citric acid, purified water. |
| СAS Number: | 987-78-0 |
| ATC code: | N06BX06 |
| Pharmacological action: | Nootropic |
| Shelf life: | 3 years. Do not use it beyond the expiration date printed on the package. |
| Storage conditions: | Store in a dry dark place at temperatures no higher than 30°C (86°F). Keep out of reach of children. |
| Terms of release: | Over-the-counter |
| Manufacturer: | Takeda Pharmaceutical / Ferrer Internacional, Spain |
---
What is CDP-Choline?
Ceraxon and Recognan are pharmaceutical preparations of CDP-Choline (Citicoline), a choline-containing phospholipid. It is clinically proven to be one of the most efficient supplemental forms of choline along with Alpha-GPC (Cereton). Choline is a nutrient crucial for cognitive performance and brain health, which is normally obtained from the diet.
It was first discovered in 1862, but its role in neurology remained unknown for some time. Since 1998, choline was recognized as an essential nutrient by the Institute of Medicine, as the human body cannot synthesize it on its own.
As people tend to avoid cholesterol-rich food which is also usually rich in choline, most of the population is believed to be choline-deficient and may benefit from taking choline as a dietary supplement. The deficiency of choline may lead to fatty liver disease, atherosclerosis, and various neurological disorders.
The use of some drugs such as Piracetam and Noopept might also require an additional choline supplementation.
What is the Mechanism of Action of CDP-Choline (Citicoline)?
CDP-choline (Citicoline) works by increasing the synthesis of phosphatidylcholine (the primary component of neuronal cell membranes) and acetylcholine – a major neurotransmitter involved in cognitive functioning.
Being a precursor of the key ultrastructural components of the cell membrane, citicoline has a wide spectrum of action:
It helps to repair damaged cell membranes;
It inhibits the effect of phospholipases;
It prevents excessive formation of free radicals and cell death by affecting the mechanisms of apoptosis;
In the acute period of a stroke, citicoline reduces the amount of damage to the brain tissue and improves cholinergic transmission;
In patients with craniocerebral injuries, it reduces the duration of post-traumatic coma and the severity of neurologic symptoms and decreases the recovery period.
What are the Benefits and Effects of CDP-Choline (Citicoline)?
CDP-Choline promotes choline levels and treat choline deficiency;
CDP-Choline supports memory, it may help improve memory formation and retention;
CDP-Choline helps to maintain brain function and can boost cognitive performance even in healthy people;
CDP-Choline improves focus and attention;
CDP-Choline is part of the metabolism of the neurotransmitter dopamine and can improve mood;
CDP-Choline can promote the repair of injured brain tissue.
What is CDP-Choline Used For?
CDP-Choline (Citicoline) is used in the medical practice of many countries around the world including Japan, Russia, France, and Switzerland. Indications for use include stroke, traumatic brain injuries, recovery periods, and dementias. Citicoline (CDP-Choline) is said to be effective in the treatment of motor neurological disorders of degenerative and vascular etiology.
Ceraxon and Recognan can be used as cognitive-enhancing supplements. CDP-choline (Citicoline) supports brain function and improves memory and mental performance. In comparison to cheaper choline-containing supplements such as Lecithin and Choline salts, CDP-Choline is believed to have a more pronounced nootropic value. It has a noticeable cholinergic effect and more impact on monoaminergic neurotransmission.
In chronic cerebral hypoxia, CDP-choline (Citicoline) can be effective in treating memory impairment and other cognitive disorders. It can increase the level of attention and consciousness, support memory, reduce the manifestation of amnesia, and improve life quality.
Where Can I Order Citicoline (CDP-Choline) Online?
You can purchase Citicoline (CDP-Choline) online at different vendors. CosmicNootropic offers CDP-Choline in packs of 5x4ml vials and 10x10ml sachets. We offer fast US delivery and worldwide shipping with volume discounts! Always be sure to do your research before purchasing any nootropic supplement to ensure you are getting a quality product.
You can order CDP-Choline and get it delivered to the USA, Europe, the UK, Asia, and many other regions and countries via CosmicNootropic.
---
Legal Disclaimer
This product has not been approved by the US FDA. All statements on this page are for informational purposes only and have not been evaluated by the US FDA.
This product is not intended to diagnose, treat, cure, or prevent any disease. See more
What is CDP-Choline Dosage and Administration?
Vials
Ceraxon is administered intravenously or intramuscularly. It is prescribed as a slow intravenous injection (during 3–5 minutes depending on the dosage) or a drip infusion (40–60 drips per minute). Intravenous administration is preferable. In the case of an intramuscular administration, avoid a repeated injection in the same spot. In the acute period of an ischemic stroke and craniocerebral injury, the recommended dose is 1000 mg every 12 hours starting from the first day of diagnosis. The course duration is at least 6 weeks. After 3–5 days of the treatment, switching to Ceraxon sachets for oral administration is possible if the swallowing function is not impaired. During the recovery period after ischemic and hemorrhagic strokes or a craniocerebral injury, and in case of cognitive and behavioral disorders in degenerative and cerebrovascular diseases of the brain, the recommended dose is 500–2000 mg per day (5–10 ml 1-2 times a day). The dosage and duration of treatment depend on the severity of symptoms. The dose for elderly patients is the same. One ampoule of the solution is for single use. It shall be used immediately after opening. The medicine is compatible with all types of intravenous isotonic and dextrose solutions.
Sachets
Ceraxon sachets are administered during or between meals. Before administering, you should dissolve the content of one sachet in a 1/2 cup of water. The dosage in the acute stage of ischemic stroke and traumatic brain injury is one sachet (1000 mg) every 12 hours. The length of the treatment course should be not less than 1.5 months. For rehabilitation after stroke/TBI and the treatment of cognitive disorders caused by degenerative and vascular diseases, the recommended dose is 500–2000 mg per day (5–10 ml 1-2 times a day, or one sachet 1-2 times a day). The length of the treatment depends on the patient's condition. The dose for elderly patients is the same.
What are the Side Effects of CDP-Choline?
The drug is generally well-tolerated, although some patients still may experience the following side effects:
Allergic reactions;
Vertigo;
Headaches;
Tremor;
Fever;
Nausea;
Changes in appetite;
Hallucinations;
Insomnia;
Parasympathetic stimulation;
Changes in arterial pressure.
Contraindications
Hypersensitivity;
Vagotonia;
Fructose intolerance.
Drug interactions
Citicoline may potentiate the effect of Levodopa. Ceraxon should not be administered in conjunction with meclofenoxate (centrophenoxine).
Related products
Nootrop® is a dietary supplement which has a positive effect on mental performance and helps fight psycho-emotional stress. Nootrop stabilizes cerebral and peripheral blood flow, reduces intracranial pressure and toxic effect of alcohol. The active ingredients include B vitamins, glycine, ginkgo biloba and gotu kola. Fast US domestic shipping is available.
Thank you!
You will now receive regular updates from us!