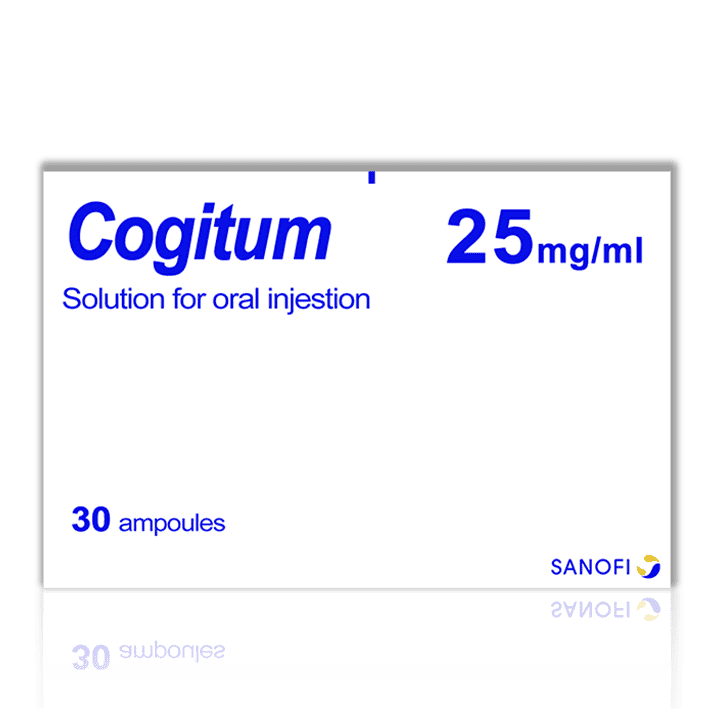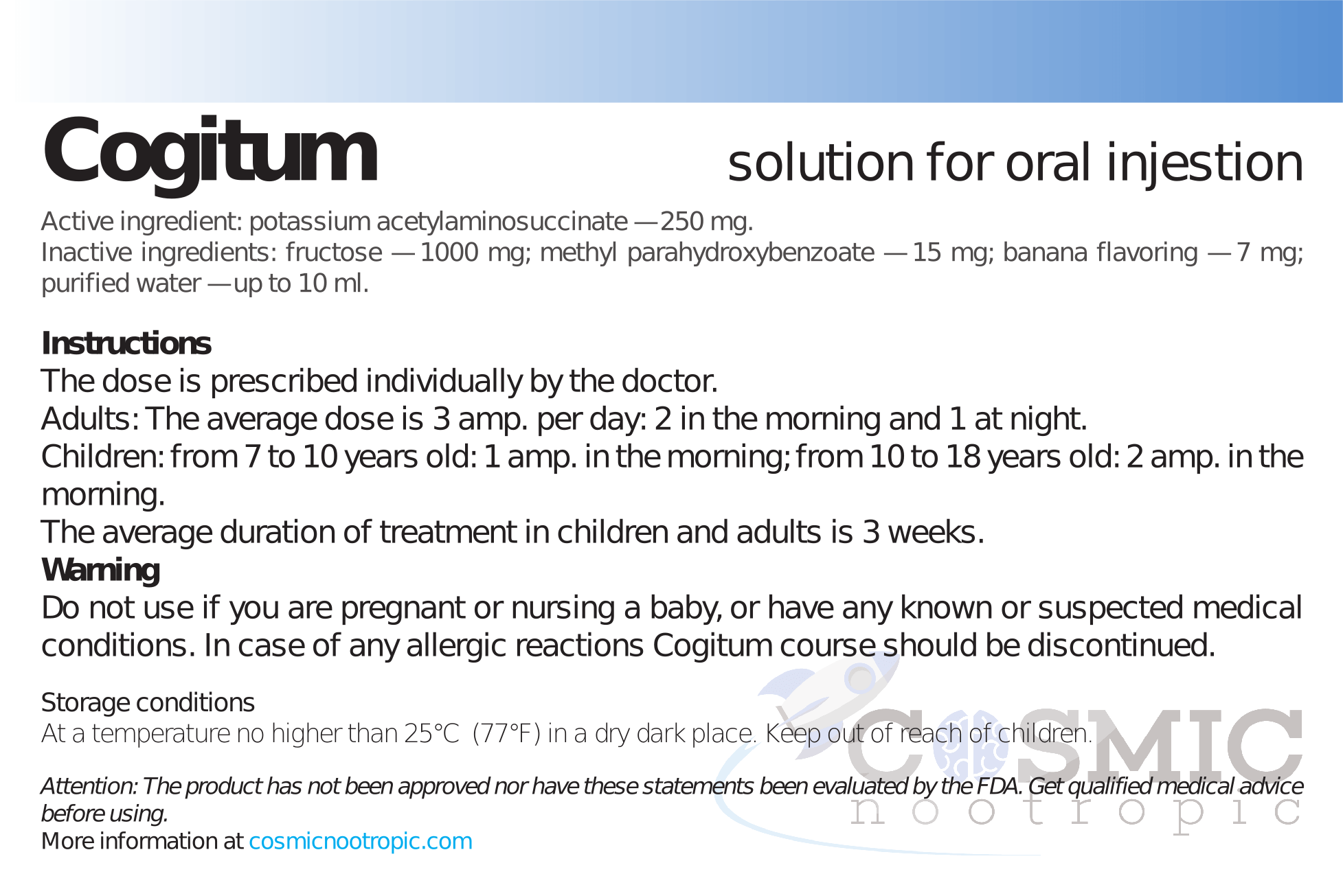 Buy Cogitum medication with 3–7 day fast domestic delivery within the US ($5) – just choose "Ships from: US (+15%)"
Cogitum is an adaptogen with tonic and stimulating properties. It has a 40-year-long track record of successful application.
Cogitum is widely used in pediatrics and child neurology for treating delayed development, asthenic syndrome and for increasing endurance and mental performance in children and adolescents during high loads. The drug is prescribed in children aged 7 years and older. It enhances memory due to D-Aspartic acid which is a well-known metabolite. Cogitum is well tolerated in children and has a significant effect. However, it does not provide for an immediate effect as the child's mental state improves gradually.
Cogitum is also a good option for adults in case of asthenia, heavy workload, recovery from different diseases, or the need for an increase in mental performance.
Pharmacodynamic properties
The drug is based on N-Acetylaspartic acid, which is a biologically active compound contained in the central nervous system (CNS). The drug stabilizes nervous regulation and has a stimulating effect.
Indications
As part of complex therapy of asthenic syndrome;
Fatigue with/without low mood;
As an adjuvant for antidepressants;
In pediatrics, Cogitum can be used as part of complex therapy of intellectual disability, birth defects of the central nervous system, delayed mental and speech development, delay in motor skills development, etc.
Produced by Sanofi, France.
---
Legal Disclaimer
This product has not been approved by the US FDA. All statements on this page are for informational purposes only and have not been evaluated by the US FDA.
This product is not intended to diagnose, treat, cure, or prevent any disease. See more
Contents
30 ampoules per pack, 10 ml.
Active ingredient: N-Acetylaspartic acid 250 mg;
Inactive ingredients: Fructose 1,000 mg, methylparaben 15 mg, banana flavoring 7 mg, purified water up to 10 ml.
Dosage and administration
Oral administration. The dosage is to be determined by the doctor.
The average dose for adults is 3 ampules per day: 2 in the morning and 1 before sleep. Dosage for children aged 7 to 10 is 1 ampule in the morning. Dosage for children aged 10 to 18 is 2 ampules in the morning.
Side effects
Allergic response.
Storage conditions
Keep out of the reach of children. Store in a dark place at a temperature not higher than 25°C.
Shelf life is 3 years.
Manufacturer
Sanofi, France.
Related products
Deltaran® is a powerful neuroprotector. It protects neurons from the destruction by toxic, infectious and other damaging agents, and also prevents the death of nerve cells because of stress. The use of Deltaran makes it possible to compensate for the deficiency of endogenous neuroprotectors (DSIP) in the body. It ensures healthy functioning of the central nervous system in extreme situations and accelerates the recovery from a large number of diseases.
Cytomaxes (Natural Peptides) is a group of peptides of less than 50 amino acids and with a molecular mass of less than 5 kDa, free from foreign DNA or protein substance, extracted from organs and tissues of young calves by a patented method of thorough filtering. 5 kDa is very little. The molecular mass of DNA fragments and proteinaceous infectious particles, the prions, are several times bigger than that. Therefore these peptide supplements are extremely clean products. They do not have any immunogenic or mutagenic properties.
Brand-name CDP-Choline supplements are available here from different manufacturers and in different forms: oral/liquid solutions and injections. This product can be usedВ for a number of different reasons including both clinical and off-label uses. We hope that our selection of various CDP-Choline supplements will meetВ your needs.