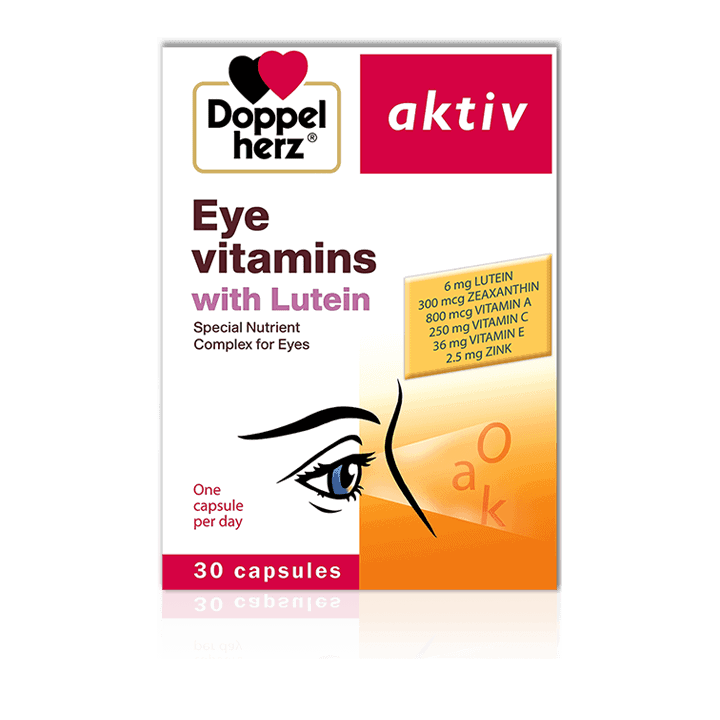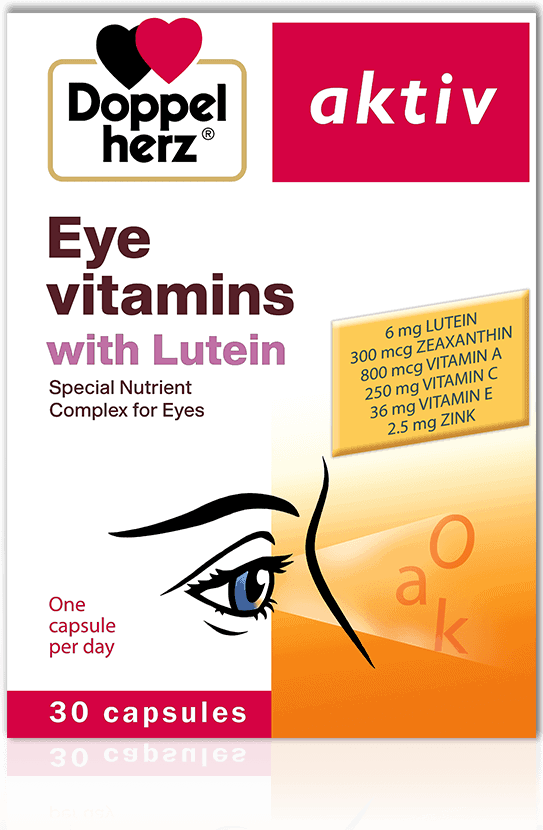 AUTHENTIC PRODUCTS
Only original pharmaceutical products that passed 3 stages of clinical trials.
GMP QUALITY
Our products are produced on GMP or state licensed factories.
10% CRYPTO DISCOUNT
10% discount for paying in BTC or other cryptocurrency.
PAYMENT BY CARD
Convenient Payment by Visa or MasterCard.
GUARANTEED DELIVERY
Guaranteed delivery times and clear Reshipment & Refund Rules.
PROMPT SHIPPING
Different shipping methods and same or next day shipping.
DOPPELHERZ ® Eye Vitamins
Buy DOPPELHERZ Eye Vitamins from Russia with the fastest delivery!
Our eyes are very sensitive sensory organs. They are challenged every day as globalization changes the world around us. It has defined a new framework of the modern professional and social world. Most of the day-to-day routine is done via personal computer and cell phone: work, communication, and entertainment. It is impossible to picture the life of a modern person without these electronic devices. Despite providing new possibilities they increasingly strain our health including our eyesight. To help your eyesight you can buy eye vitamins.
The light emitted by screens, the low contrast compared to printed text and small print make you strain your eyes, lean closer to the monitor, and blink less often. Just a few hours a day of working on the computer can lead to the development of computer vision syndrome, the main manifestations of which are asthenopia and dry eye syndrome. If you do not take protective measures and continue to overload the visual analyzer, functional changes may turn into organic ones.
Anti-inflammatory foods and foods rich in antioxidants, including dietary supplements for the eyes are effective preventive measure, which is recommended for people who have been diagnosed with refractive errors of the eyes (myopia/hyperopia) and other diseases, for example, diabetic retinopathy, glaucoma, cataracts, damage to the optic nerve and retina. These diseases can cause deterioration and partial or complete loss of vision. In addition, as we age, our eyes become even more vulnerable to damage caused by various diseases and bad habits.
Although a balanced diet can easily provide the body with the necessary amount of vitamins for the eyes, nutritional supplements are recommended for people who are prone to eye disorders or who have problems absorbing nutrients, in particular the elderly.
Doppelherz Aktiv is represented by multivitamin complexes aimed at maintaining the normal functioning of the organs of vision by eliminating the lack of nutrients. This is especially important for people living in big cities. If the body does not receive the required amount of nutrients from food, then it begins to use its own resources. The reserves of the body may quickly become depleted, which leads to a deficiency of vitamins and minerals. The lack of nutrients can only be diagnosed in a laboratory, though visually it is, first of all, manifested in appearance and vision. Buy eye vitamins from our store today!
Doppelherz Aktiv vitamins for vision, the use of which should be prescribed by the attending physician taking into account the patient's condition, are produced in capsules that are easy to intake (only 1 capsule per day). Every component of Doppelherz Aktiv preparations for vision is necessary for the normal vital activity of cells, which are based on metabolism and regeneration.
The damage to the eye tissue affects the clearness of vision and the eyes' sensitivity to external factors. Eye vitamins help maintain clear vision by strengthening the lens, cornea, retina, and macula.
Doppelherz Aktiv Eye Vitamins with Lutein
Lutein-based preparations are indicated for people with high visual stress and for everyone who cares about their eye health. Normally, a healthy person needs to consume about 5 mg of lutein per day. Unfortunately, it is not always possible to keep to a diet that would provide the body with all the required amount of this useful substance. Lutein, zeaxanthin, vitamins A, C, E, and zinc in "Doppelherz with Lutein" contribute to normalization and preservation of vision and reduce the risk of developing cataracts, retinal degeneration, and diabetic retinopathy.
Doppelherz Aktiv Eye Vitamins with Chrome, Zinc, and Selenium
The option contains vitamins, minerals, and plant extracts that have a positive effect on the organs of vision. A person should receive at least 1 mg of zeaxanthin, a pigment that is formed only from lutein. Typically, a regular diet contains 80% of this substance. The remaining 20% can be replenished with "Doppelherz Aktiv Eye Vitamins with Chrome, Zinc, and Selenium", which contains 10 mg of lutein and 1 mg of zeaxanthin, which fully meets the needs of the body.
Doppelherz Aktiv Eye Vitamins with Lutein and Blueberry
This option is recommended for those who suffer from computer-visual syndrome. The complex contains anthocyanosides. These are the strongest plant antioxidants in blueberries that protect blood vessels from free radicals, improve capillary blood flow in the retina, and strengthen blood vessels. And, what is very important, they accelerate the regeneration processes of rhodopsin, a light-sensitive retinal pigment that suffers from exposure to bright screens of gadgets and ultraviolet radiation. The second important component of this vitamin and mineral complex is lutein. It acts as a natural light filter and protects the retina from damage, which improves its sensitivity and even visual acuity.
Read this article for more info: Mares J. A. et al (2004). Doctor, What Vitamins Should I Take for My Eyes?
Produced by Queisser Pharma, Germany.
Contents
Eye Vitamins
with Lutein 
Eye Vitamins
with Lutein and Blueberries
Eye Vitamins
with Chrome, Zinc, and Selenium
Vitamin A
0.8 mg
0.4 mg
0.4 mg
Vitamin C
250 mg
–
80 mg
Vitamin E
36 mg
–
12 mg
Vitamin B1
–
–
3.3 mg
Lutein
6 mg
3 mg
10 mg
Zeaxanthin
0.3 mg
–
1 mg
Hesperidin
–
35 mg
–
Anthocyanins (blueberry extract)
–
19 mg
–
Folic acid
–
–
0.4 mg
Alpha lipoic acid
–
–
0.1 mg
Zinc
2.5 mg
3 mg
5 mg
Chrome
–
–
0.03 mg
Selenium
–
–
0.015 mg
Dosage and administration
Doppelherz Aktiv is taken daily, 1 capsule at meals with enough liquid. Do not exceed the stated recommended daily dosage.
Duration of the treatment: 1 month for Doppelherz with Lutein, Doppelherz with Chrome, Zinc, and Selenium; 2 months for Doppelherz with Lutein and Blueberry. After a break of 1 month, repeated admission is possible. It is recommended to consult a doctor prior to use.
Contraindications
Individual intolerance to the ingredients, pregnancy, and breastfeeding.
Side effects
In extremely rare cases, with individual intolerance to the components, an allergic reaction may occur including itching, burning, redness, and lacrimation.
Note
"Doppelherz with Lutein" and "Doppelherz with Chrome, Zinc, and Selenium" contain a sugar-alcohol sweetener (sorbite), which, if consumed excessively, can have a laxative action.
To the information of patients with diabetes mellitus: 1 capsule of "Doppelherz with Lutein" contains 2.6 kcal / 10.8 kJ and 0.01 bread units.
Storage conditions
The product should be stored out of the reach of children. Do not store it above 25°C (77°F).
Manufacturer
Queisser Pharma, Germany.
---
All products of the company Queisser Pharma GmbH & Co. KG are made on the basis of the latest advances in technology and comply with high international GMP quality standards.
In the case you have been diagnosed with cataracts or other eye diseases, Doppelherz Aktiv Eye Vitamins cannot be perceived as an effective product for mono-therapy. These vitamin complexes will not be able to help you deal with a serious illness on their own. Doppelherz Aktiv Eye Vitamins must be combined with other drugs.
Food supplements should not be used as a substitute for a varied diet.
Thank you!
You will now receive regular updates from us!