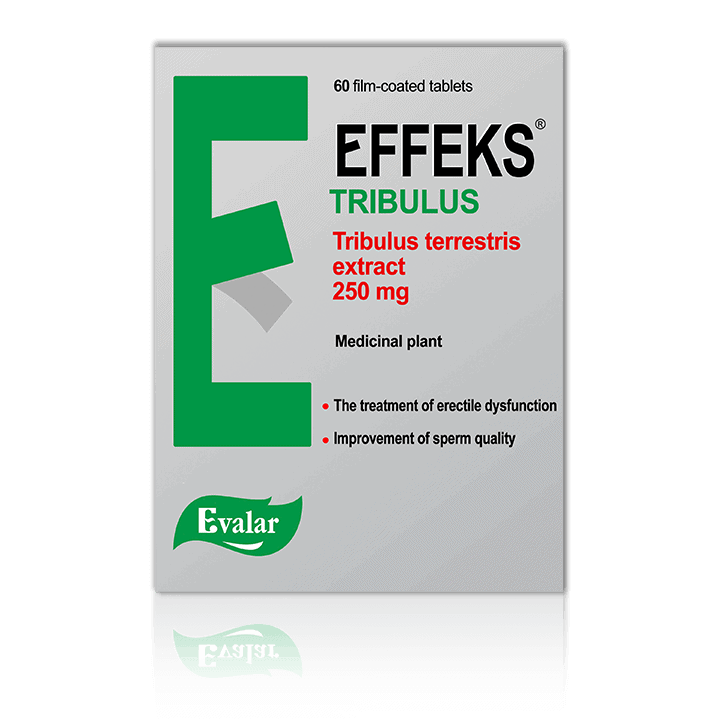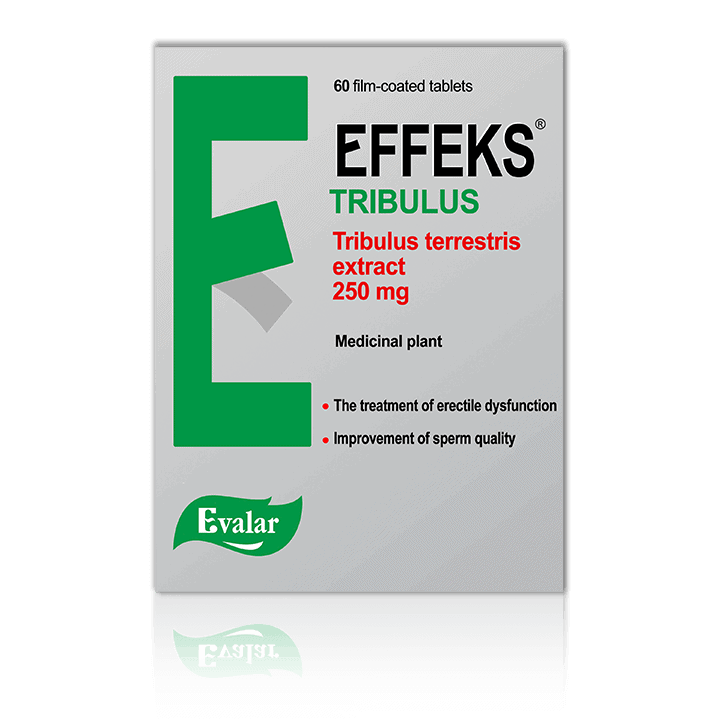 EFFEX ® TRIBULUS (Tribulus Terrestris Extract)
AUTHENTIC PRODUCTS
Only original pharmaceutical products that passed 3 stages of clinical trials.
GMP QUALITY
Our products are produced on GMP or state licensed factories.
10% CRYPTO DISCOUNT
10% discount for paying in BTC or other cryptocurrency.
PAYMENT BY CARD
Convenient Payment by Visa or MasterCard.
GUARANTEED DELIVERY
Guaranteed delivery times and clear Reshipment & Refund Rules.
PROMPT SHIPPING
Different shipping methods and same or next day shipping.
Effex Tribulus is a herbal drug based on Tribulus Terrestris (sometimes called goat head, bullhead, small caltrops, cat head, devil's eyelashes, or tackweed) stem and leaves extract containing steroid saponins. The drug has a tonic effect and it stimulates the reproductive system functions, improving sexual libido and prolonging erection in men. Tribulus Terrestris extract stimulates spermatogenesis, buy it to increase the number of spermatozoa and their mobility.
Tribulus Terrestris has been used in traditional medicine in China, India, Sudan, Pakistan, and other countries for centuries. In India, the plant is used in the form of decoction to treat urinary tract infections, urolithiasis, dysmenorrhea, and edema. Scientific research based on World Health Organization criteria (published in Cryobiology magazine, April 2017) showed that the protective effects of Tribulus Terrestris (which improves human sperm motility and viability) may be due to its antioxidant properties. On the basis of the results, the researchers concluded that the plant can be used as a safe therapeutic alternative to current modalities for the management of motility dysfunction in males.
The studies show that the plant's compound protodioscin is metabolized in the body to dehydroepiandrosterone (DHEA), which has a beneficial effect on the immune system, cell membrane integrity, erectile function, and cholesterol metabolism. Cholesterol is known to be essential for the synthesis of all steroids, including DHEA, testosterone, and estradiol, which explains the hypolipidemic effect of the drug. Other saponin components of the plant enhance the effect of protodioscin. The research showed the effect of a hydroalcoholic extract of Tribulus Terrestris on the serum glucose and lipid profile of women with diabetes mellitus.
Tribulus Terrestris extract is to be used as a part of complex therapy of:
Erectile dysfunction accompanied by decreased libido;
Male infertility due to reduction in the quantity and quality of spermatozoa in the secreted semen, varicocele surgery, or immunological infertility;
Dyslipidemia in order to lower cholesterol.
Produced by Evalar, Russia. Read more about the producer in this blog post.
Also, check Kasolin.
Contents
Coated tablets.
Active ingredient: Tribulus Terrestris dry extract (35÷45 : 1, ethyl alcohol extractant 70%) with furostanol saponins – 250 mg;
Inactive ingredients: Lactose 228 mg, potato starch 55.2 mg, microcrystalline cellulose 50.8 mg, povidone K17 39.1 mg, crospovidone 34.5 mg, talc 20.7 mg, fumed silica 6.9 mg, and calcium stearate 4.8 mg.
Dosage and administration
To be administered orally after meals.
Dosage for treatment of erectile dysfunction and infertility: 1-2 tablets 3 times a day. Recommended length of the treatment course is not less than 90 days. Treatment courses can be repeated upon a doctor's prescription.
Contraindications
Hypersensitivity to the components of the drug.
Benign prostatic hyperplasia.
Severe cardiovascular diseases.
Galactosemia, lactase deficiency, or glucose-galactose malabsorption.
Side effects
Allergic response, nausea. To be treated symptomatically.
Overdose
Not registered.
Drug interaction
The drug may enhance the effect of diuretics and the hypotensive effect of antihypertensive agents.
Storage conditions
Store at a temperature of 25°C. Keep out of the reach of children.
Manufacturer
Evalar, Russia.
Related products
Nanotropil® (previously known as Phenotropil) was part of the cosmonaut's kit in the USSR. It is a phenyl derivative of Piracetam which is reported to be more neuroprotective compared to the original compound. It was shown to possess psychostimulatory and various adaptogenic and neuromodulator properties. Fast US domestic shipping is available.
Mildronate® (also known as Meldonium) is a synthetic analog of gamma-butyrobetaine (GBB), a substance that exists in every cell of the human body. It is used to treat angina, myocardial failure and reduce alcohol withdrawal symptoms. Off-label use of Meldonuim in otherwise healthy individuals includes increasing exercise tolerance, learning, memory, and sexual function.
Buy Meldonium as a perfect alternative for the discontinued Ladasten (Bromantane)! Fast US domestic shipping is available.