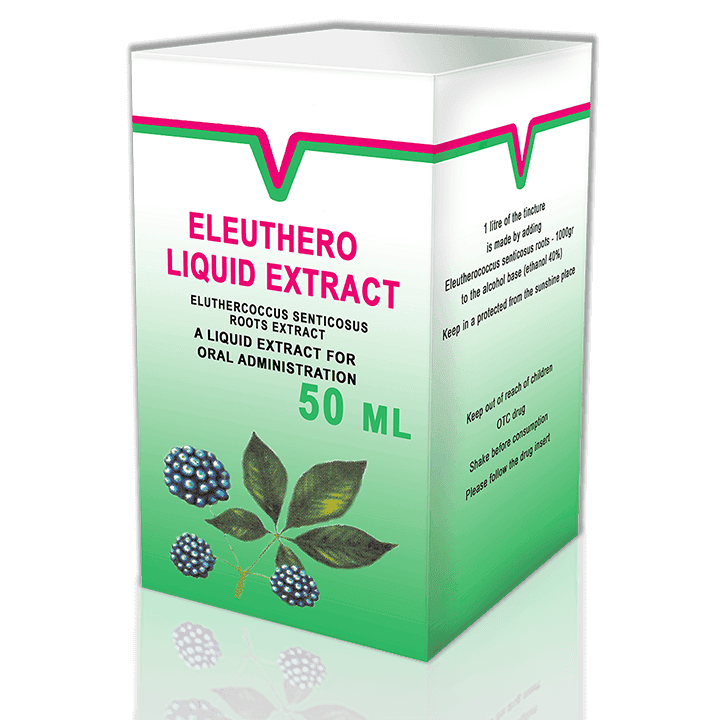 ELEUTHERO LIQUID EXTRACT (Siberian Ginseng)
Buy Eleuthero liquid extract (Siberian Ginseng) from Russia at the best price!
Eleuthero (also known as Siberian Ginseng) has been part of the herbal treatment in traditional medicine for thousands of years and continues to gain increasing popularity nowadays.
It is a very powerful adaptogen that can help not only to increase stamina but also to promote overall health.
There is an opinion that the Soviet Union planned to provide an advantage to their athletes by using Eleuthero extract, but decided to look for a cheaper solution.
Now Siberian Ginseng can be used by athletes to improve their stamina during training sessions, students to improve focus and memory, and anyone prone to colds.
The shortlist of indications for use includes:
Physical and mental fatigue;
Arterial hypotension;
Neurasthenia;
Asthenic disorders;
Nervous breakdown;
Protracted recovery from somatic and infectious diseases.
Produced in Russia.
---
To be used as a dietary supplement.
Dosage and administration
For adults, it is recommended to take 20–30 drops of Eleuthero liquid extract orally 2-3 times a day before a meal (avoid evening/night time). For children older than 12 years, the dosage is calculated according to the age (1 year – 1 drop). The duration of the standard treatment course is 25–30 days. If necessary, a second course can be conducted after a two-week break.
Side effects
Rarely: Sleep disturbance, tachycardia, headache, allergic reactions, and hypoglycemia.
Contraindications
Hypersensitivity, arterial hypertension, hyperexcitability, acute infectious disease, myocardial infarction, arrhythmias, sleep disturbance, cerebrovascular pathology, epilepsy, convulsive state, age below 12 years, pregnancy and lactation.
Drug interaction
Eleuthero liquid extract potentiates the action of stimulants and analeptics (caffeine, camphor, phenamine, etc.). The supplement antagonizes with CNS depressants (incl. barbiturates, tranquilizers, anticonvulsants, etc.) and hypnotics.
Special instructions
It is not recommended to take the extract in the afternoon to avoid sleep disturbances. In case of hypoglycemia reduce the dose, take it after meals or cancel. Important: tincture contains alcohol.
Country of manufacture
Russia.
---
To be used as a dietary supplement.
Related products
MitoVitan® Active is an anti-age concentrate based on SkQ1 antioxidant (Skulachev Ions). In contrast to the common nondirectional antioxidants Skulachev Ions target the mitochondria directly and reduce free radicals activity at the cellular level, therefore interrupting the aging program. The effectiveness of the SkQ1 is said to be 1000 times higher than that of other well-known antioxidants, including famous coenzyme Q10. Fast US domestic shipping is available.
Ginseng (or Panax) is one of the most popular and widely-researched herbal remedies in the world. Ginseng contains 100 biologically active substances; vitamins E, A, F, B; nicotinic and folic, pantothenic acid; and other beneficial elements. It is believed to be a natural cure-all. The short list of Ginseng indications includes: physical and mental fatigue, arterial hypotension, asthenic syndrome, sexual dysfunction, neurocirculatory dystonia and long recovery after a number of diseases (incl. infections).
Exomitin® (SkQ1) is designed to help treat skin damages and problems, including burns and scars. Exomitin improves the skin health, restores its regenerative functions, accelerates tissue repair. It also increases antioxidant defense of skin cells. The use of hydrogel provides proper skin care and improves skin resistance to adverse environmental factors.