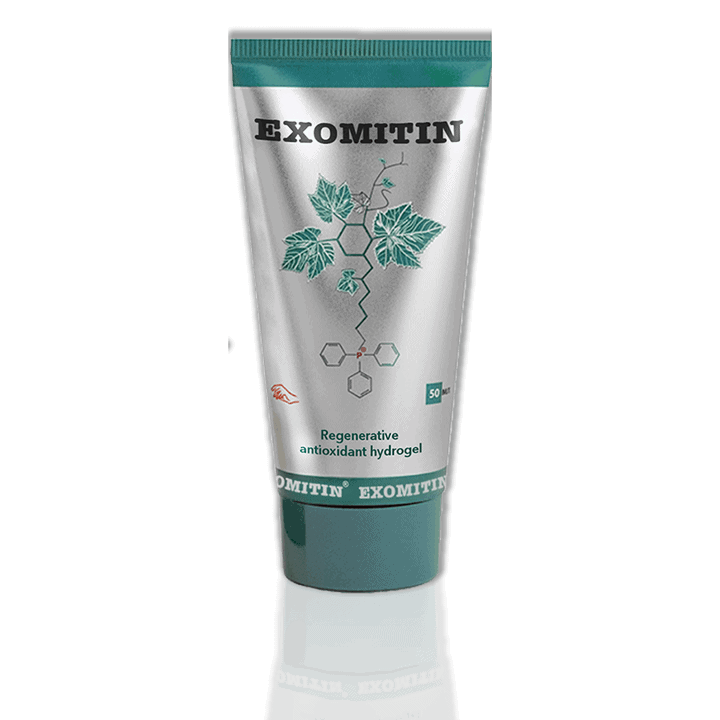 EXOMITIN ® (SKQ1 Regenerating Antioxidant Gel)
Buy Exomitin SKQ1 gel at the best price!
Exomitin is designed for problematic and damaged skin, including that after negative thermal or mechanical effects. Due to its innovative formula, the mitochondrial antioxidant SkQ1 protects and soothes the skin in case of different types of irritation, redness, and dryness. In equal measure, Exomitin improves skin health, restores its regenerative functions, accelerates tissue repair as well as increases the antioxidant defense of the skin cells. The use of hydrogel provides proper skincare and improves its resistance to adverse environmental factors.
The mitochondrial antioxidant SkQ1 ("Skulachev's Quinone") is based on plastoquinone (a substance extracted from the most oxygenated place in the wild – chloroplast of the plants). It is clinically proven that SkQ1 reduces the activity of the free radicals in the mitochondria at the cellular level and therefore interrupts the aging program. After all, it is toxic forms of oxygen produced by mitochondria that triggers the process of programmed skin cells death (keratinocytes and fibroblasts apoptosis).
Due to its unique properties, the effectiveness of the SkQ1 antioxidant is 1000 times greater than that of the other well-known antioxidants, including the famous coenzyme Q10. You can notice a pronounced effect already after the first application of the hydrogel. Exomitin is suitable for long-term use and can be mixed with other skincare products.
Check the full official instruction before use.
Produced by Mitotech, Russia.
Contents
Ingredients: Water, SkQ1 (plastoquinonyl decyltriphenylphosphonium bromide), lactic acid, PEG 400, PEG 1500, benzalkonium chloride.
Dosage and administration
Apply a thin layer of hydrogel once or several times per day directly at the problem areas of the skin and allow to soak for 15-30 minutes. If you need to use Exomitin together with other cosmetic agents, apply the hydrogel first. For external use only.
Side effects
Rarely: Allergic reactions.
Precaution
Avoid getting treatment into the eyes. If this occurs, rinse the affected area with water. In case of side effects (burning or irritation in the application site), discontinue the use and consult a specialist.
Storage conditions
Store in a dark place at a temperature of 2–8°C. A short-term (up to 14 days) storage and transportation are allowed at a temperature of no higher than 25°C, but strictly in the dark place! Keep out of reach of children.
Shelf life is 24 months. After the tube is opened, store at most 6 months at a temperature of 2–8°C in the dark place. Do not use beyond the expiration date printed on the package.
Manufacturer
Mitotech, Russia.
Related products
MitoVitan® Active is an anti-age concentrate based on SkQ1 antioxidant (Skulachev Ions). In contrast to the common nondirectional antioxidants Skulachev Ions target the mitochondria directly and reduce free radicals activity at the cellular level, therefore interrupting the aging program. The effectiveness of the SkQ1 is said to be 1000 times higher than that of other well-known antioxidants, including famous coenzyme Q10. Fast US domestic shipping is available.
Hypoxen® is an adaptogen developed in the USSR. The active compound of Hypoxen is Sodium salt of (poly-(2,5-dihydroxy-phenylene))-4-thiosulfonic acid. Hypoxen was shown to have antihypoxic and antioxidant effects. It can be used by healthy people to improve performance in extreme situations or by athletes to improve physical performance. Off-label use of Hypoxen includes treatment of patients with addictive disorders. Fast US domestic shipping is available.
Dihydroquercetin® is a natural bioflavonoid. It is obtained from processed raw materials (Siberian larch bark). Dihydroquercetin has high bioefficiency and powerful antioxidant properties. Dihydroquercetin is included in many dietary supplements prescribed for the prevention of cardiovascular diseases (atherosclerosis, stroke, hypertension, coronary heart disease and heart failure); diabetes mellitus and cerebrovascular dysfunction.