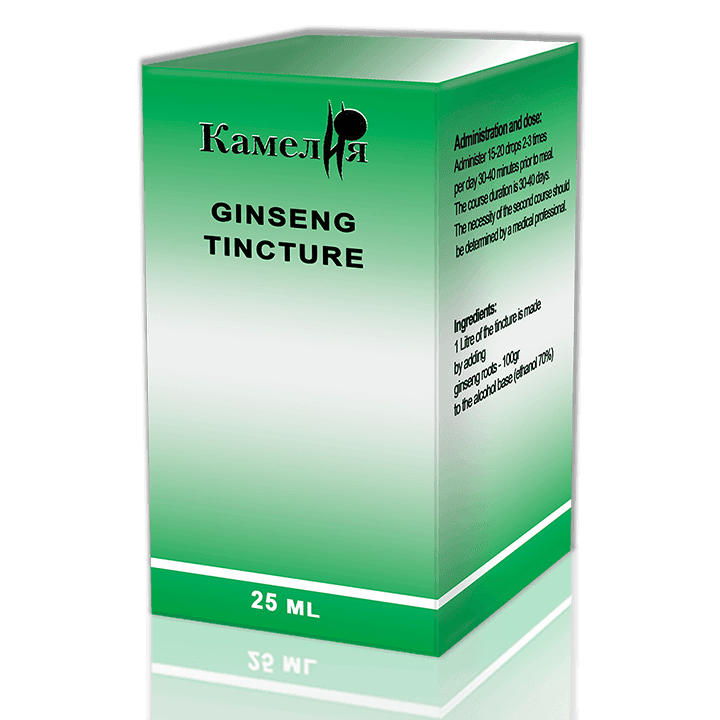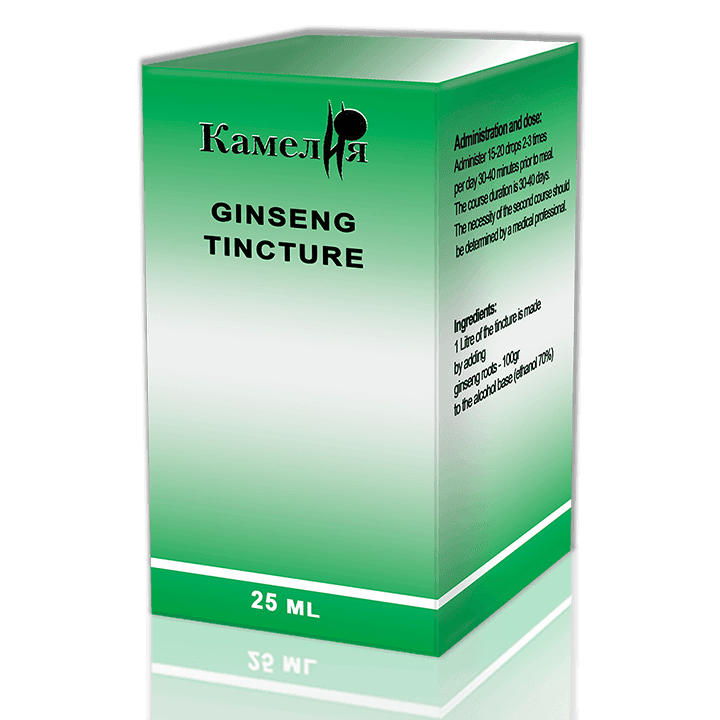 AUTHENTIC PRODUCTS
Only original pharmaceutical products that passed 3 stages of clinical trials.
GMP QUALITY
Our products are produced on GMP or state licensed factories.
10% CRYPTO DISCOUNT
10% discount for paying in BTC or other cryptocurrency.
PAYMENT BY CARD
Convenient Payment by Visa or MasterCard.
GUARANTEED DELIVERY
Guaranteed delivery times and clear Reshipment & Refund Rules.
PROMPT SHIPPING
Different shipping methods and same or next day shipping.
GINSENG TINCTURE (Panax Ginseng)
Ginseng or Panax is one of the most popular and widely-researched herbal remedies in the world. It is even believed to be a natural cure-all and can be used for a wide variety of purposes, such as low mood and decreased mental capacity.
Ginseng contains 12 elements, including phosphorus, sulfur, potassium, calcium, molybdenum, iron, etc.; 100 biologically active substances; vitamins E, A, F, and B; nicotinic and folic, pantothenic acid; and other beneficial elements.
Ginseng tincture has a general tonic effect: improves appetite, increases blood pressure, and mental and physical performance, stimulates sexual function; reduces general weakness, fatigue, and drowsiness; reduces cholesterol and blood sugar, and activates the activity of the adrenal cortex. Buy Ginseng tincture to stimulate the central nervous system.
The short list of indications for its use includes:
Physical and mental fatigue;
Arterial hypotension;
Asthenic syndrome;
Nervous breakdown;
Sexual dysfunction;
Neurocirculatory dystonia (hypotonic type);
The protracted recovery period after a number of diseases (incl. infections).
Read more about herbal adaptogens.
---
To be used as a dietary supplement.
Dosage and administration
It is recommended to take 15–25 drops of Ginseng tincture mixed with clean water orally 2-3 times a day 30–40 minutes before a meal (except evening/night time). The duration of the common treatment course is 30–40 days but can be extended/repeated as prescribed.
Contraindications
Arterial hypertension, hypersensitivity, epilepsy, convulsive state, hyperexcitability, sleep disturbance, acute infectious or virus disease, chronic liver diseases, age below 12 years, pregnancy, and lactation.
Side effects
Rarely: Tachycardia, sleep disturbance, headache, hypertension, hypoglycemia, and allergic reactions.
Overdose
A severe overdose of Ginseng tincture can possibly lead to increased dose-related side effects.
Drug interaction
Use with caution alongside antidiabetic drugs (because of the increased hypoglycemic effect) and with MAOIs. Simultaneous application of the tincture with loop diuretics increases the risk of developing resistance to them. Ginseng potentiates the action of psychostimulants and analeptics (incl. caffeine and camphor) and strengthens the effect of warfarin. Ginseng antagonizes with CNS depressants (incl. barbiturates, tranquilizers, and antiepileptic drugs).
Special instructions
not recommended to take Ginseng tincture in the evening hours in order to avoid sleep disturbances. To achieve the best results use in autumn and winter. Important: tincture contains alcohol.
Country of manufacture
Russia.
---
To be used as a dietary supplement.
04/05/2019
Using the item..not the service, did not full my expectation.., I am sorry in this time I do admire the russian pharma and I have tried products from there and from the rest of the world as well, and being an older person (70 yo) I guess it would be expected to be qualified as a trustable " guinea pig" as a tester, and should add that I have been a supplement "tester" for six years +, and actually beeing in Very good shape...well the ginseng tincture did not do any thing for me, nor the beaber extract, nothing- nada-nill,..I have triple the dose expecting to fell "anything", but not. Sorry for this statment, but maybe it is only me n=1, I hope...Luis Mtz. Mexico
Thank you!
You will now receive regular updates from us!