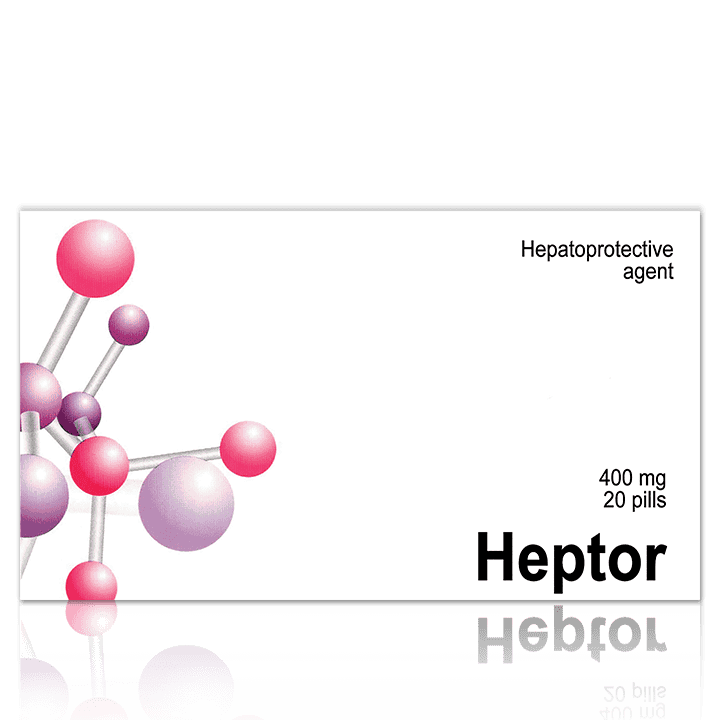 AUTHENTIC PRODUCTS
Only original pharmaceutical products that passed 3 stages of clinical trials.
GMP QUALITY
Our products are produced on GMP or state licensed factories.
10% CRYPTO DISCOUNT
10% discount for paying in BTC or other cryptocurrency.
PAYMENT BY CARD
Convenient Payment by Visa or MasterCard.
GUARANTEED DELIVERY
Guaranteed delivery times and clear Reshipment & Refund Rules.
PROMPT SHIPPING
Different shipping methods and same or next day shipping.
S-Adenosyl Methionine (HEPTOR ®)
Buy S-Adenosyl Methionine (Heptor®) Online!
S-Adenosyl Methionine (Heptor ®) is a hepatoprotector with anti-inflammatory, painkiller and antidepressant effects. Heptor can relieve pain and stimulate tissue regeneration in patients with osteoarthritis. Also, it can be used to reduce withdrawal symptoms in patients with opioid addiction.
Buy Heptor with fast US delivery. Save with the volume discount!
| | |
| --- | --- |
| Synonyms | Ademetionine / S-Adenosyl-L-methionine / SAM / SAM-e / SAMe / AdoMet / Heparab / Ademethionine |
| Form: | 20 pills of 400mg |
| Form description: | Enteric-coated yellow oblong biconvex tablets |
| Active ingredient: | Ademetionine – 400 mg |
| Excipients: | Crospovidone 19 mg, microcrystalline cellulose 53 mg, mannitol 53 mg, magnesium stearate 15 mg. |
| СAS Number: | 29908-03-0 |
| ATC code: | A16AA02 |
| Pharmacological action: | Drugs used in addictive disorders, drugs used in nicotine addiction |
| Shelf life: | 3 years. Do not use it beyond the expiration date printed on the package. |
| Storage conditions: | Store in a dry dark place at temperatures no higher than 25°C (77°F). Keep out of reach of children. |
| Terms of release: | Over-the-counter |
| Manufacturer: | Veropharm, Russia |
What is Ademetionine (S-Adenosyl Methionine)?
S-Adenosyl Methionine (Heptor ®) or Ademetionine is a drug currently considered one of the most powerful hepatoprotectors. Ademetionine takes part in transmethylation and is a biosynthetic precursor of cysteine, taurine, and glutathione. Apart from its hepatoprotective properties, ademetionine also has anti-inflammatory, painkiller, and antidepressant effects. Heptor is a choleretic and cholekinetic drug.
What is the Mechanism of Action of Heptor (S-Adenosyl Methionine)?
As a hepatoprotector, Heptor replenishes ademetionine deficiency and stimulates its production in the brain and liver. As a part of transmethylation, it elevates glutamine levels in the liver and increases plasma cysteine and taurine concentration. It also lowers the concentration of methionine in serum which helps stabilize the metabolic functions of the liver. Heptor acts as a precursor of polyamines: putrescine which stimulates cell regeneration, spermidine, and spermine, which are compounds of ribosomes and living tissues.
The choleretic effect of the drug is driven by the synthesis of phosphatidylcholine in hepatocyte membranes which increases their mobility. This enhances the function of the biliary system. The drug is effective in the case of bile secretion disorders, including cholestasis.
What are the Benefits and Effects of Heptor (S-Adenosyl Methionine)?
The use of the drug in patients with osteoarthritis helps relieve pain and stimulates proteoglycan synthesis and cartilage tissue regeneration.
Heptor also has detoxifying, regenerating, antioxidant, antifibrotic, and neuroprotective properties.
The drug was shown to be effective in patients with hepatopathy caused by hepatotoxic drugs.
You can buy S-Adenosyl methionine for use in patients with opioid addiction accompanied by liver damage as it helps reduce manifestations of withdrawal symptoms and improves the functional state of the liver.
Antidepressant effects of the drug increase gradually starting from the 2nd week of treatment. Heptor treatment is recommended in case of recurrent endogenous and neurotic depressions. Research demonstrated that the drug is effective in treating depression relapse.
What is Heptor (S-Adenosyl Methionine) Used For?
On-label use of Ademetionine (S-Adenosyl Methionine) includes treatment of the following conditions:
Hepatitis of various origins: toxic, viral, drug-induced (caused by antibiotics, anticancer drugs, anti-tuberculosis and antiviral drugs, tricyclic antidepressants, and oral contraceptives);
Intrahepatic cholestasis;
Secondary metabolic encephalopathy;
Depressive disorder;
Alcohol withdrawal syndrome.
Where Can I Order Heptor Online?
You can buy Ademetionine (S-Adenosyl Methionine) online at different vendors. CosmicNootropic offers Heptor (S-Adenosyl Methionine) in packs of 20x400mg pills. We offer fast US delivery and worldwide shipping with volume discounts! Always be sure to do your research before purchasing any nootropic supplement to ensure you are getting a quality product.
You can order Ademetionine and get it delivered to the USA, Europe, the UK, Asia, and many other regions and countries via CosmicNootropic.
---
Legal Disclaimer
This product has not been approved by the US FDA. All statements on this page are for informational purposes only and have not been evaluated by the US FDA.
This product is not intended to diagnose, treat, cure, or prevent any disease. See more
What is Ademetionine Dosage?
The average daily dose is 800–1,600 mg (2–4 pills). The recommended duration of treatment is 2–4 weeks.
What are the Side Effects of Ademetionine (S-Adenosyl Methionine)?
Possible side effects include nausea, abdominal pain, diarrhea, insomnia, headache, and allergic response.
Contraindications
Genetic disorders affecting the methionine cycle and/or causing homocystinuria/hyperhomocysteinemia;
Children under 18 years of age;
Hypersensitivity to the components of the drug.
Drug interaction
To be used with caution when co-administered with selective serotonin reuptake inhibitors, tricyclic antidepressants, or drugs containing tryptophan.
Thank you!
You will now receive regular updates from us!