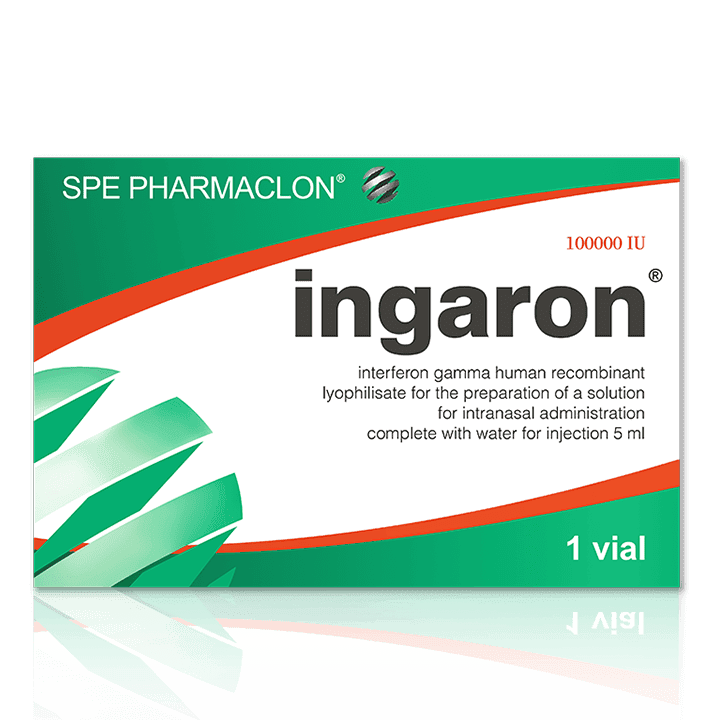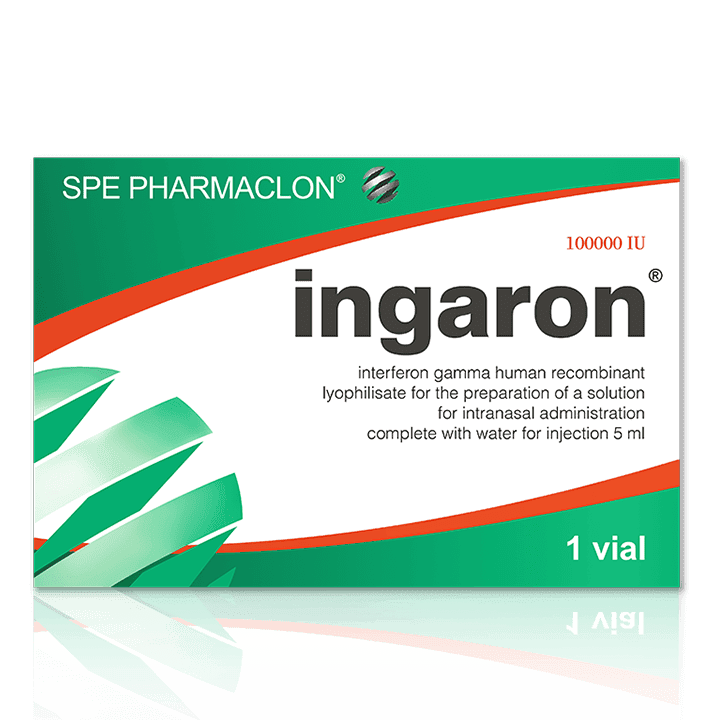 AUTHENTIC PRODUCTS
Only original pharmaceutical products that passed 3 stages of clinical trials.
GMP QUALITY
Our products are produced on GMP or state licensed factories.
10% CRYPTO DISCOUNT
10% discount for paying in BTC or other cryptocurrency.
PAYMENT BY CARD
Convenient Payment by Visa or MasterCard.
GUARANTEED DELIVERY
Guaranteed delivery times and clear Reshipment & Refund Rules.
PROMPT SHIPPING
Different shipping methods and same or next day shipping.
INGARON ® (Interferon Gamma Nasal Drops)
Buy Interferon Gamma at the best price!
Ingaron belongs to a gamma class of interferons and is the first and only Russian interferon-gamma medication at this point. Unlike other interferons, interferon-gamma has a combined effect: broad-spectrum antiviral (more than 200 viruses) and immunomodulating activity. Interferon-gamma blocks the penetration and reproduction of viruses and also kills virus-infected cells, which is the second line of defense if a severe infection breaks through the first level of protection.
Soviet scientists began developing Ingaron back in 1989, but because of the reformation period in the country, the research has only been recently completed. In 2006, the drug Ingaron received a license for production and sale.
It is important to note that there is no drug addiction to Ingaron, and side effects are not observed during its use. The convenient form of administration (nasal) and storage makes this antiviral and immunomodulatory agent optimal for use. Before dilution, the solution can be stored at temperatures up to 25°C (77°F). After dilution, it must be stored in the refrigerator for no longer than 10 days.
The potential of the combined use of the two main classes of IFN (alpha and gamma) in the treatment of influenza is demonstrated as well. Clinical studies have shown that the combined use of these types of IFN drugs reduces the severity of the infection process, shortens the duration of the disease, and prevents the development of severe complications.
Produced by Pharmaclon, Russia.
Contents
Ingaron package contains 1 vial of 100 000 IU of Interferon Gamma. In the box, you will find a vial with lyophilisate and a dissolvent. After the dilution, you should use the nasal dropper.
Dosage and administration
The drug is usually used for the treatment of flu, H5N1, and H1N1. 
At the first signs of disease, Ingaron is prescribed for 5–7 days. The usual dose is 2 drops in each nasal passage 5 times a day. As a prophylactic of ARVI, after contact with a sick person and in case of hypothermia use 2-3 drops in each nasal passage 30 minutes prior to breakfast for a period of 10 days. 
Contraindications
Individual intolerance to interferon-gamma or other components of the drug;

Pregnancy;

Age below 7 y.o.
Side effects
Side effects were not observed.
Overdose
The information on the overdose is not available.
Storage conditions
Keep out of the reach of children. Store at a temperature below 20°C (35–46 °F).
Shelf life is 2 years. An open bottle is to be stored in the fridge for no more than 10 days.
Manufacturer
Pharmaclon, Russia.
Related products
Thymalin® is a polypeptide preparation containing an extract of cattle thymus. It is a natural immunostimulant used in case of immunosuppression of any origin. It is compatible with antiviral medications. Thymalin is reported to speed up the recovery process, restore the immune system and reduce possible complications. Buy Thymalin with fast US domestic shipping.