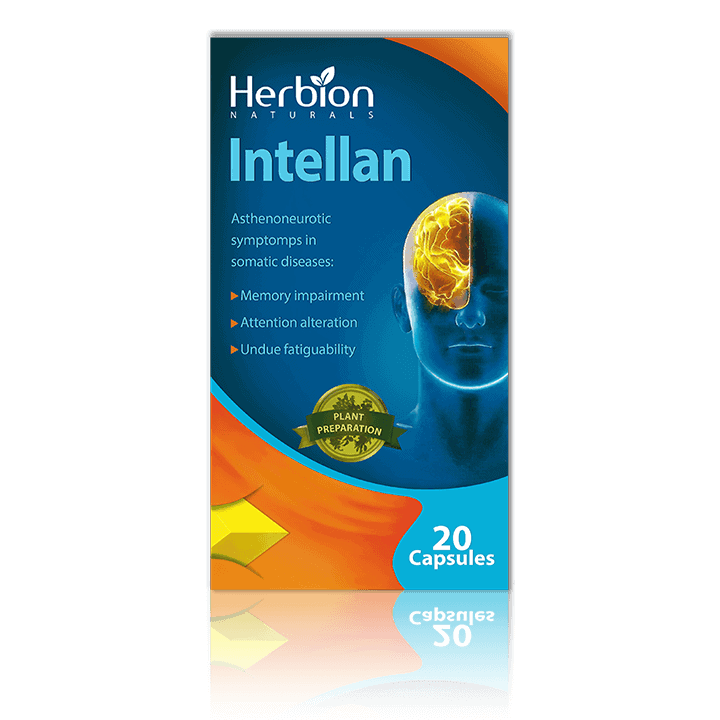 Buy Intellan with the fastest delivery!
Intellan is a powerful brain tonic that contains a natural blend of vital amino acids, trace elements, alkaloids, and glycosides. Being natural neurostimulants, the active substances that make up the drug activate neurons, enhance metabolic processes in the brain and improve blood circulation in the vessels. Buy Intellan to improve memory, mild mood depression, and dizziness.
Medicinal plants of Intellan are:
Ginkgo Biloba has a nootropic and powerful antioxidant effect. Improves cerebral circulation and the supply of oxygen and glucose to the brain. Helps reduce hypoxia and normalize metabolic processes in brain cells. These properties of Ginkgo Biloba are especially important for people engaged in intellectual work, as they allow stimulating mental activity, memory and attention. They also contribute to the correction of age-related changes in the functional activities of the brain, accompanied by memory impairment, decreased concentration of attention and intellectual abilities, dizziness, "noise" and "ringing" in the ears.
Asiatic Pennywort (Centella Asiatica or Gotu Kola) has a special place in oriental medicine. It is called "brain food" because its active components (triterpene glycosides, bacosides, and flavonoids) contribute to increased mental performance, concentration, long-term memory function, and learning ability, as well as to normalization of the psycho-emotional state in case of increased anxiety and stress.
Herpestis Monnieria is a rich source of amino acids (including glycine, which is a metabolic regulator that normalizes and activates the processes of protective inhibition in the central nervous system). Glycine helps to reduce psycho-emotional tension (during exams, stresses, conflict situations, etc.), fatigue, and to improve mood.
Coriandrum Sativum has an antispasmodic effect and is a source of macroelements (potassium, magnesium, calcium) and microelements (including selenium which has the ability to bind free radicals).
Emblica Officinalis (Phyllanthus Officinalis) improves functions of the cardiovascular system and acts as a source of vitamin C (antioxidant), vitamins B1 and B2, and nicotinic acid.
Bengal Cardamom helps to increase the overall tone of the body.
Thus, the action of each of the components is multidirectional, and their overall effectiveness is due to the thorough selection of the components through research and strict dosage.
Indications
Deficient memory and forgetfulness;
Lack of concentration and disorientation;
Mental stress, strain, and fatigue;
Functional cerebral insufficiency;
Mild anxiety and depression.
Produced by Herbion, Pakistan.
Dosage and administration
1 capsule twice a day after meals. Please refer to the official description for detailed information.
Analogs
Gingko Biloba is the main active ingredient in the composition of the medicine. Analogs of the drug, according to pharmacists, are neurostimulators similar in action, such as Nootrop, Bilobil, and other drugs containing Gingko Biloba extract. There are medicines that contain one or another component from the general composition of Intellan. However, an identical composition to the drug (i.e. its analog) does not exist.
Manufacturer
Herbion, Pakistan.
Related products
Lotosonic® is a combination herbal drug based on an extract from a mixture of medicinal plants. It's part of the tranditional Eastern medicine. Lotosonic has sedative, soporific, anxiolytic and anti-stress properties. Additionally Lotosonic contains dioscorea, mulberry and longan extracts. They also stimulate vasodilation and boost metabolism.