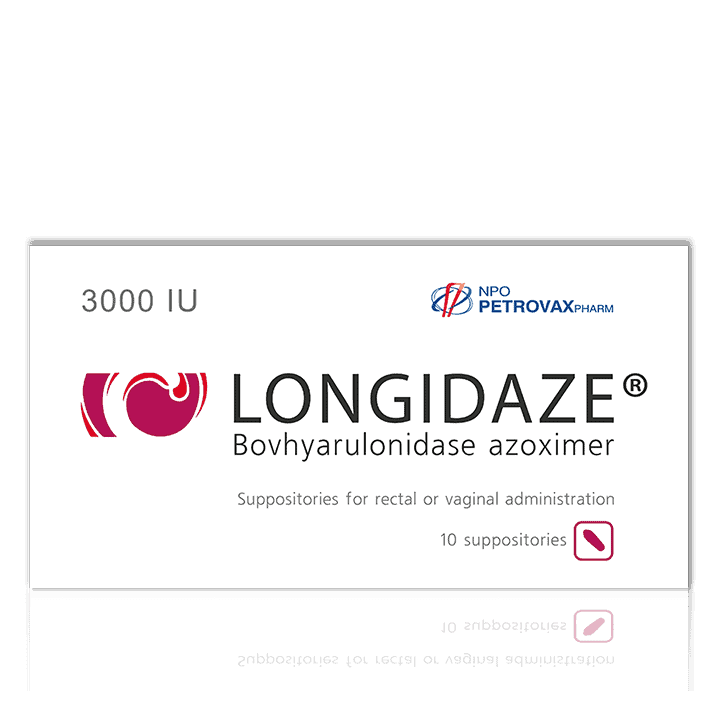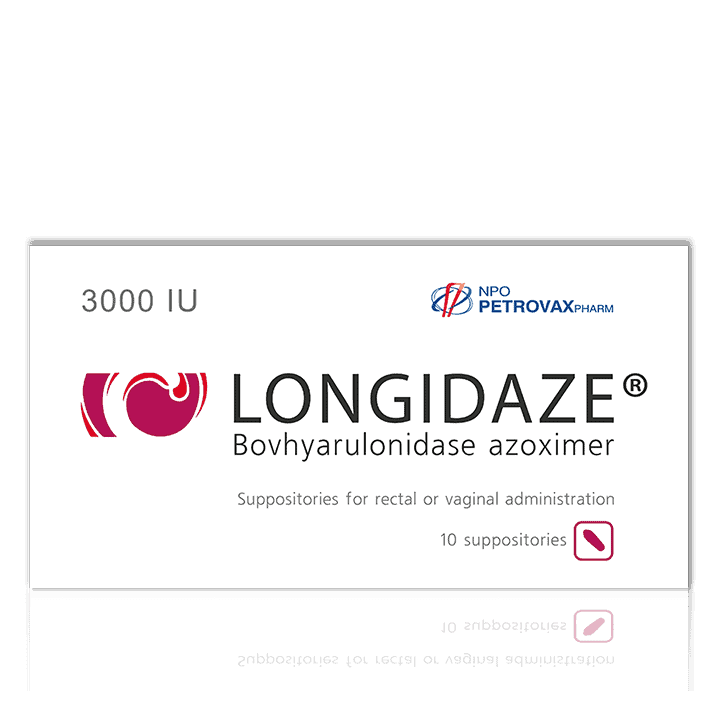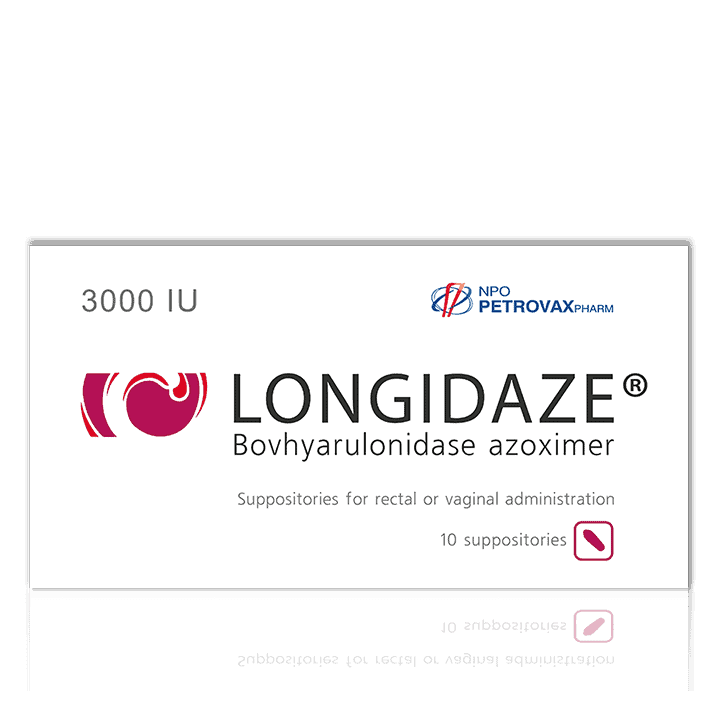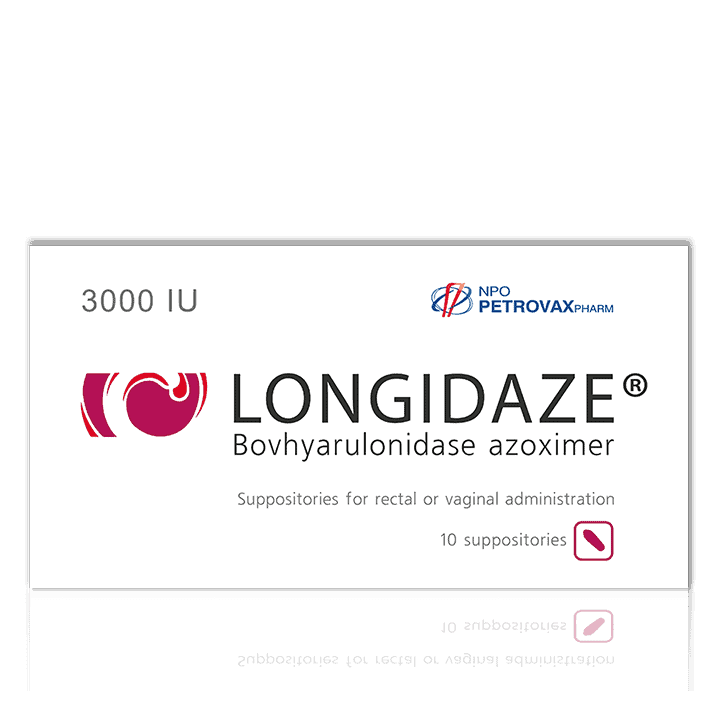 AUTHENTIC PRODUCTS
Only original pharmaceutical products that passed 3 stages of clinical trials.
GMP QUALITY
Our products are produced on GMP or state licensed factories.
10% CRYPTO DISCOUNT
10% discount for paying in BTC or other cryptocurrency.
PAYMENT BY CARD
Convenient Payment by Visa or MasterCard.
GUARANTEED DELIVERY
Guaranteed delivery times and clear Reshipment & Refund Rules.
PROMPT SHIPPING
Different shipping methods and same or next day shipping.
LONGIDAZA ® (Bovhyaluronidase Azoximer)
Buy Longidaza (Longidaze) if you are looking for an enzyme / anti-fibrotic supplement. It has a pathogenetic effect in inflammatory processes in the pelvic organs and in other diseases that lead to the development of fibrosis, the formation of adhesions and scars. The drug has a multicomponent action and has proven its efficacy both in complex and in monotherapy of various pathologies.
The Longidaza drug is manufactured by the Russian pharmaceutical company NPO Petrovax Pharm in accordance with international and Russian GMP standards. The drug was introduced to the market in 2005 and is currently widely used in medical practice in Russia and other countries. In 2015, the World Health Organization (WHO) assigned the international non-proprietary name (INN) to the Longidaza drug – bovhyaluronidase azoximer.
The drug consists of two components, which are connected to each other by conjugation:
Enzyme hyaluronidase, which directly affects fibrosis and has a cleaving (proteolytic) effect;
High molecular weight carrier that has an anti-inflammatory effect and allows the drug to be prescribed in the acute phase of the disease.
Longidaza has a multicomponent action:
Reduces the risk of developing adhesions, changes the structure of adhesions, reducing their density, and increases the woman's chances of pregnancy;
Facilitates the delivery of antibacterial drugs and the permeability of tissues for these drugs directly to the inflammation focus, which increases the effectiveness of antibacterial treatment;
Improves microcirculation in tissues, which helps to reduce edema and to reabsorb hematomas;
Improves the effectiveness of the therapy of chronic prostatitis and reduces the frequency of exacerbations.
You can buy Longidaza for the following applications:
Gynecology: treatment and prevention of adhesions in inflammatory diseases in the pelvic organs (endometriosis, salpingo-oophoritis, endometritis, etc.).
Urology: treatment and prevention of fibrosis in prostatitis, the initial stage of BPH / adenoma, interstitial cystitis, strictures of the urethra and ureters, Peyronie's disease.
Cosmetology and dermatology: treatment of fibrosis in limited scleroderma, hypertrophic and keloid cicatrixes and scars, etc.
In November 2018, Longidaza won the nomination of "Medication of Choice for the pathogenetic treatment of chronic prostatitis and relapse prevention" at the Russian Pharma Awards.
Produced by Petrovax Pharm, Russia.
Dosage and administration
Longidaza suppositories are recommended for rectal or vaginal administration once a day at night in a course of 10 to 20 intakes. The scheme of administration is adjusted depending on the severity, stage, and duration of the disease. For detailed information on administration please refer to the official instruction.
Side effects
Very rare: local reactions in the form of redness, edema, itching of the perianal zone, vaginal itching due to individual sensitivity to the components of the drug. If an allergic reaction develops discontinue the medicinal product and consult your doctor.
Contraindications
The drug has contraindications. For more information please refer to the instruction.
Note
The drug Longidaza has a potentiating effect, which means an increase in the effect on biologically active substances. In this connection, it is better to refrain from taking alcohol during the period of therapy.
Manufacturer
NPO Petrovax Pharm, Russia.
Related products
Mildronate® (also known as Meldonium) is a synthetic analog of gamma-butyrobetaine (GBB), a substance that exists in every cell of the human body. It is used to treat angina, myocardial failure and reduce alcohol withdrawal symptoms. Off-label use of Meldonuim in otherwise healthy individuals includes increasing exercise tolerance, learning, memory, and sexual function.
Buy Meldonium as a perfect alternative for the discontinued Ladasten (Bromantane)! Fast US domestic shipping is available.