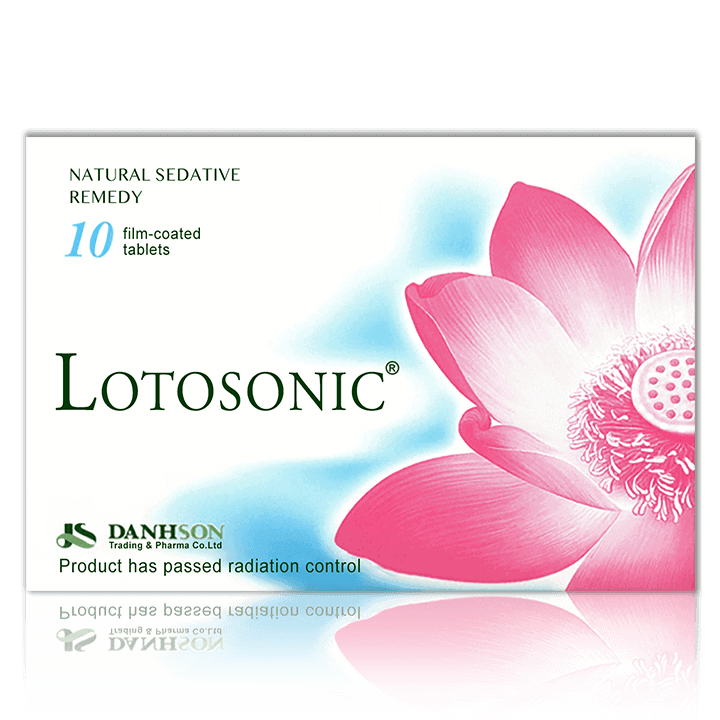 Lotosonic is a combination herbal drug based on an extract from a mixture of medicinal plants. It has sedative, soporific, anxiolytic, and anti-stress properties.
Jujube, lotus, longan, thuja, and coral tree extracts have a sedative effect and reduce irritation and tension that occur as a result of mental fatigue and neurasthenia. In patients with insomnia, they help restore normal sleep. Jujube seeds and leaves have been used in Chinese and Korean traditional medicine, where they were believed to alleviate stress, and traditionally for anti-fungal, anti-bacterial, anti-ulcer, anti-inflammatory purposes and sedation, antispastic, antifertility/contraception, hypotensive and antinephritic, cardiotonic, antioxidant, immunostimulant, and wound healing properties.
Apart from having a sedative effect, dioscorea, mulberry, and longan extracts also cause vasodilation and boost metabolism.
Indications
Increased excitability, irritability, mood lability, emotional and physical injuries, tension, mental fatigue, and mild forms of insomnia.
Produced by Danapha Pharmaceutical, Vietnam.
Check other products from the Anti-Anxiety category!
Contents
Coated tablets.
Active ingredients: Indian lotus seed powder 73 mg, dioscorea root powder 73 mg, Chinese thuja seed extract 36.5 mg, jujube seed powder 36.5 mg, longan fruit extract 36.5 mg, mulberry leaf extract 36.5 mg and erythrina variegata leaf extract 36.5 mg;
Inactive ingredients: lactose, magnesium stearate, fumed silica, microcrystalline cellulose, hypromellose, and sodium carboxymethyl starch.
Dosage and administration
Dosage for adults is 1 tablet 2 times a day. Dosage for insomnia treatment is 1 tablet 1 hour before sleep. The length of the treatment course is 30 days. If necessary, treatment courses can be repeated upon a doctor's prescription. A whole one-month course takes 3 boxes of 20 pills.
Contraindications
Pregnancy and lactation, children under 18 years of age, hypersensitivity to the components of the drug.
Side effects
Allergic response.
Overdose
Symptoms of overdose include drowsiness, lethargy, and nausea.
In case of overdose perform gastric lavage.
Drug interaction
Lotosonic enhances the effect of CNS depressants, hypnotic, hypotensive, and analgesic drugs, thus requiring the dosage adjustment.
Storage conditions
Store in a dark place at a temperature of 15–25°C. Keep out of the reach of children.
Shelf life is 3 years.
Manufacturer
Danapha Pharmaceutical, Vietnam.
Related products
The active substance of Stresam® is etifoxine, a benzoxazine derivative which has an original mechanism of action that distinguishes it from all other anxiolytics. The drug effectively eliminates manifestations of anxiety (stress, discomfort, insomnia, a sense of fear, etc.) and does not cause withdrawal. Stresam is approved in more than 40 countries and can be a good alternative to benzos! Fast US domestic shipping is available.
Magne B6® (Magnesium + Vitamin B6) is a drug intended to restore the amount of magnesium in the body. Normal levels of magnesium are important for the maintenance of heart and nervous system function. Pyridoxine (vitamin B6) improves magnesium absorption from the digestive system into the body's cells. Fast US domestic shipping is available.
Aminalon® is a substance with nootropic and psychostimulatory qualities. The active component of Aminalon is Gamma-Aminobutyric acid (GABA). The main property of GABA is that it regulates blood flow in the brain, improves memory, speech, and coordination. Patients suffering from diabetes also notice lowered blood sugar after Aminalon administration.