We are currently working on replenishing our warehouse in the US as many products might be out of stock.
•
We are currently working on replenishing our warehouse in the US as many products might be out of stock.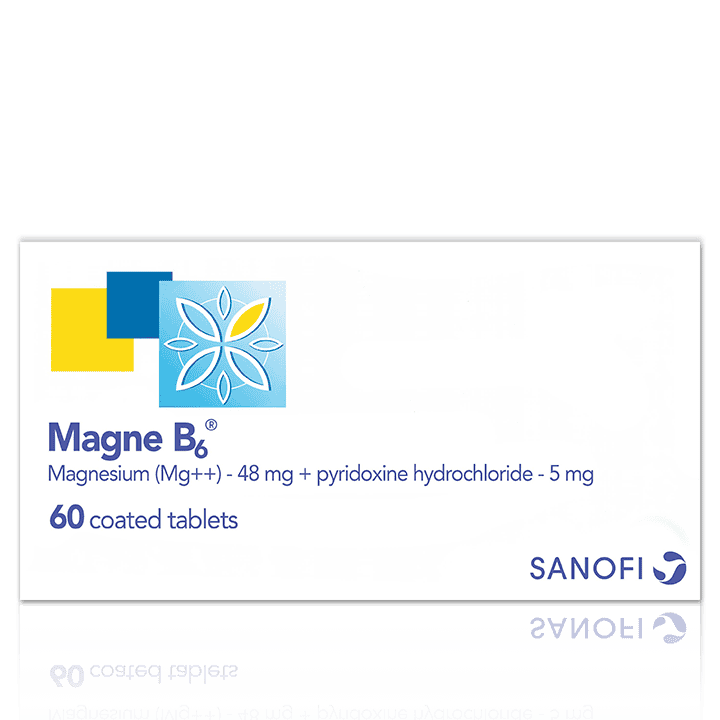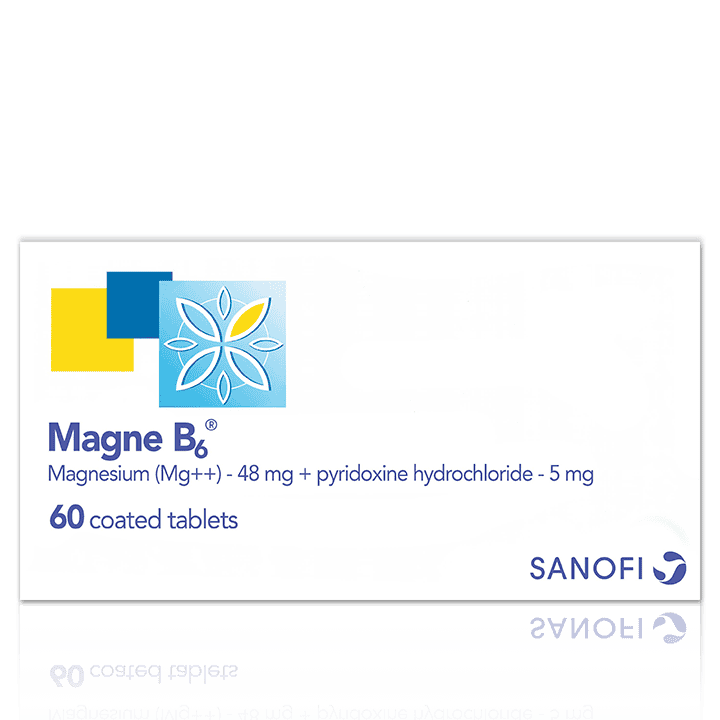 AUTHENTIC PRODUCTS
Only original pharmaceutical products that passed 3 stages of clinical trials.
GMP QUALITY
Our products are produced on GMP or state licensed factories.
10% CRYPTO DISCOUNT
10% discount for paying in BTC or other cryptocurrency.
PAYMENT BY CARD
Convenient Payment by Visa or MasterCard.
GUARANTEED DELIVERY
Guaranteed delivery times and clear Reshipment & Refund Rules.
PROMPT SHIPPING
Different shipping methods and same or next day shipping.
MAGNE B6 ® (Magnesium + Vitamin B6)
Buy Magne B6 ® Online!
Magne B6 ® is a supplement that combines benefits of Magnesium and vitamin B6. Magnesium is a vital element that participates in most metabolic reactions and the transmission of nerve impulses. It has antispasmodic, antiarrhythmic and antiplatelet effects.
Save with the volume discount!
---
| | |
| --- | --- |
| Form: | 60 pills of 48mg+5mg |
| Form description: | White film-coated oval biconvex tablets with a smooth shiny surface. |
| Active ingredient: | Magnesium lactate dihydrate 470 mg (equal to 48 mg of Mg2+, or magnesium ion) and pyridoxine hydrochloride – 5 mg. |
| Excipients: | Sucrose, heavy kaolin, acacia gum, carbomer 934, talc, and magnesium stearate. |
| ATC code: | A11JB |
| Pharmacological action: | Magnesium preparation |
| Shelf life: | 2 years. Do not use it beyond the expiration date printed on the package. |
| Storage conditions: | Store in a dry dark place at temperatures no higher than 25°C (77°F). Keep out of reach of children. |
| Terms of release: | Over-the-counter |
| Manufacturer: | Sanofi, France |
---
What is Magne B6?
Magne B6 ® is a drug with two active ingredients – Magnesium and vitamin B6 – intended to restore the amount of magnesium in the body.
Magnesium is the eleventh most abundant element by mass in the human body and is essential to all cells and some 300 enzymes. Magnesium ions interact with polyphosphate compounds such as ATP, DNA, and RNA. Hundreds of enzymes require magnesium ions to function. It is engaged in the transmission of nerve impulses and muscle contraction. Normal levels of magnesium are important for the maintenance of heart and nervous system function.
Pyridoxine (vitamin B6), one of the drug's main ingredients, participates in various metabolic processes, and in regulating the metabolism of the nervous system, in particular. It improves magnesium absorption from the digestive system into the body's cells.
What are the Benefits and Effects of Magne B6?
Magnesium deficiency may occur as a result of eating disorders (including reduction diets) and an increased need for magnesium in case of intense physical or mental activity, stress, pregnancy, or the use of diuretics. Losses of magnesium from the kidneys also become a common cause of magnesium deficit. The normal adult value for magnesium is 1.5–2.5 mEq/L. Smaller amounts are evidence of magnesium deficiency, also known as hypomagnesemia. It may cause fatigue or muscle weakness, mental numbness, and lack of emotion. Scientists have suggested that deficiency may also cause anxiety and raise blood pressure.
What is Magne B6 Used For?
Magne B6 is used in cases of magnesium deficiency (might be in combination with other deficiencies) which often has the following symptomswith increased irritability, sleep disorders, stomach cramps, palpitations, fatigue, pain and muscle cramps, or tingling sensation.
Where Can I Order Magne B6 Online?
You can buy Magne B6 online at different vendors. CosmicNootropic offers Magne B6 in packs of 60x(48mg+5mg) pills. We offer worldwide shipping with volume discounts! Always be sure to do your research before purchasing any nootropic supplement to ensure you are getting a quality product.
You can order Magne B6 and get it delivered to the USA, Europe, the UK, Asia, and many other regions and countries via CosmicNootropic.
Check other products from the Anti-Anxiety category!
---
Legal Disclaimer
This product has not been approved by the US FDA. All statements on this page are for informational purposes only and have not been evaluated by the US FDA.
This product is not intended to diagnose, treat, cure, or prevent any disease. See more
What is Magne B6 Dosage?
Daily dose is 6–8 tablets for adults and 4–6 tablets for children from 6 years of age. It is recommended to divide the daily dose into 2-3 administrations. Take the tablets with meals washed down by a glass of water.
The average length of the treatment course is one month. Once the amount of magnesium stabilizes, it is recommended to discontinue treatment.
What are the Side Effects of Magne B6?
Possible side effects include abdominal pains, nausea, vomiting, flatulence, constipation, or allergic response.
Contraindications
Acute kidney failure;
Phenylketonuria;
Children under 6 years (for tablets) or under 1 year (for solution);
Fructose intolerance;
Glucose or galactose malabsorption;
Sucrase-isomaltase deficiency;
Hypersensitivity to the components of the drug.
It is recommended to use the drug with caution in patients with chronic kidney disease in stages other than acute as it may cause hypermagnesemia.
Overdose
Magnesium overdose does not cause intoxication in patients with normal kidney function. Though it may occur in patients with chronic kidney disease.
The symptoms include low blood pressure, nausea, vomiting, depressive disorder, slowing reflexes, respiratory depression, coma, cardiac arrest, heart paralysis, and anuria.
Recommended treatment: rehydration and forced diuresis. In the case of chronic kidney disease hemodialysis or peritoneal dialysis may be required.
Drug interaction
Co-administration with drugs containing phosphates and calcium salts reduces magnesium absorption from the digestive system.
Magne B6 reduces the absorption of tetracycline and iron.
It also lowers the effect of clot-busting drugs.
Pyridoxine inhibits the activity of levodopa.
Thank you!
You will now receive regular updates from us!