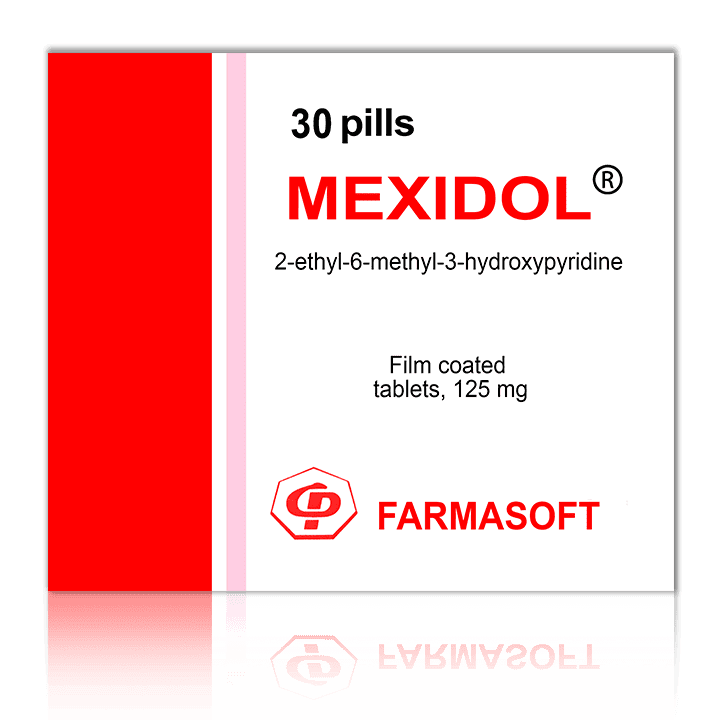 Buy Mexidol with 3–7 day fast domestic delivery within the US ($5) – just choose "Ships from: US (+15%)"
Mexidol is a unique development of the Russian pharmaceutical industry. Due to the universal mechanism of action and a wide range of pharmacological effects, Mexidol is effective in the treatment of acute and chronic diseases caused by ischemia and hypoxia of various origins. Nowadays the drug is widely used in neurology, therapy, cardiology, psychiatry, and narcology. Mexidol is produced at leading pharmaceutical manufacturing sites in the Russian Federation, which operate in accordance with GMP (Good Manufacturing Practice) production and quality control standards.
The development of Mexidol is closely associated with the name of the Soviet chemist N.N. Semenov, who was awarded the Nobel Prize in Chemistry for his piece of research on free radicals in 1956. Understanding the mechanisms of the free radical formation became the basis for creating the concept of combating tissue ischemia and for developing drugs with antioxidant and antihypoxic activity. The work on Mexidol was continued by the students of N.N. Semenov in the 1980s. The drug has been in clinical practice since the middle 1990s.
The presence of succinate in the structure of Mexidol is of fundamental importance for the manifestation of its pharmacological effects since succinate is functionally significant for many processes in the body. In particular, it is a substrate for increasing the energy metabolism in the cell. Due to its properties, free radicals, which have a damaging effect on the cellular structures, are deactivated.
Mexidol is known to treat the followings diseases:
Neurological problems: vegetovascular dystonia, acute cerebral circulation disorders, cognitive problems associated with cerebral arteriosclerosis (impaired memory, speech, loss of basic skills, etc.);
In psychiatry: withdrawal syndrome (alcohol or drug withdrawal), anxiety, neurosis, intoxication with drugs from the group of antipsychotics;
In surgery: for the complex treatment of acute purulent-inflammatory processes in the peritoneum.
Awards
2003 – Award of the Government of the Russian Federation for the development and implementation of Mexidol in clinical practice;
2014 – Russian Pharma Awards in the nomination "The Drug of Choice in the Treatment of Ischemic Disorders Caused by Cerebral Spasm";
2016 – "Molecule of Life" award of the Russian Scientific Medical Community of Therapists.
Produced by Pharmasoft, Russia.
In our store, you can also find a close analog of Mexidol – Ethoxidol. Be sure to check it out, as it is more effective than Mexidol in some cases! 
---
Legal Disclaimer
This product has not been approved by the US FDA. All statements on this page are for informational purposes only and have not been evaluated by the US FDA.
This product is not intended to diagnose, treat, cure, or prevent any disease. See more
Dosage and administration 
The drug is taken orally, 1-2 pills 3 times a day, the maximum daily dose is 6 pills. The general period of therapy is 2–6 weeks. The duration of the therapy for the alcohol abstinence treatment is 5–7 days. The duration of treatment in case of ischemic heart disease is 1.5–2 months or more.
Contraindications
Hypersensitivity, acute kidney and liver diseases. Pregnancy and lactation.
Side effects & Overdose
Allergic reactions are possible. The patient may feel drowsiness in case of an overdose. Hence special caution must be taken when driving vehicles and engaging in other potentially dangerous activities.
Manufacturer
Pharmasoft, Russia.
Related products
Peony Anomala tincture is an herbal sedative medicine produced from a perennial herbaceous plant. It belongs to the group of natural adaptogens that stimulate the immune system. It is used in patients with sleep disorders, excitability, and dysautonomia. Peony Anomala tincture is also used to stimulate endorphin production and help to cope with stress and emotional overload.
Lotosonic® is a combination herbal drug based on an extract from a mixture of medicinal plants. It's part of the tranditional Eastern medicine. Lotosonic has sedative, soporific, anxiolytic and anti-stress properties. Additionally Lotosonic contains dioscorea, mulberry and longan extracts. They also stimulate vasodilation and boost metabolism.
Intellan® is a powerful brain tonic which contains a natural blend of vital amino acids, trace elements, alkaloids and glycosides. Being natural neurostimulants, the active substances that make up the drug activate neurons, enhance metabolic processes in the brain and improve blood circulation in the vessels. Try Intellan if you want to improve memory, treat mild mood depression, and dizziness.