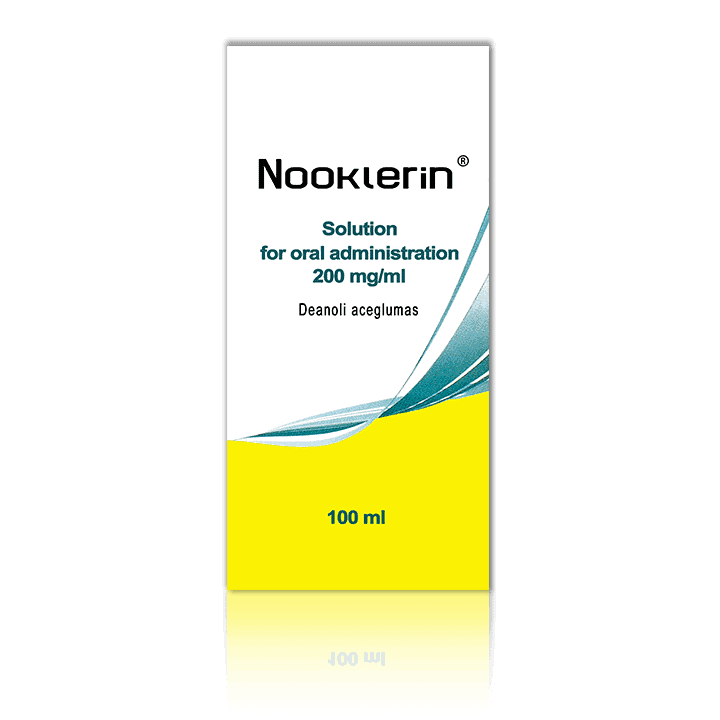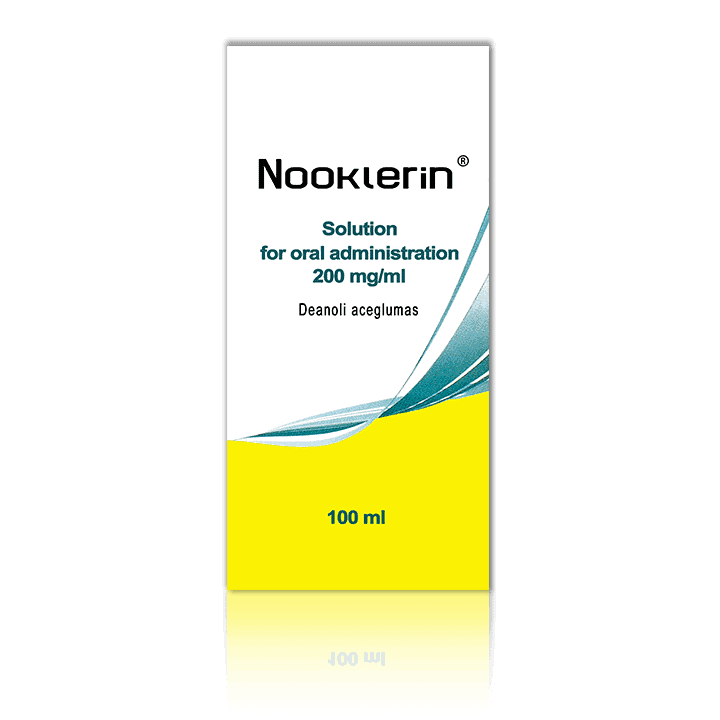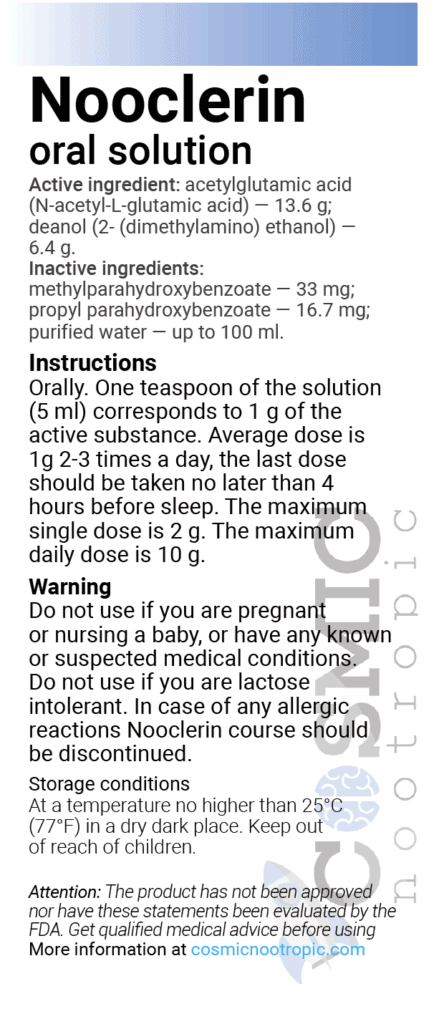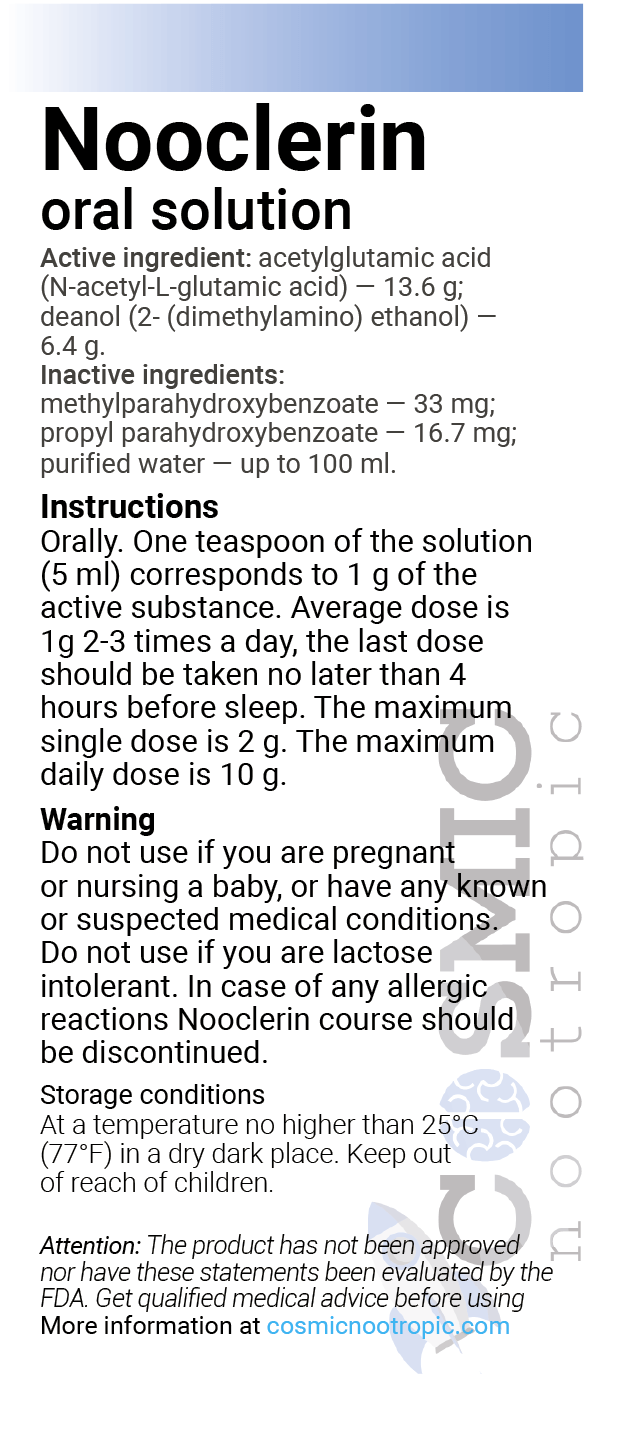 AUTHENTIC PRODUCTS
Only original pharmaceutical products that passed 3 stages of clinical trials.
GMP QUALITY
Our products are produced on GMP or state licensed factories.
10% CRYPTO DISCOUNT
10% discount for paying in BTC or other cryptocurrency.
PAYMENT BY CARD
Convenient Payment by Visa or MasterCard.
GUARANTEED DELIVERY
Guaranteed delivery times and clear Reshipment & Refund Rules.
PROMPT SHIPPING
Different shipping methods and same or next day shipping.
NOOCLERIN ® (Deanol Aceglumate, DMAE)
Buy Nooclerin DMAE with fast delivery!
Nooclerin (Deanol aceglumate) is one of the oldest nootropic drugs. It is also known as DMAE, a widely used cognitive-enhancing and anti-aging supplement.
Deanol has a history of medicinal use since the 1950s; back then, it was marketed in North America under the trade name "Deaner" as a treatment for learning disabilities, ADHD for children, chronic fatigue, and depression.
Later, the drug was discontinued by the FDA; however, it is still being used in Russian medical practice.
Buy Nooclerin DMAE as the treatment for:
Asthenia (chronic fatigue);
Depression;
Recovery from traumatic brain injuries;
Decreased mental capacity in children above 10 years of age;
Neurasthenia and organic brain syndrome.
According to numerous clinical trials, Deanol appears to be highly effective in patients with chronic fatigue, depression, and ADHD and has moderate efficacy in the treatment of Tardive Dyskinesia.
Nooclerin has fewer side effects compared to amphetamine derivatives that are often used in ADHD treatment, so it might be used as a safer alternative to Adderall.
The exact mechanism of action is still unclear. Initially, it was proposed that DMAE, as a choline precursor, is able to increase brain acetylcholine levels, thus producing a cholinergic effect. However, the results of research on the drug's pharmacology are controversial and put into question the fact that Deanol's primary mechanism of action is cholinergic.
More recent studies suggest that DMAE acts as a potent free radical scavenger and antioxidant, which may be responsible for its anti-aging and nootropic effects.
Produced by PIQ-Pharma, Russia.
Dosage and administration
Oral administration.
One measuring spoon of solution (5 ml) contains 1 gram of the active ingredient. The dosage for adults is one spoon 2-3 times a day, not later than 4 hours prior to bedtime. The maximum single dose is 2 grams (two measuring spoons). If necessary, the maximum daily dosage can be increased to 10 grams.
The dosage for children 10–12 years old is ½–1 spoons daily, for children older than 12 years old – 1-2 spoons a day.
The length of the treatment course is 1.5–2 months; the courses can be taken 2-3 times over a one-year period.
Side effects
Allergic reactions;
Headaches;
Insomnia;
Constipation;
Weight loss;
Itching;
Contraindications
Hypersensitivity;
Infectious diseases of the central nervous system;
Feverish and psychotic conditions;
Blood disorders;
Liver and/or kidney disorders;
Pregnancy and lactation;
Patient's age under 10 years old.
Drug interaction
Deanol may potentiate the effect of psychostimulants.
Manufacrurer
PIQ-Pharma, Russia.
Related products
Nanotropil® (previously known as Phenotropil) was part of the cosmonaut's kit in the USSR. It is a phenyl derivative of Piracetam which is reported to be more neuroprotective compared to the original compound. It was shown to possess psychostimulatory and various adaptogenic and neuromodulator properties. Fast US domestic shipping is available.