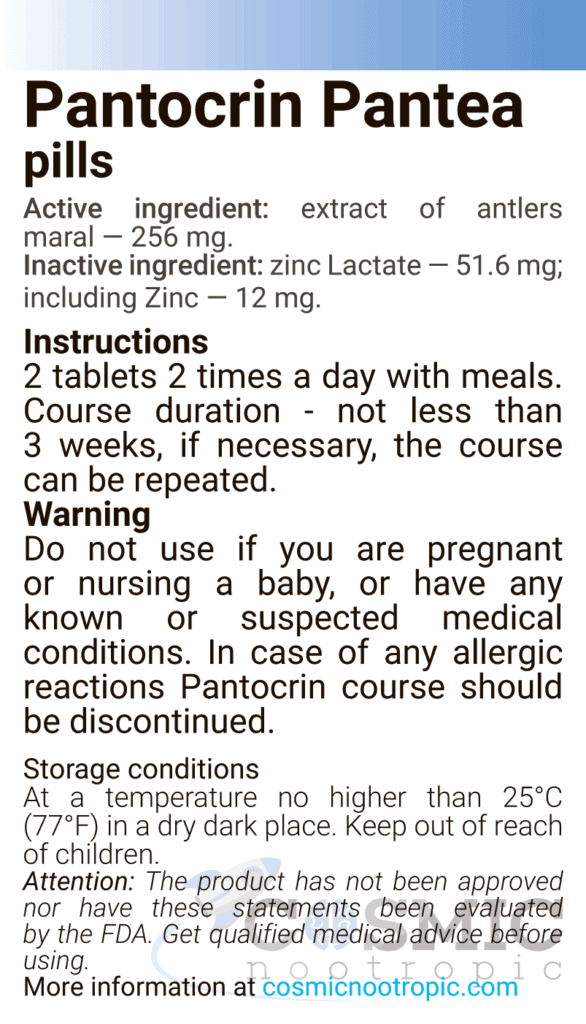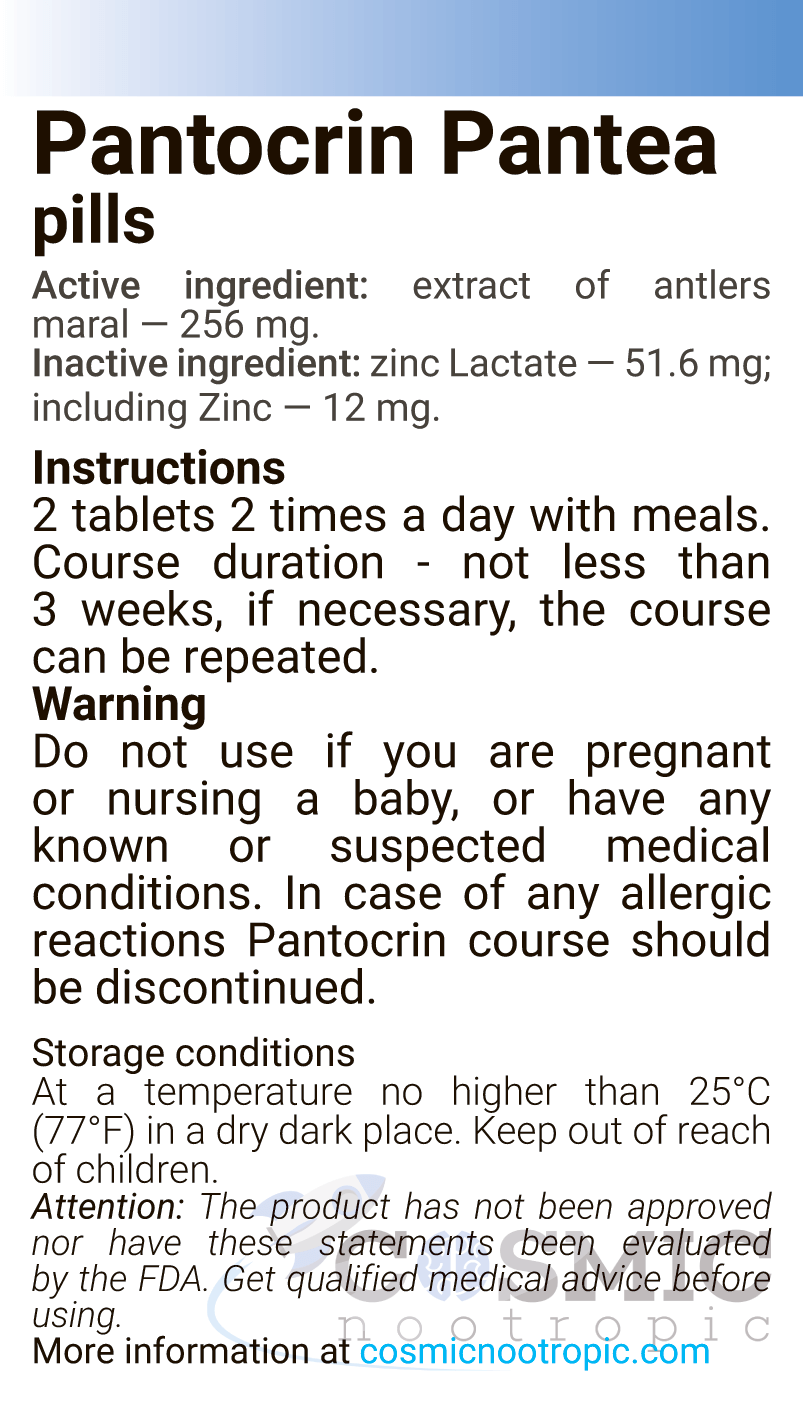 PANTOCRIN ® (Pantocrinum)
Buy Pantocrin (Pantocrinum) with the fastest delivery!
Pantocrinum is a tonic and stimulating adaptogen based on the maral (red deer) antlers extract.
The healing properties of maral antlers were well-known in ancient Chinese mythology and in ancient Roman medicine. They were widely used in Chinese and Korean medicine. In Russia, the healing properties of maral antlers were revealed in the 18th century, though the research on the matter started in the 1930s. The red deer antlers extract was registered under the brand name Pantocrinum in 1970. You can buy Pantocrin to use as part of complex therapy of asthenia (overwork), neurasthenia, and hypotension. The drug is available in pharmacies without a prescription.
Since the 19th century, marals are bred in captivity in order to obtain their antlers. In Russia, breeding is most developed in the Altai Republic. Sawing off the antlers is painless and harmless for the deer as they have a natural ability to lose and regrow their antlers annually.
Maral antlers extract contains biologically active substances (peptides, amino acids, phospholipids, and microelements) that have a pronounced tonic and adaptogenic effect that improves physical and mental performance, especially in the case of asthenia and monotonous activity. The drug has a positive effect on sexual function, including the dysfunctions caused by aging and exposure to noxious factors.
Pharmacodynamic properties
The drug has adaptogenic properties, stimulating the central nervous and cardiovascular systems, activating skeletal muscle tone and motor activity of the gastrointestinal tract. It contains phospholipids and microelements that increase endurance, stabilize the blood pressure in hypotension cases and stimulate the gastrointestinal tract.
Indications
Can be used as a tonic aimed at increasing endurance and mental performance;
Treatment of asthenia, neurasthenia, and neuroses;
Treatment of asthenic syndrome after acute infectious diseases;
As part of complex therapy of hypotension.
Produced by Evalar, Russia. Read more about the producer in this blog post.
Contents
40 pills.
Active ingredient: maral antlers extract – 256 mg.
Inactive ingredients: zinc lactate – 51.6 mg.
Dosage and administration
Dosage for adults is 2 tablets 2 times a day, with food. The duration of the treatment course is not less than 3 weeks. If necessary, treatment courses can be repeated.
Special instructions: To avoid sleep disorders, do not use the drug in the afternoon.
Side effects
Allergic response (pruritus), high blood pressure, headache, and sleep disorders.
Contraindications
Atherosclerosis, chronic heart failure, stenocardia, hypercoagulation, inflammation of the kidneys, hypotension, malignant neoplasms, excitability, sleep disorders, pregnancy and breastfeeding, children under 12 years of age.
Drug interaction
Do not co-administer with anticoagulants, calcium salts, and prokinetic agents.
Storage conditions
Store in a cool dark place at a temperature not higher than 25°C. Keep out of the reach of children.
Manufacturer
Evalar, Russia.
Related products
Cytomaxes® are natural peptides extracted from organs and tissues of young calves by a patented method of thorough filtering. They have a low molecular weight of less than 5 kDa which does not allow for foreign DNA fragments and infectious particles to get into the preparation. Therefore these supplements are very safe for use. Cytomaxes are designed to optimize the functions of the body and regulate the processes of protein biosynthesis.