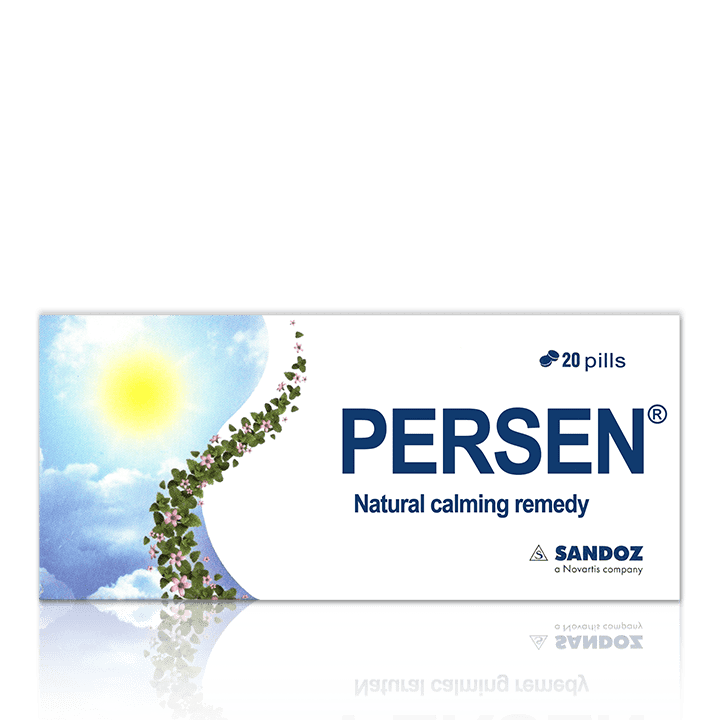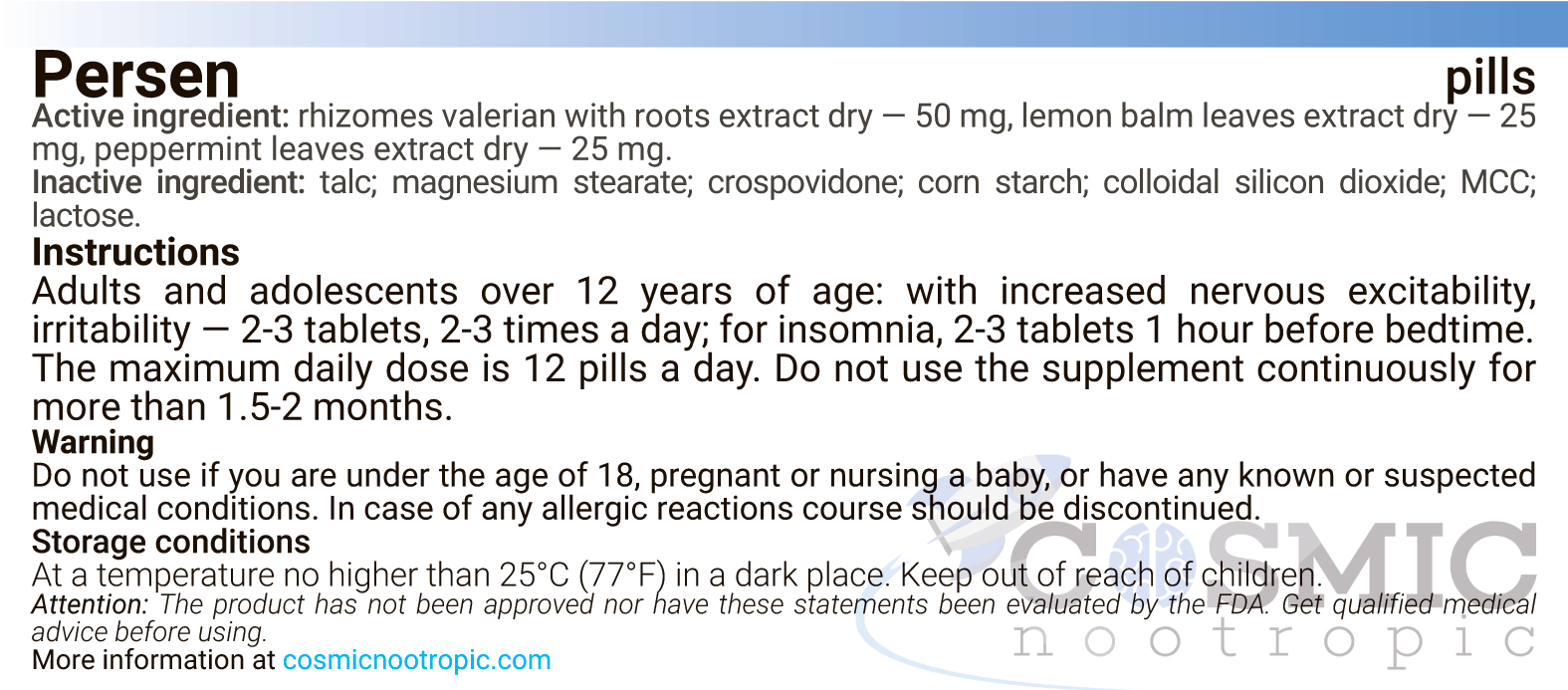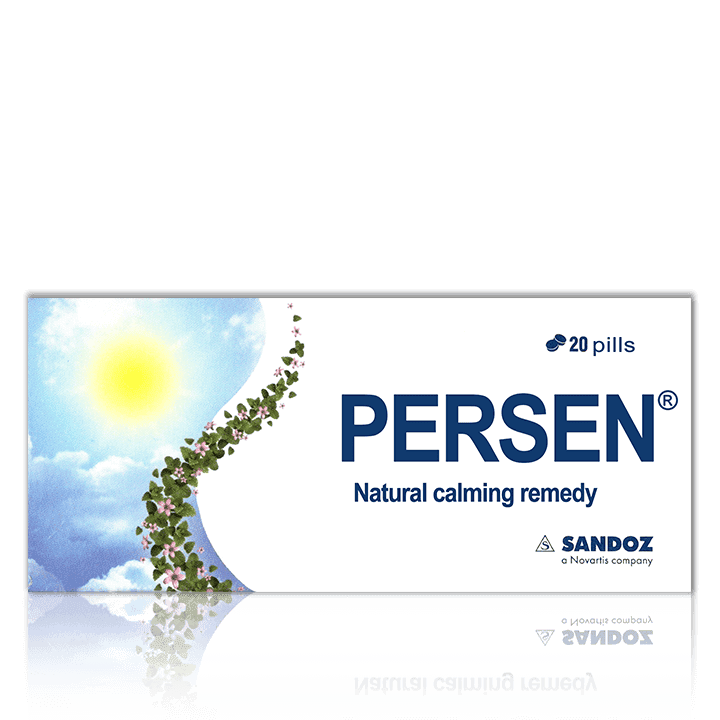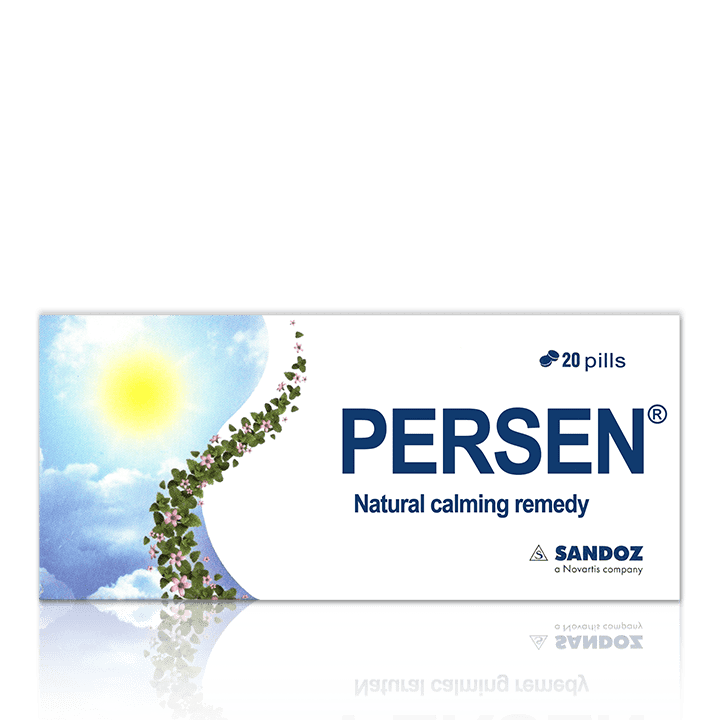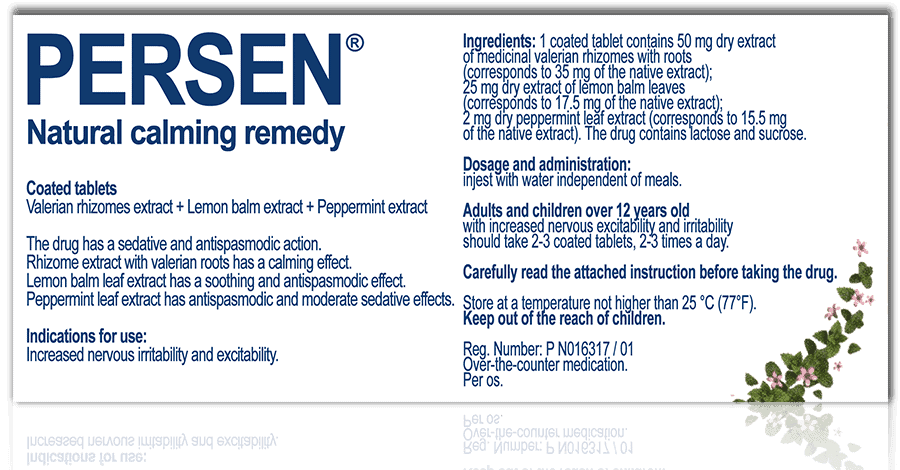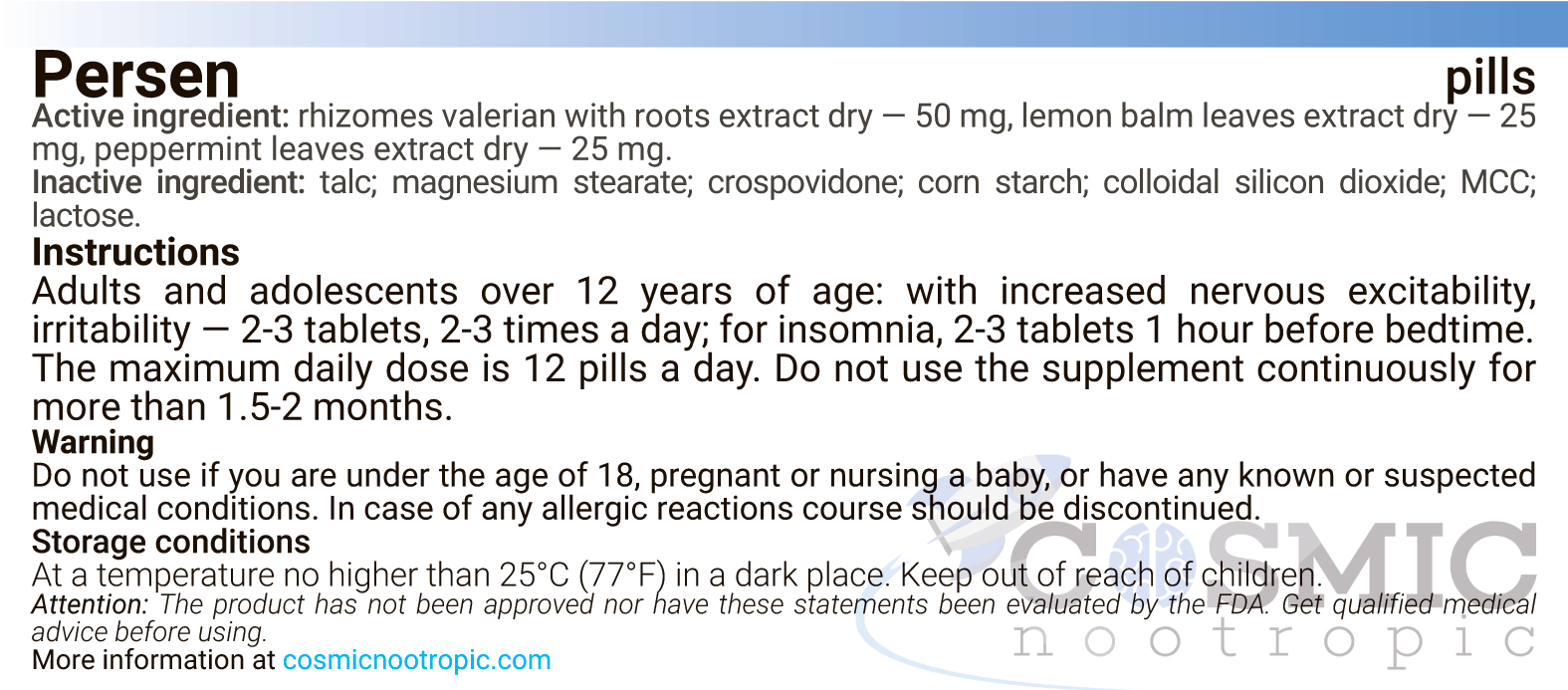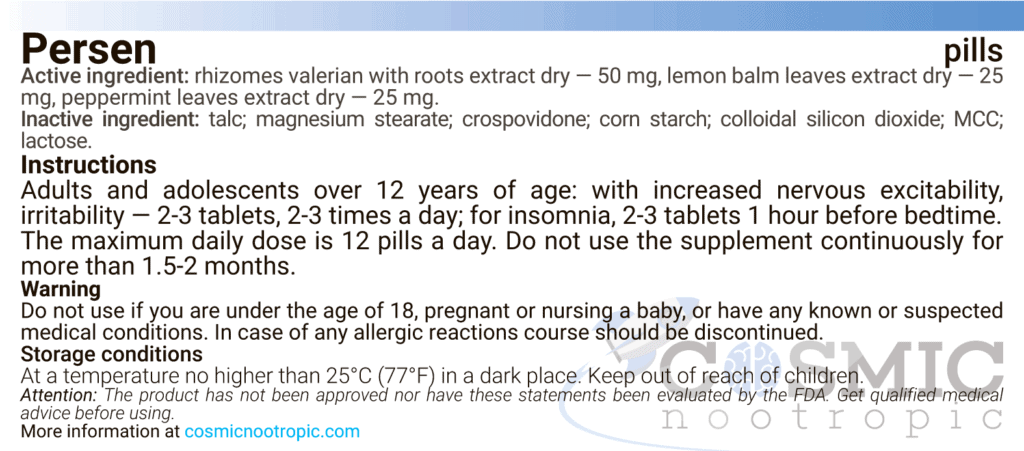 AUTHENTIC PRODUCTS
Only original pharmaceutical products that passed 3 stages of clinical trials.
GMP QUALITY
Our products are produced on GMP or state licensed factories.
10% CRYPTO DISCOUNT
10% discount for paying in BTC or other cryptocurrency.
PAYMENT BY CARD
Convenient Payment by Visa or MasterCard.
GUARANTEED DELIVERY
Guaranteed delivery times and clear Reshipment & Refund Rules.
PROMPT SHIPPING
Different shipping methods and same or next day shipping.
PERSEN ® (Valerian, Lemon Balm, Peppermint)
Buy Persen Online!
Persen® is a combined herbal drug with sedative and antispasmodic effect. It is used when there is no need in a more serious medication. Indications of Persen include neurosis, impaired attention, anxiety and insomnia. Persen is said to be effective as a replacement therapy after the withdrawal from strong sedatives.
Fast US delivery is available!
---
Form:
20 pills / 60 pills
Form description:
Film-coated dark brown round, biconvex tablets
Active ingredient:
Dry extract of medicinal valerian rhizomes with roots – 50 mg (equal to 35 mg of the extract), dry extract of lemon balm leaves – 25 mg (equal to 17.5 mg of the extract), dry peppermint leaf extract – 25 mg (equal to 15.5 mg of the native extract).
Excipients:
Talc, magnesium stearate, crospovidone, corn starch, silica, lactose, and sucrose.
Coating composition: hydroxypropylcellulose (hypromellose, pharmacoat), talc, sodium carboxymethylcellulose, povidone, sucrose, colloidal silica, calcium carbonate, titanium dioxide, Brown 75, glycerol, wax E Hoechst (Capol 600)
СAS Number:
ATC code:
N05CM
Pharmacological action:
Herbal sedative
Shelf life:
Do not use it beyond the expiration date printed on the package.
Storage conditions:
Store in a dry dark place at temperatures no higher than 25°C (77°F). Keep out of reach of children.
Terms of release:
Over-the-counter
Manufacturer:
Sandoz Pharmaceuticals, Slovenia
---
What is Persen?
Persen is a sedative and antispasmodic herbal drug.
It is used to treat neurosis accompanied by stress, impaired attention, anxiety, and insomnia that are usually treated with potent therapy.
It can also be used as a replacement therapy after the withdrawal of strong sedatives. Persen can be prescribed for the prevention of psychosomatic disorders caused by stress. It has also proved to be effective in dysautonomia treatment.
What are the Benefits and Side Effects of Persen?
Valerian root and rhizome extract has a calming effect.
Lemon balm (Melissa officinalis) leaf extract has a soothing and antispasmodic effect.
Peppermint leaf extract has antispasmodic and moderate sedative effects.
What is Persen Used For?
Indications of Persen include:
Increased nervous irritability and excitability;
Insomnia;
As a part of complex therapy of dysautonomia.
Where Can I Order Persen Online?
You can buy Persen online at different vendors. CosmicNootropic offers Persen in packs of 20 pills and 60 pills. We offer fast US delivery and worldwide shipping! Always be sure to do your research before purchasing any nootropic supplement to ensure you are getting a quality product.
You can order Persen and get it delivered to the USA, Europe, the UK, Asia, and many other regions and countries via CosmicNootropic.
---
Legal Disclaimer
This product has not been approved by the US FDA. All statements on this page are for informational purposes only and have not been evaluated by the US FDA.
This product is not intended to diagnose, treat, cure, or prevent any disease. See more
What is Persen Dosage?
Persen is administered orally, independent of meals. The recommended dosage for adults and children over 12 years of age is 2-3 tablets 2-3 times a day.
What are Persen Side Effects?
Possible side effects include allergic responses or bronchospasm. Prolonged drug administration can cause constipation.
Contraindications
Hypersensitivity to the components of the drug;
Lactose intolerance, lactose deficiency or glucose-galactose malabsorption;
Sucrase/isomaltase deficiency or fructose intolerance;
Arterial hypotension;
Cholangitis or biliary disease;
Pregnancy and lactation;
Children under 12 years of age.
Overdose
Overdose can cause fatigue, abdominal pain, dizziness, dilated pupils, chest pain, or shaking hands. If the symptoms do not disappear on their own within 24 hours, perform gastric lavage and consult a doctor.
Drug interaction
Persen enhances the effect of hypnotic drugs and other CNS depressants, antihypertensive drugs, and painkillers, thus requiring dosage adjustment.
Related products
Buy Anxiolytics Bundle to find your perfect anxiolytic supplement or stack without spending lots of money. The Anxiolytics Bundle contains five most popular anti-anxiety products that can help you deal with stress in a healthy way. Choose the one that works best for you. US fast delivery and international shipping available!
Buy Nootropics Bundle, give yourself an edge in improving your brain functions. Find your perfect nootropic supplement without spending lots of money. The Nootropics Bundle contains five most popular nootropics. Choose what work best for you. US fast delivery and international shipping available! 
Peony Anomala tincture is an herbal sedative medicine produced from a perennial herbaceous plant. It belongs to the group of natural adaptogens that stimulate the immune system. It is used in patients with sleep disorders, excitability, and dysautonomia. Peony Anomala tincture is also used to stimulate endorphin production and help to cope with stress and emotional overload.
Thank you!
You will now receive regular updates from us!