We are currently working on replenishing our warehouse in the US as many products might be out of stock.
•
We are currently working on replenishing our warehouse in the US as many products might be out of stock.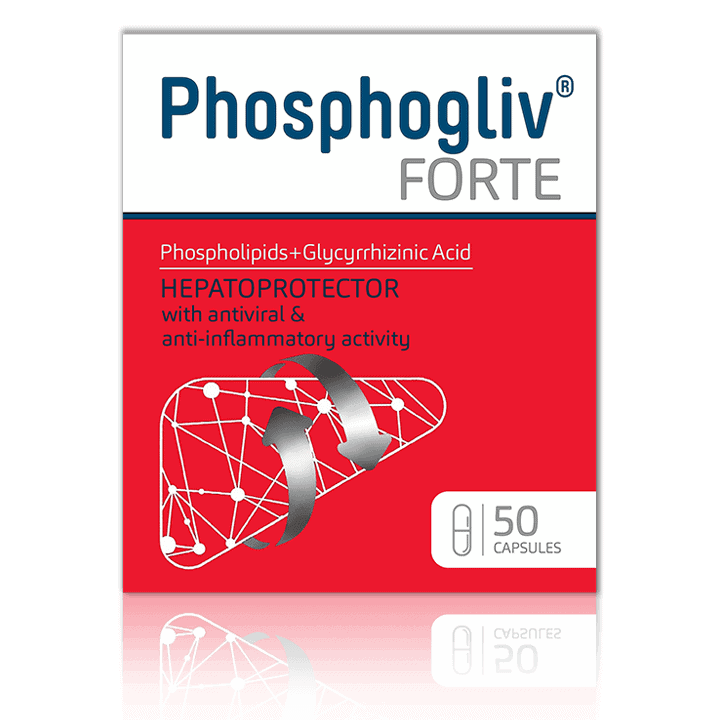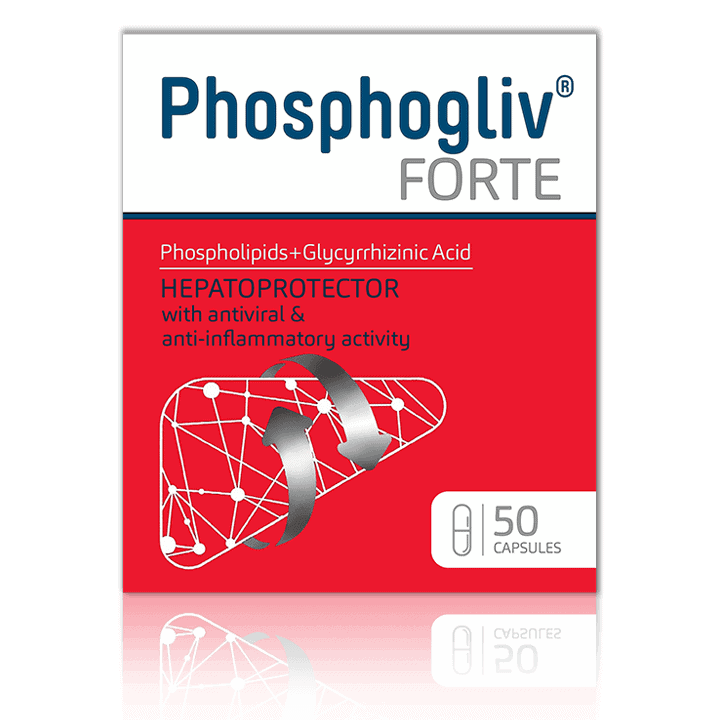 AUTHENTIC PRODUCTS
Only original pharmaceutical products that passed 3 stages of clinical trials.
GMP QUALITY
Our products are produced on GMP or state licensed factories.
10% CRYPTO DISCOUNT
10% discount for paying in BTC or other cryptocurrency.
PAYMENT BY CARD
Convenient Payment by Visa or MasterCard.
GUARANTEED DELIVERY
Guaranteed delivery times and clear Reshipment & Refund Rules.
PROMPT SHIPPING
Different shipping methods and same or next day shipping.
Phosphogliv Forte is a combination drug that exhibits membrane-stabilizing, antiviral and hepatoprotective effects. The therapeutic effects of Phosphogliv Forte are stipulated by two active substances that make up its composition:
Phospholipids (the main substance is phosphatidylcholine). Phosphatidylcholine is an essential structural component of the membranes of any cell. This active substance of the drug is found in large quantities in the liver, blood, and nerve tissue. It restores the structure and function of cells upon damage and has a cytoprotective effect. The hepatoprotective activity of Phosphogliv Forte is based on the replenishment of damaged membranes of liver cells by phospholipids. Thus, regeneration and improvement of an organ function occur. Phosphatidylcholine normalizes protein and lipid metabolism, restores the detoxifying activity of the liver, and prevents the loss of enzymes by hepatocytes.
Glycyrrhizic acid. Has an anti-inflammatory effect, it inhibits the reproduction of viruses in the liver and other organs by stimulating the production of interferons; it increases phagocytosis, and the activity of natural killer cells. It demonstrates hepatoprotective properties due to antioxidant and membrane-stabilizing effects. It is an antioxidant effective in manifestations of allergies in non-infectious lesions. In skin lesions, it is known to prevent the increase in the area of damage and it helps to cure the pathology by stabilizing the cell membranes and by inhibiting the inflammatory process.
Buy Phosphogliv Forte for the following effects:
Inhibition of the processes of fibrosis and cirrhosis in the liver;
Increased solubility of cholesterol in bile, making it more easily excreted from the body;
Useful anti-atherosclerotic effect due to cholesterol normalization;
Participation in the digestion of fats and the absorption of their vitamins;
Decrease of platelet viscosity, which improves blood flow in the blood vessels.
The drug is recommended in case there is a feeling of pressure in the upper right abdomen because of liver damage, which can be caused by the following factors:
Improper nutrition (fatty liver degeneration);
Alcoholic- or toxic-induced injury;
As part of the complex therapy in viral hepatitis, cirrhosis, and psoriasis.
Produced by Pharmstandard, Russia.
Check out more Immunostimulants!
---
Legal Disclaimer
This product has not been approved by the US FDA. All statements on this page are for informational purposes only and have not been evaluated by the US FDA.
This product is not intended to diagnose, treat, cure, or prevent any disease. See more
Contents
50 capsules in a pack.
Active ingredients: phospholipids (Lipoid PPL-400) 400 mg, phosphatidylcholine (the main component 73–79%) 300 mg, sodium glycyrrhizinate (trisodium salt of glycyrrhizic acid) 65 mg;
Excipients: butylhydroxytoluene 0.1 mg, ethyl alcohol of "lux" or "extra" grade (ethanol) 12 mg, sunflower or corn oil 22.9 mg;
The composition of the capsule shell: titanium dioxide, red iron oxide, black iron oxide, yellow iron oxide, gelatin.
Dosage and administration
Capsules should be taken with meals without chewing (for example, with a glass of water). Adults – 1-2 capsules, 3 times a day; children over 12 years old – 1 capsule, 3 times a day.
Contraindications
If you are allergic to the active substance, soy, peanuts, or any other ingredients of this medicine, you should refrain from using it.
The drug is also contraindicated in cases of antiphospholipid syndrome, pregnancy, lactation, or for children under 12 years old.
The drug should be taken with caution in case of portal and arterial hypertension.
Side effects
When using the drug, gastrointestinal disorders, such as nausea, loose stools, and abdominal discomfort, are rarely observed. Allergic reactions (rash, urticaria, itching) are extremely rare.
Overdose
Symptoms of an overdose are peripheral edema and increased blood pressure.
Treatment: depending on the severity of the symptoms of an overdose, it is necessary to reduce the dose of the drug and/or prescribe Spironolactone (50-100 mg per day).
Close analogs
Manufacturer
Pharmstandard, Russia.
Thank you!
You will now receive regular updates from us!