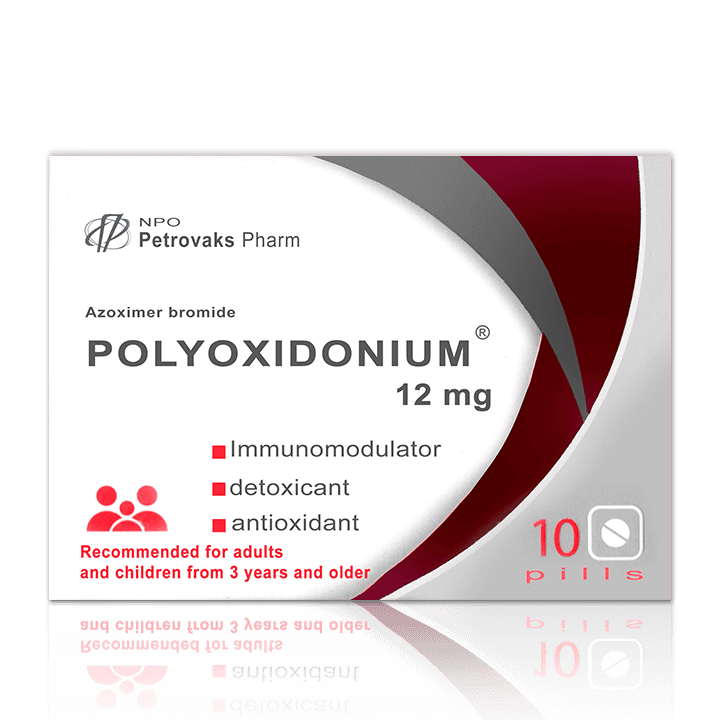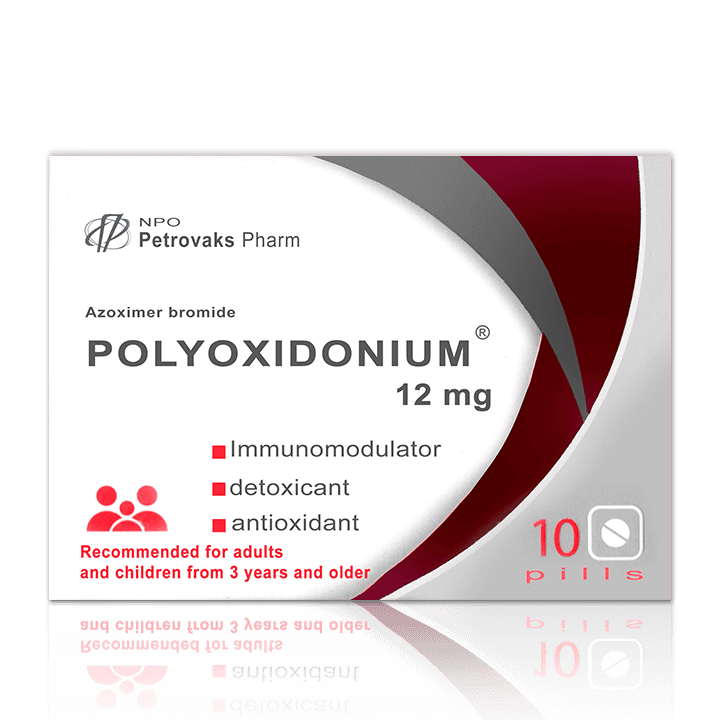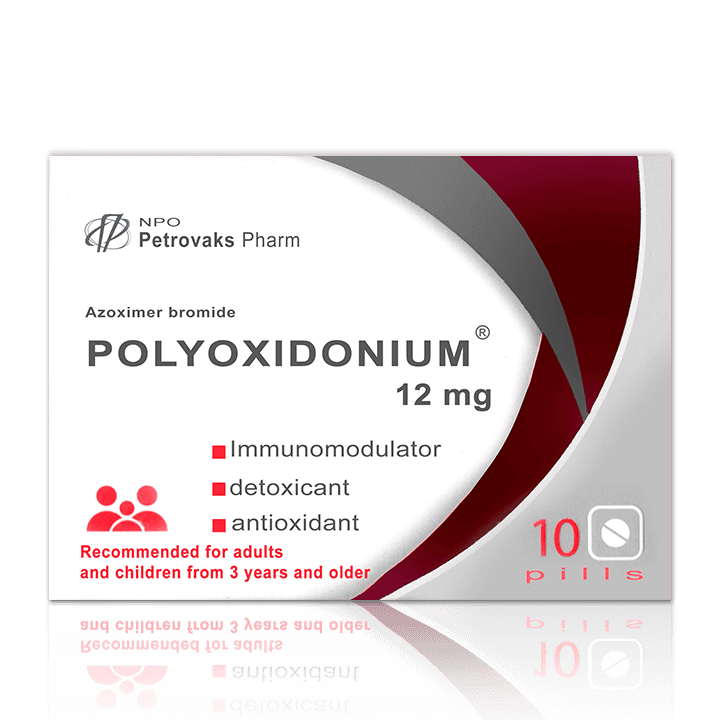 AUTHENTIC PRODUCTS
Only original pharmaceutical products that passed 3 stages of clinical trials.
GMP QUALITY
Our products are produced on GMP or state licensed factories.
10% CRYPTO DISCOUNT
10% discount for paying in BTC or other cryptocurrency.
PAYMENT BY CARD
Convenient Payment by Visa or MasterCard.
GUARANTEED DELIVERY
Guaranteed delivery times and clear Reshipment & Refund Rules.
PROMPT SHIPPING
Different shipping methods and same or next day shipping.
AZOXIMER BROMIDE (Polyoxidonium ®)
Buy Azoximer Bromide (Polyoxidonium) Online!
Polyoxidonium (Azoximer Bromide) is a "smart" immunomodulator – it affects only the indicators that are too high or low. This immunomodulator also has detoxifying and antioxidant properties. This compound is a component of influenza vaccines. It restores immunity and and improves body resistance Polyoxidonium is known to treat inflammatory infections of any origin.
Buy Azoximer Bromide with fast US delivery. 
One pack is sufficient for a 5-day course aimed at treating influenza and acute respiratory infections. Save with the volume discount!
---
| | |
| --- | --- |
| Synonyms | Synpol |
| Form: | 10 pills of 12mg / 5 vials of 3 mg |
| Form description: | Round, flat-cylindrical tablets of white or yellowish color with a chamfer and a break line on one side and letters "PO" on the other / Porous mass of white or white with a yellowish tint color. |
| Active ingredient: | Azoximer bromide |
| Excipients for pills: | Mannitol – 3.6 mg, povidone К17 – 2.4 mg, lactose monohydrate – 185 mg, potato starch – 45 mg, stearic acid – 2 mg. |
| Excipients for capsules: | Mannitol – 0.9 mg; povidone K17 – 0.6 mg. |
| СAS Number: | 892497-01-7 |
| ATC code: | L03 |
| Pharmacological action: | Immunomodulating agent |
| Shelf life: | 2 / 3 years. Do not use it beyond the expiration date printed on the package. |
| Storage conditions: | Store in a dry dark place at 2–25°С (35.6–77°F) / 2–8°С (35.6–46.4°F). Keep out of reach of children. |
| Terms of release: | Over-the-counter |
| Manufacturer: | Petrovax, Russia |
---
What is Azoximer Bromide?
Azoximer Bromide (Polyoxidonium) is a medicine intended for stimulating the immune system. Its active ingredient is azoximer bromide (copolymer N-oxide 1,4-ethylene piperazine and (N- carboxymethyl)-1,4-ethylene piperazinium bromide).
Polyoxidonium was developed by a group of scientists in the National Research Centre – Institute of Immunology of the Federal Biomedical Agency of Russia. Though the active ingredient Azoximer Bromide was patented in 1997, the drug has been in clinical use since 1996. It has been proven to be effective and safe to use and gained popularity both among doctors and patients. Polyoxidonium is one of the Top-200 medicines in Russia.
What are Benefits and Effects of Azoximer Bromide?
Azoximer Bromide (Polyoxidonium) has a complex effect as it is an immunomodulator with detoxifying and antioxidant properties. It restores immunity and detoxifies, thus improving patients' general condition as well as reducing the risk of developing complications. Polyoxidonium is used in acute conditions such as influenza, cold and inflammatory infections of any origin. It can be well combined with standard therapy as it enhances its effect, improves body resistance, and detoxifies.
Polyoxidonium is a "smart" immunomodulator – it increases the low indicators and lowers the high ones of the immune system, not affecting the normal ones.
One of the facts that prove its effectiveness is that Polyoxidonium is included as an adjuvant in trivalent and quadrivalent influenza vaccines which are exported by Petrovax (the manufacturer) into the Republic of Belarus, Kazakhstan, Kyrgyzstan, Iran, etc.
The drug can be applied orally, intranasally, or intramuscularly.
What is Azoximer Bromide Used For?
Intended uses of Azoximer Bromide (Polyoxidonium) include:
Seasonal prevention of exacerbation of chronic conditions and prevention of URI (upper respiratory infection) and influenza during the pre-epidemic period;
Treatment of secondary immunodeficiencies caused by aging or adverse factors;
Prevention of recurrent herpetic infection.
Where Can I Order Azoximer Bromide (Polyoxidonium) Online?
You can buy Azoximer Bromide (Polyoxidonium) online at different vendors. CosmicNootropic offers Polyoxidonium in packs of 10x12mg pills and 5x3mg vials. We offer fast US delivery and worldwide shipping with volume discounts! Always be sure to do your research before purchasing any nootropic supplement to ensure you are getting a quality product.
You can order Azoximer Bromide and get it delivered to the USA, Europe, the UK, Asia, and many other regions and countries via CosmicNootropic.
---
Legal Disclaimer
This product has not been approved by the US FDA. All statements on this page are for informational purposes only and have not been evaluated by the US FDA.
This product is not intended to diagnose, treat, cure, or prevent any disease. See more
What is Azoximer Bromide Dosage, How to Use It?
Influenza and URI treatment course lasts 7 days.
Tablets:
Apply orally and sublingually 20–30 minutes before meals twice a day. Dosage for adults and children from 10 years of age is 1 tablet, dosage for children aged 3 to 10 is 1/2 tablet (6 mg). If necessary, treatment courses can be repeated after 3-4 months. Effectiveness is not reduced on repeat prescriptions.
Vials:
For intramuscular injection dilute 3 mg of Polyoxidonium in 1 ml (6 mg in 2 ml) of water for injections or 0.9% sodium chloride solution. After the dilution, leave for 2-3 minutes and then stir without shaking.
Preparing a solution for intranasal or sublingual administration:
For use in children, dilute 3 mg dosage in 1.0 ml (20 drops), 6 mg dosage in 2.0 ml (40 drops) (1 drop (0.05 ml) of prepared solution contains 0.15 mg of the drug); for use in adults, dilute 6 mg dosage in 1.0 ml (20 drops) of 0.9% sodium chloride solution or boiled water. Parenterally (intramuscular or intravenous): dosage for adults is 6–12 mg once a day; daily, every other day, or 1-2 times a week depending on the diagnosis and disease severity. Daily doses for children (intranasal or sublingual administration): 1 drop per 1 kg, but no more than 40 drops (6 mg of the active ingredient). A prepared solution for intranasal or sublingual administration can be stored at room temperature in the manufacturer's package for up to 48 hours.
What are the Side Effects of Azoximer Bromide?
Side effects are not registered.
Contraindications
Individual hypersensitivity;
Acute kidney insufficiency;
Pregnancy (no application experience);
Lactation;
Children under 3 years of age (tablets);
Lactose intolerance, lactase insufficiency, and glucogalactose malabsorption;
Lyophilisate for preparing a solution for injection and topical administration is contraindicated for children under 6 years of age.
Overdose
Cases of overdose are not registered.
Drug interaction
Azoximer bromide does not inhibit CYP1A2, CYP2C9, CYP2C19, and CYP2D6 isoenzymes, so Polyoxidonium can be administered with antibiotics, antivirals, antifungal and antihistamine preparations, glucocorticoids, and cytostatics.
Related products
Vetom® is the brand name of the unique probiotic products manufactured by the Issledovatelsky Tsentr Research Company. They come in several forms: creams, sprays and capsules. They are intended for different applications. The main effect is immune system reinforcement. Bacteries of genus Bacillus are used as an active ingredient of Vetom medicinical products. These bacteria have an ability to suppress growth and development of pathogenic, conditionally pathogenic and putrefactive bacteria.
Thank you!
You will now receive regular updates from us!