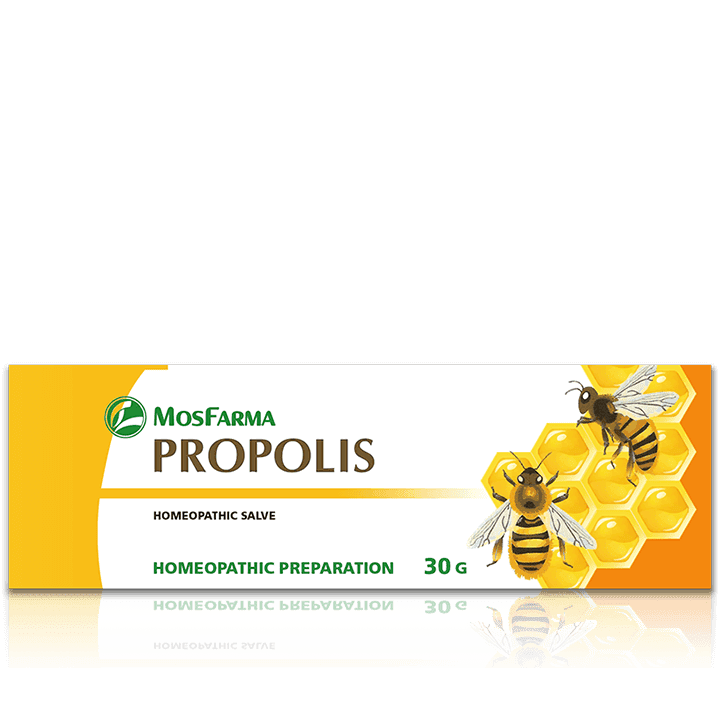 Buy Propolis ointment and tablets from Russia at the best price!
Propolis is a natural substance produced by honey bees by combining the sap collected on needle-leaved trees with their own discharges and beeswax. It is a unique product consisting of more than 50 elements; it contains resins and essential oils and is rich in vitamins (A, B1, B2, PP, E, C) and microelements (iron, copper, manganese, zinc, cobalt). Bees use Propolis to build their hives and protect them from any infection, but we use it for its medicinal properties.
The main benefit of Propolis is its effectiveness against all the key causative agents of infectious diseases, like bacteria, fungi, and viruses. It also has anti-inflammatory, antioxidant, hepatoprotective, regenerating, and immunomodulating properties, and is known to have an analgesic effect stronger than that of the majority of anesthetics. It is one of the richest sources of bioflavonoids for the support of your immune system, provided by nature.
In our store, you can find two versions of Propolis – ointment and tablets!
Propolis Homeopathic salve
Propolis is perfect for skincare and various skin conditions as it keeps the skin hydrated and disinfected, and soothes dry and sore areas.
It can be used to treat
Chronic eczema and neurodermatitis (as a part of complex therapy);
Cold sores, burns, and various rashes.
Propolis Tablets
 The tablets are a natural bioactive concentrate of Propolis that will allow you to create solutions and salves for your own use.
Indications
Disorders of the respiratory system and upper respiratory tract: pharyngitis, laryngitis, tonsillitis, tracheitis, or bronchitis (use in the form of the solution);
Dental disorders: stomatitis, gingivitis, or periodontitis (use orally or in the form of the solution);
Skin disorders: bacterial and fungal skin lesions, cold sores, rashes, and herpetic eruptions (use in the form of the solution to wipe your skin or use the salve);
Disorders of the gastrointestinal tract, liver, or joints (use in the form of the solution for internal use or use the salve, after consulting your doctor).
Produced by Mosfarma / Altai Nectar, Russia.
Contents
Propolis Homeopathic salve
Ingredients: Propolis; Homeopathic matrix tincture; Vaseline.
Propolis Tablets
Ingredients: 100% Natural Purified Bee Propolis.
5 tablets of 0.8 g in 1 package.
Dosage and administration
Propolis Homeopathic salve
Apply the Propolis salve in an even thin layer to the affected areas and massage it into your skin 1-2 times a day. Do not take internally! Use the salve on a small patch of skin first to test for any allergic reaction if your skin tends to be sensitive. The course of treatment usually lasts for 1-2 weeks but may vary as it depends on the therapeutic effect.
Propolis Tablets
Oral administration: Place one Propolis tablet into your mouth and wait for it to dissolve, slightly crushing it with your teeth;
Solution: To prepare the solution, take the crushed Propolis tablets and 70% alcohol (can be replaced with vodka), mix them in a standard ratio of 1:10. Place the tablets into your freezer for 15–20 minutes beforehand to significantly ease the grinding process;
Salve: Melt the Propolis tablets in a water bath, then mix them with a fat base (petroleum jelly, butter, goose fat, etc.) in a ratio of 1:10.
Contraindications
Individual intolerance to the components of Propolis; hypersensitivity to tree resin.
Side effects
Allergic reactions.
Drug interaction
Propolis is compatible with other allopathic and homeopathic medicines.
Storage conditions
Propolis Homeopathic salve
Store the Propolis salve in a dry place at room temperature up to 20°C. Protect from direct sunlight. Keep out of the reach of children!
Shelf life is 2 years. Do not use after the expiration date.
Propolis Tablets
Store the Propolis tablets in a dry place at room temperature up to 25°C. Protect from direct sunlight. Keep out of the reach of children!
Shelf life is 2 years. Do not use after the expiration date.
Manufacturer
Propolis Homeopathic salve
Mosfarma (Moscow Pharmaceutical Factory), Russia.
Propolis Tablets
Altai Nectar (Altayskiy Nektar), Russia.
Related products
BBS Сosmetic Placental Peptide Extract is a biologically active polypeptide complex with cosmetic properties. It contains hyaluronic acid, which binds and holds free fluid, and together with linoleic acid and other biologically active substances, which are components of the product, prevents its loss. Regular use of this cosmetic product makes the skin resilient and supple.
Aralia is a well-known gentle adaptogenic tonic herb popular for its wide range of pharmacological properties. Aralia tincture contains a variety of beneficial oils and acids, as well as vitamins B1, B2. It is used to treat physical and mental fatigue, asthenic syndrome, arterial hypotension, decreased sex drive, depression, enuresis, radiation sickness and metabolic disorders. Aralia can also help to recover from craniocerebral injury, contusion, meningitis, post-infectious arachnoiditis and ARVI (in the complex therapy).
Adaptol® (Mebicar) belongs to a group of non-benzodizepam tranquilizers. It is approved for use by the general public as an anxiolytic and a "daily" tranquilizer, because it does not disturb mental and motor performance. It is also used to aid smoking cessation and to treat ADHD symptoms. Fast US domestic shipping is available.