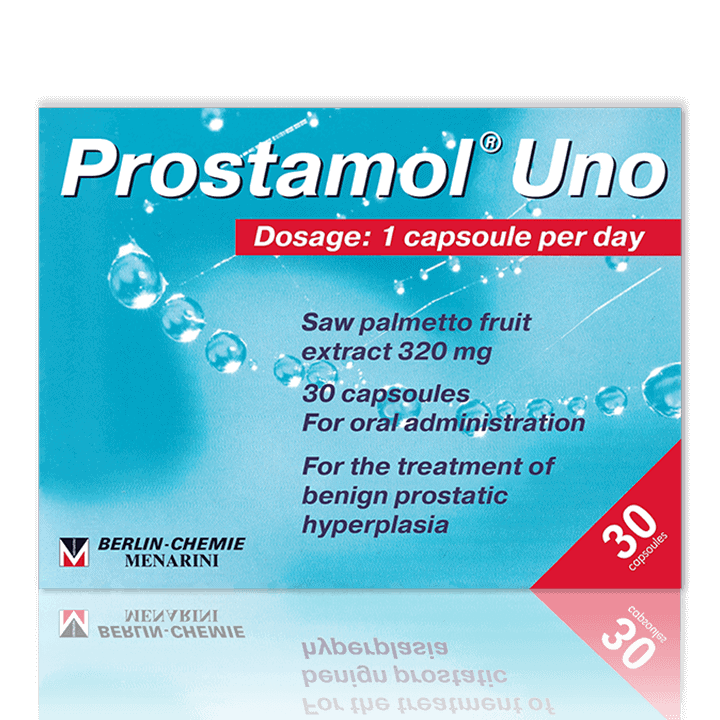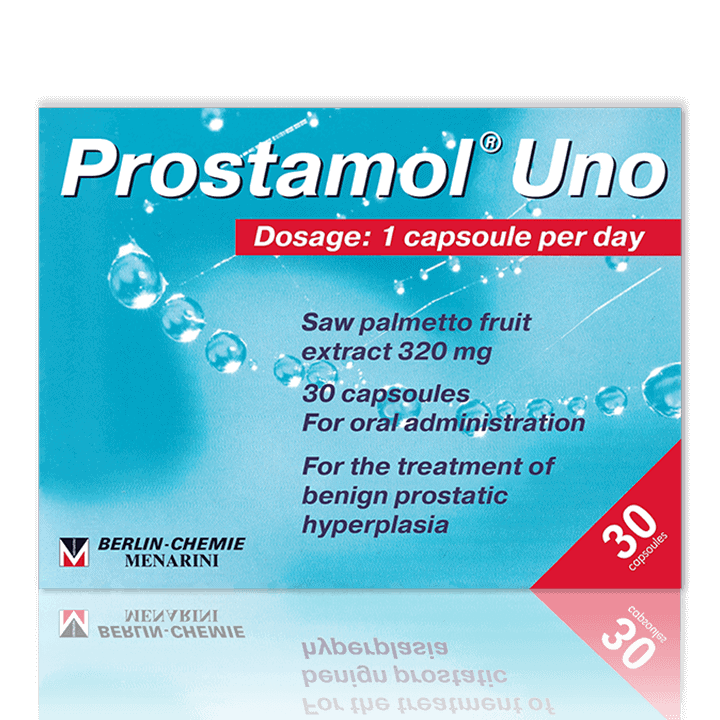 PROSTAMOL ® UNO
AUTHENTIC PRODUCTS
Only original pharmaceutical products that passed 3 stages of clinical trials.
GMP QUALITY
Our products are produced on GMP or state licensed factories.
10% CRYPTO DISCOUNT
10% discount for paying in BTC or other cryptocurrency.
PAYMENT BY CARD
Convenient Payment by Visa or MasterCard.
GUARANTEED DELIVERY
Guaranteed delivery times and clear Reshipment & Refund Rules.
PROMPT SHIPPING
Different shipping methods and same or next day shipping.
Buy Prostamol Uno Online!
Prostamol Uno® is a plant-based remedy for the treatment of benign prostatic hyperplasia. It has anti-proliferative, anti-androgenic, anti-inflammatory, and anti-edematous effects in prostate gland. Prostamol Uno does not affect the level of sex hormones in the blood plasma or the potency and libido. In Russia this medication is often prescribed to treat prostatitis and prostate adenoma.
One pack of 30 capsules is enough for a one-month treatment.
---
| | |
| --- | --- |
| Form: | 30 pills of 320 mg |
| Form description: | Oval, soft, gelatin capsules with a lightproof two-colored red and black shell. Capsule content: greenish-brown liquid with a specific odor. |
| Active ingredient: | Ethanol extract of Serenoa repens fruit (9−11: 1) – 320 mg |
| Excipients: | Succinyl gelatin, glycerol, purified water, titanium dioxide, black iron dye, crimson dye [Ponceau 4R]. |
| ATC code: | G04CX02 |
| Pharmacological action: | Plant origin remedy for the treatment of benign prostatic hyperplasia |
| Shelf life: | 3 years. Do not use it beyond the expiration date printed on the package. |
| Storage conditions: | Store in a dry dark place at temperatures no higher than 25°C (77°F). Keep out of reach of children. |
| Terms of release: | Over-the-counter |
| Manufacturer: | Berlin-Chemie, Germany / Menarini, Italy |
---
What is Prostamol Uno?
Prostamol Uno is a plant-based medication for the treatment of symptoms of the lower urinary tract associated with benign prostatic hyperplasia (BPH). Its main component is the Serenoa repens (saw palmetto) fruit extract, endemic to the southeastern coast of the United States. The first use of the extract for the treatment of urinary tract disorders is attributed to American Indians.
Prostamol Uno demonstrates antiproliferative, antiandrogenic, anti-inflammatory, and anti-edematous effects. The drug does not affect the levels of sex hormones in the blood plasma. It does not affect the potency and libido and does not change the level of specific prostatic antigen in the blood plasma.
In Russia and former Soviet countries Prostamol Uno is often prescribed to treat prostatitis and prostate adenoma.
What is the Mechanism of Action of Prostamol Uno?
The mechanism of local antiandrogenic action is due to the inhibition of the synthesis of dihydrotestosterone from testosterone (inhibition of the enzyme 5-alpha reductase types I and II) and its fixation to the cytosolic receptors of prostate cells, which prevents the penetration of the hormone into the nucleus. As a result, protein synthesis is reduced.
The mechanism of local anti-inflammatory action is due to the fact that the extract of the saw palmetto fruits (Serenoa repens) inhibits the activity of phospholipase A2, 5-lipoxygenase, and the release of arachidonic acid, thereby reducing the synthesis of prostaglandins and leukotrienes, which are inflammatory mediators.
What are the Benefits and Effects of Prostamol Uno?
Prostamol Uno reduces capillary permeability and vascular stasis.
Prostamol Uno reduces swelling and inflammation in the prostate.
Prostamol Uno eliminates compression of the bladder neck and urinary tract, improving urodynamics.
Prostamol Uno helps to reduce the severity of pathological symptoms of benign prostatic hyperplasia (dysuria, pollakiuria, nocturia, pain and straining to void, incomplete emptying of the bladder) and to increase the volume and strength of urination.
Prostamol Uno slows down further growth and an increase in the volume of the prostate gland.
What is Prostamol Used For?
Use Prostamol Uno to treat the following symptoms:
Rapid urination, especially at night;
Weak or interrupted stream of urine;
Dribbling of urine;
Feeling of incomplete emptying of the bladder;
Pain during urination;
Sexual dysfunction.
Where Can I Order Prostamol Online?
You can buy Prostamol online at different vendors. CosmicNootropic offers Prostamol Uno in packs of 30x320mg pills. We offer worldwide shipping! Always be sure to do your research before purchasing any nootropic supplement to ensure you are getting a quality product.
You can order Prostamol Uno and get it delivered to the USA, Europe, the UK, Asia, and many other regions and countries via CosmicNootropic.
Check out other products in the Reproductive Health category.
---
Legal Disclaimer
This product has not been approved by the US FDA. All statements on this page are for informational purposes only and have not been evaluated by the US FDA.
This product is not intended to diagnose, treat, cure, or prevent any disease. See more
What is Prostamol Dosage, How to Use It?
Prostamol Uno is convenient for administration: just one capsule per day. One pack of 30 capsules is enough for a one-month treatment.
The recommended duration of treatment starts from 3 months.
Prostamol Side Effects & Contraindications
The drug is said to be of high safety and good tolerance.
Note
The treatment of chronic prostatitis requires a complex approach targeting all the reasons behind the disease. For an additional positive effect of the treatment, patients are advised to adjust their nutrition and lead a more active lifestyle. Experts advise reinforcing the treatment with the consumption of large volumes of water. Prevention of the inflammatory process also includes perineal massage and physiotherapeutic procedures.
Analogs
Prostaplant, Longidaza, Vitaprost, Prostagut, Permixon, Penopen, Permikson, Prostess, ProstOptima, ProstaSabal, etc.
Related products
Mildronate® (also known as Meldonium) is a synthetic analog of gamma-butyrobetaine (GBB), a substance that exists in every cell of the human body. It is used to treat angina, myocardial failure and reduce alcohol withdrawal symptoms. Off-label use of Meldonuim in otherwise healthy individuals includes increasing exercise tolerance, learning, memory, and sexual function.
Buy Meldonium as a perfect alternative for the discontinued Ladasten (Bromantane)! Fast US domestic shipping is available.