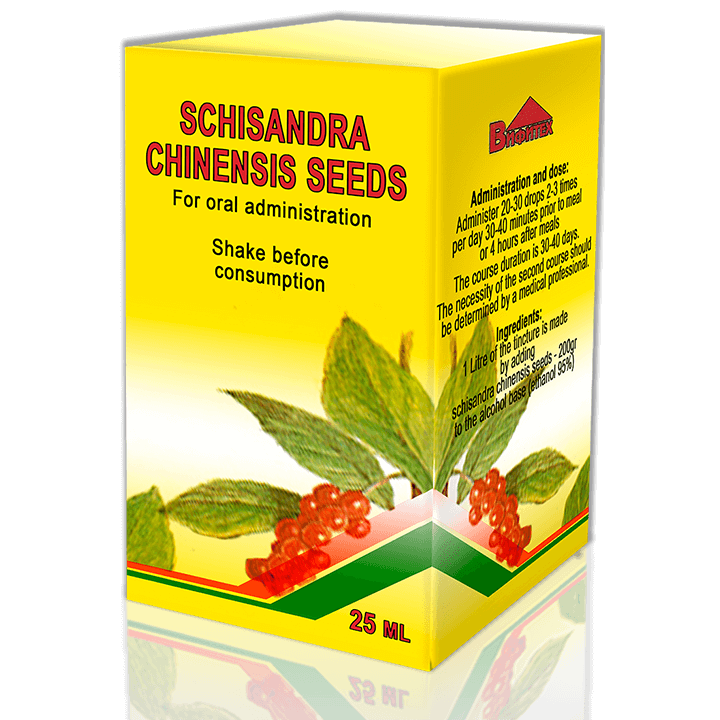 SCHISANDRA CHINESIS SEEDS TINCTURE
Buy Schisandra Chinensis Seeds Tincture at the best price!
Known since ancient times for its unique adaptogenic qualities, Schisandra Chinensis can treat various diseases and restore health after severe illnesses.
Buy Schisandra Chinensis to stimulate the nervous system, increase attention and concentration. It is used when it is necessary to help the body adapt to difficult and unfavorable conditions.
The benefits of this herb have been proved in numerous studies showing that it is one the strongest natural antioxidants in the world. Schisandra will rejuvenate the body, increase vital energy, enhance physical work capacity and strengthen stress resistance.
Some indications for use include:
Asthenic syndrome;
Chronic fatigue;
In combination therapy, for treating sexual dysfunction caused by neurasthenia;
Mental and physical exhaustion;
Neurocirculatory dystonia (hypotonic type);
Protracted recovery from somatic and infections.
Produced in Russia.
Read more about Herbal Adaptogens in our blog!
---
To be used as a dietary supplement.
Dosage and administration
The recommended dosage for Schisandra Chinensis seeds tincture is 20–30 drops dissolved in a small amount of water, orally, 2-3 times a day, 30–40 minutes before a meal. The duration of the standard treatment course is 30–40 days. A second course can be conducted if prescribed.
Contraindications
Hypersensitivity, arterial hypertension, cardiovascular diseases, increased excitability, epilepsy, convulsive state, sleep disturbance, acute infectious or virus diseases, and chronic liver diseases. Not recommended for children below 12 years, pregnant and lactating ladies.
Side effects
Rarely: allergic reactions, tachycardia, headache, sleep disturbance, and hypertension.
Drug interaction
Schisandra Chinensis potentiates the action of stimulants and analeptics (incl. caffeine, camphor, and amphetamine). The drug antagonizes with CNS depressants (incl. barbiturates, tranquilizers, sedatives and neuroleptics).
Special instructions
Not recommended to take Schisandra Chinensis seeds tincture in the evening hours in order to avoid sleep disturbances. Shake the bottle before consumption in order to dissolve oily drops. Important: tincture contains alcohol.
Country of manufacture
Russia.
---
To be used as a dietary supplement.
Related products
Exomitin® (SkQ1) is designed to help treat skin damages and problems, including burns and scars. Exomitin improves the skin health, restores its regenerative functions, accelerates tissue repair. It also increases antioxidant defense of skin cells. The use of hydrogel provides proper skin care and improves skin resistance to adverse environmental factors.
Effex Tribulus® is an herbal drug based on Tribulus Terrestris stem and leaves extract. It has been around in traditional medicine for centuries. It has a tonic effect and stimulates the reproductive system functions, improving sexual libido and prolonging erection in men. Effex Tribulus stimulates spermatogenesis, increasing the number of spermatozoa and their mobility.
Befungin is a restorative and regenerative tincture. Befungin contains the extract of a cinder conk (Chaga mushroom) which grows on birch trees and a 1.5% cobalt sulphate or 1% cobalt chloride. Befungin stimulates metabolism, restores hematogenesis and strengthens the immune system after long-term illnesses. Befungin and other Chaga products can also be used as a symptomatic treatment in some gastrointestinal diseases.