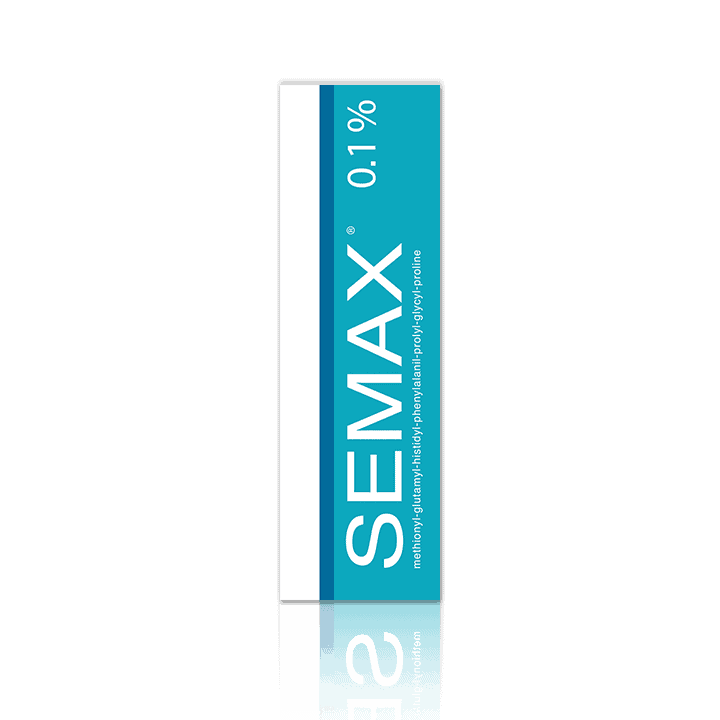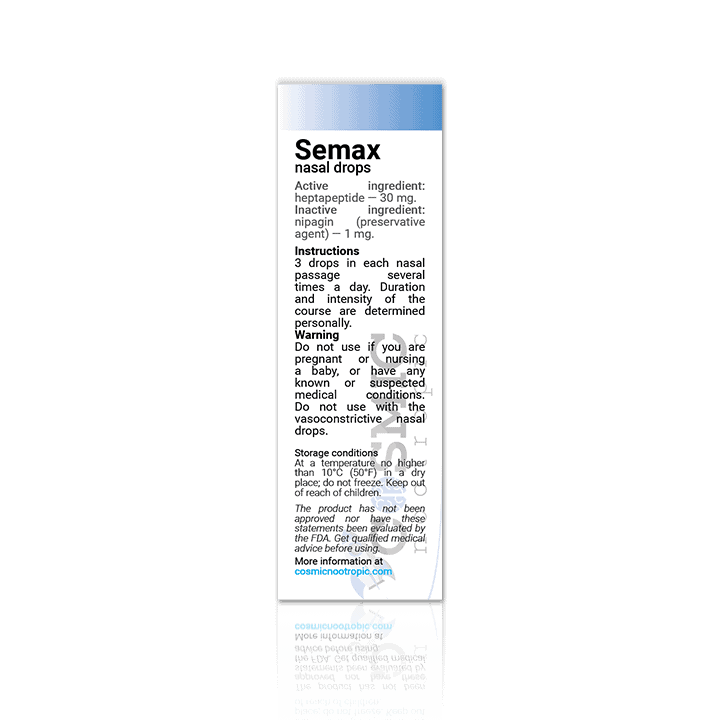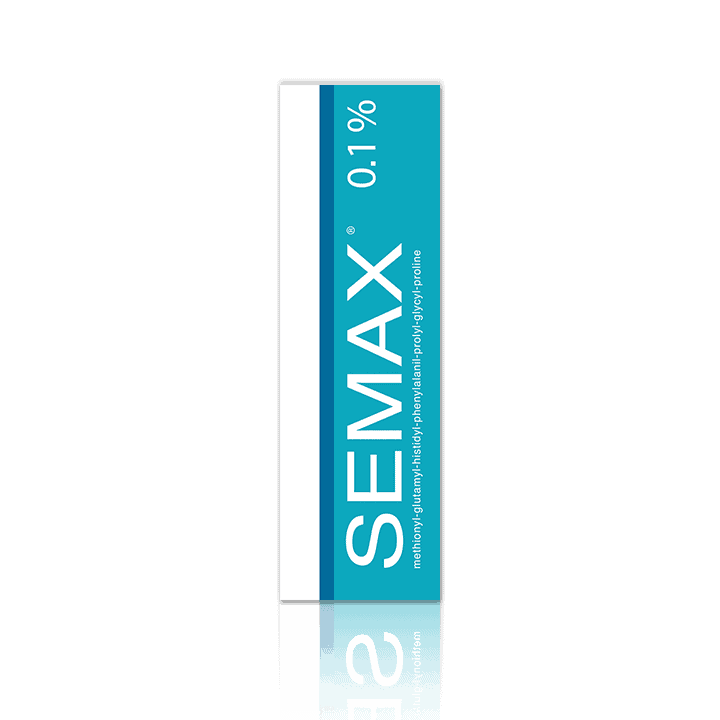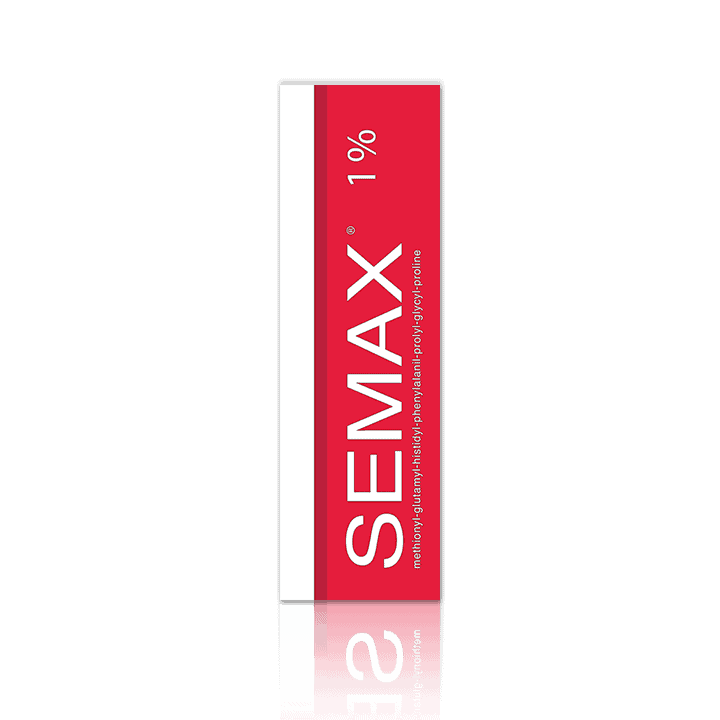 AUTHENTIC PRODUCTS
Only original pharmaceutical products that passed 3 stages of clinical trials.
GMP QUALITY
Our products are produced on GMP or state licensed factories.
10% CRYPTO DISCOUNT
10% discount for paying in BTC or other cryptocurrency.
PAYMENT BY CARD
Convenient Payment by Visa or MasterCard.
GUARANTEED DELIVERY
Guaranteed delivery times and clear Reshipment & Refund Rules.
PROMPT SHIPPING
Different shipping methods and same or next day shipping.
Buy Semax nasal drops at the best price! 
You can purchase Semax in the US now! It might be less effective because of the long transition time to our US warehouse. So there is a special offer for you because we want to sell it as soon as possible.
Semax is a peptide nootropic that has been proven to support brain health and mental function.
2-Week Course of Semax 0.1% is 2 Bottles of 3 ml!
Semax Information
---
INN
Methionyl-glutamyl-histidyl-phenylalanil-prolyl-glycyl-proline
Form:
Nasal drops 0.1% and 1%
Form description:
The colorless transparent liquid in a 3 ml dropper bottle.
One bottle of Semax contains 60 drops, each having 50 mcg of the active ingredient.
Active ingredient:
Semax as per 100% substance (1l): 0.1% – 1 g; 1% – 10g.
Excipients:
Methyl parahydroxybenzoate (nipagin) – 1 g, purified water – up to 1 l.
СAS Number:
80714-61-0
ATC code:
N06ВХ
Pharmacological action:
Nootropic, antioxidant, antihypoxic, cerebroprotective
Bioavailability:
60-70%
Shelf life:
2 years. Do not use it beyond the expiration date printed on the package.
Storage conditions:
Store at temperatures not exceeding 10°C (50°F). Do not freeze. Protect from light.
Legal Status:
Unscheduled
Manufacturer:
CJSC Peptogen https://semax.ru/
---
What is Semax?
Semax (sometimes mistakenly called "c max") is a Russian peptide nootropic. It goes in the form of nasal drops. And it is used to improve cognitive functions and treat various brain conditions.
By its structure, Semax is a fragment of endogenous neuropeptide ACTH. The drug was shown to increase BDNF which is responsible for the growth and differentiation of new neurons and synapses.
What are the Semax Benefits?
Semax nootropic is manufactured in two dosage forms: Semax 0.1% and Semax 1%. What are they used for? – According to the manufacturer Semax can be used in complex with other medications for the treatment of the following conditions: 
Semax 0.1% Uses:
Increase of attention and memory during repetitive and monotonous tasks;

Improvement of adaptive capacity of the human body in extreme conditions and

in extreme circumstances;

Alleviation of cognitive impairments caused by cerebrovascular disorders, traumatic brain injuries, and neurosurgery

;

Cognitive disorders in kids above 7 y.o. including ADHD.
Semax 1% Uses:
Prevention and treatment of circulatory disorders including stroke;

Acute ischemic stroke and treatment of cognitive impairment caused by stroke;

Transient ischemic attacks;

Acute period of traumatic brain injury.
Read more in our in-depth

review of Semax

or




Watch the Semax video review on

YouTube

!
History Behind Semax
The positive effects of neuropeptides were discovered in the late 1960s when D. de Vid – who coined the term 'neuropeptide' – conducted a number of trials on white rats and found that fragments of adrenocorticotropic hormones facilitate learning abilities.
However, it was not until the late 1970s, that the Soviet Ministry of Defence commissioned a wide range of experiments to determine the optimal way to prolong the effects and increase their scope.
After a long and complicated trial and error process, the optimal peptide formula was synthesized, and it had 50 times longer effects than its natural analog. After that, extensive research on humans was started to ensure safety, increase efficiency, and determine the optimal dosages and delivery methods.
As a result, on 20 December 1994, Semax was officially brought to the market. Since then it has won a number of international awards and, on 7 December 2011, was included in the List of Vital & Essential Drugs, as part of the stroke treatment.
It is now produced in the GMP-compliant factory by Peptogen Inc.
Semax vs. Selank: What's the Difference?  
Semax and Selank are two very different products. Even though they are both peptides administered nasally, they produce different effects. While Semax is a nootropic and has pronounced stimulating effects, Selank is an anxiolytic.
In short, if you are looking for improved focus, mild stimulation, and faster learning – Semax is your choice. Selank will be useful for those looking to release stress, relax, and improve their mood.
Where Can I Buy Semax?
You can obtain the original Semax nasal drops of the highest quality at Cosmic Nootropic. You can choose fast US delivery or international shipment.
There are other forms of Semax available for purchase. You might have heard about Semax nasal spray, N-Acetyl Semax, N-Acetyl Semax Amidate or Adamax. But these forms of Semax peptide are unconventional.
If you are looking for a nootropic with the best safety-effectiveness ratio – Semax nasal drops are your choice!
---
Legal Disclaimer
This product has not been approved by the US FDA. All statements on this page are for informational purposes only and have not been evaluated by the US FDA.
This product is not intended to diagnose, treat, cure, or prevent any disease. See more
How to Use Semax: Dosage?
With the purpose of cognitive improvement, Semax is to be taken 1-2 times a day, 2 drops into each nostril, for a period of 3 to 14 days. 
One bottle of Semax contains 60 drops, each having 50 mcg of the active ingredient.
Depending on the chosen regimen, one bottle is sufficient for a course of 3–10 days.
Note
If there is a need to increase the effect of Semax, a second dose can be taken 15-minutes after the first one. Using a stronger version of Semax might not necessarily result in a stronger effect.
Does Semax Have any Side effects?
Semax is a very safe peptide. The only side effects that have been officially recorded are irritation of the nasal mucosa and very rare allergic reactions.
Semax Storage Conditions: How to Store it Properly?
Keep Semax drops in a dark place at a temperature less than 10°C (50°F). Do not freeze it.
An open bottle of Semax can be stored for as long as six months without losing its properties if stored properly. The shelf-life of a new product is 2 years.
Can I keep Semax at Room Temperature?
There is a safe preservative in the composition of Semax. That is why you can keep it at room temperatures below 30°C (86°F) for a period of up to 30 days. For longer periods of time, Semax should be stored in the refrigerator. 
Related products
Buy Anxiolytics Bundle to find your perfect anxiolytic supplement or stack without spending lots of money. The Anxiolytics Bundle contains five most popular anti-anxiety products that can help you deal with stress in a healthy way. Choose the one that works best for you. US fast delivery and international shipping available!
Thank you!
You will now receive regular updates from us!