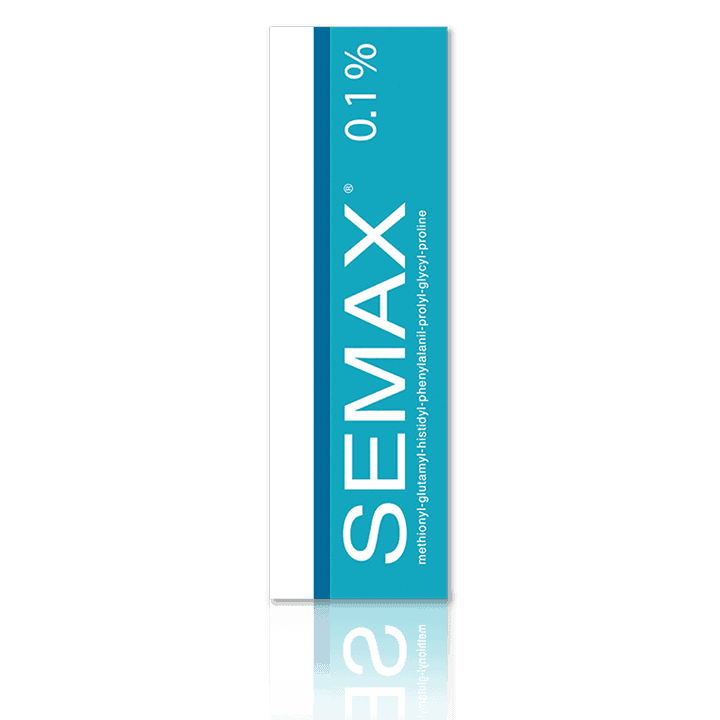 Buy Semax nasal spray at the best price! 2-Week Course of Semax 0.1% is 2 Bottles of 3 ml – Save with our bulk discount!
We have a special offer for Semax in the US because it might be less effective due to the long transition time to our warehouse and we want to sell it as soon as possible.
Semax (sometimes mistakenly called "c max") is a Russian nootropic drug that is used as nasal drops to improve cognitive functions and treat various medical conditions. By its structure, Semax is a fragment of endogenous neuropeptide ACTH. The drug was shown to increase BDNF that is responsible for the growth and differentiation of new neurons and synapses.
The positive effects of neuropeptides were discovered in the late 1960s when D. de Vid – who coined the term neuropeptide – conducted a number of trials on white rats and found that fragments of adrenocorticotropic hormones facilitate learning abilities.
It was not, however, until the late 1970s, when the Soviet Ministry of Defence commissioned a wide range of experiments to determine the optimal way to prolong the effects and increase their scope. After a long and complicated trial and error process, the optimal peptide formula was synthesized, and it had 50 times longer effects than its natural analog. 
After that, extensive research on humans was started to ensure safety, increase efficiency, and determine the optimal dosages and delivery methods. As a result, on 20 December 1994, Semax was officially brought to the market. Since then it has won a number of international awards and, on 7 December 2011, was included in the List of Vital & Essential Drugs, as studies showed that it was one of the most important remedies after strokes.
Selank vs. Semax
Semax and Selank are two very different products. Even though they are both peptides administered nasally, they produce different effects. While Semax is a nootropic and has pronounced stimulating effects, Selank is an anxiolytic. In short, if you are looking for improved focus, mild stimulation, and faster learning – Semax is your choice. Selank will be useful for those looking to release stress, relax, and improve mood.
It is produced on a GMP-compliant factory by Peptogen Inc and is manufactured in two dosage forms, so you can buy Semax 0.1% and Semax 1%:
Primary Uses of Semax 0.1%:
Increasing attention and memory during repetitive and monotonous tasks;

Improvement of adaptive capacity of the human body in extreme conditions and

in extreme circumstances;

Alleviating cognitive impairments caused by cerebrovascular disorders, traumatic brain injuries, and neurosurgery

;

Cognitive disorders in kids above 7 y.o. including ADHD.
Primary Uses of Semax 1%:
Prevention and treatment of circulatory disorders including stroke;

Acute ischemic stroke and treatment of cognitive impairment caused by stroke;

Transient ischemic attacks;

Acute period of traumatic brain injury.
Is Semax going to be degraded after a long journey from Russia to the US?
In short, No. It is a pharmaceutical nootropic produced by Peptogen Inc. According to the official instruction (drug sheet), once opened a bottle of Semax is to be kept at temperatures below 30°C (86°F) for a period of up to 30 days. Apart from that, we want to stress some other points:
The product contains methylparaben (0.01%), which works as a preservative and ensures a longer shelf-life. It is considered safe and is frequently used in other drugs.
The product is sterile and is produced in a GMP-compliant factory, which is likely to increase storage duration.
For longer periods of time, Semax should be stored at temperatures below 10°C (50°F). The shelf life of a new product is 2 years if stored below 10°C (50°F).
This implies that if the temperature between 10°C (50°F) to 30°C (86°F) the storage duration is anywhere between 30 days to 2 years, depending on the temperature.
*Up until now, nobody complained about Semax being unusable due to the heat during transportation, though we have been shipping for more than three years by now.
Due to the current circumstances, the delivery may take a long time. Semax is available for order at your own risk and will probably become less effective. The refund will be provided after 2 months without shipping updates.
Produced by Peptogen, Russia. Read more about the producer in this blog post.
Dosage and administration
One bottle of Semax contains 60 drops, each having 50 mcg of the active ingredient. The average dose is 2-3 drops in each nostril. Semax should be taken up to 3 times per day.
With the purpose of cognitive improvement, Semax should be taken 1-2 times a day, 2 drops in each nostril, for a period of 3 to 14 days. 
*Depending on the chosen regimen, one bottle is sufficient for a course of 3–10 days.
Side effects
Irritation of the nasal mucosa and very rare allergic reactions.
Overdose
Semax was shown to be completely safe even when hundredfold doses were administered.
Note
If there is a need to increase the effect of Semax, a second dose 15-minutes after the first one should be taken. Using a stronger version might not result in a stronger effect unless there is a strong indication.
Storage conditions
Keep in a dark place at a temperature less than 10°C (50°F) for up to 2 years.
Manufacturer
Peptogen, Russia.
Related products
Demoxytocin® (desamino oxytocin) is a synthetic analogue of oxytocin peptide. It is more potent compared to oxytocin, has a longer half-life and can be used sublingually. Demoxytocin was shown to improve trust between people. It can therefore help people come to an agreement easier. You can also buy Oxytocin pills to decrease craving for unhealthy foods, alcohol, and nicotine. Fast US domestic shipping is available.