We are currently working on replenishing our warehouse in the US as many products might be out of stock.
•
We are currently working on replenishing our warehouse in the US as many products might be out of stock.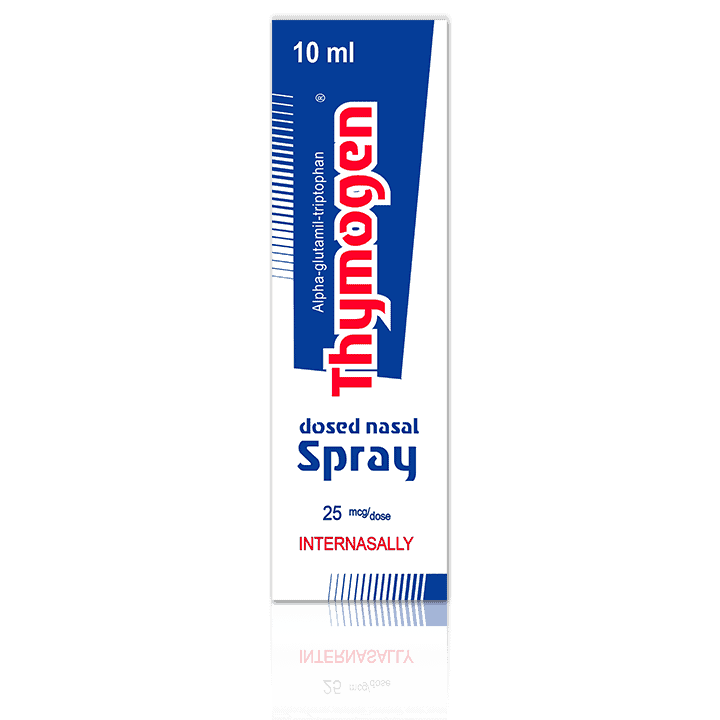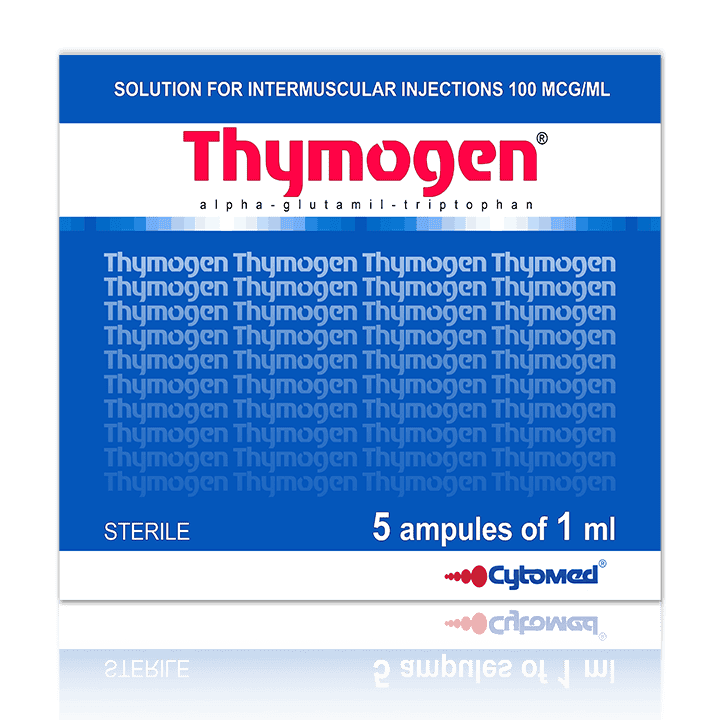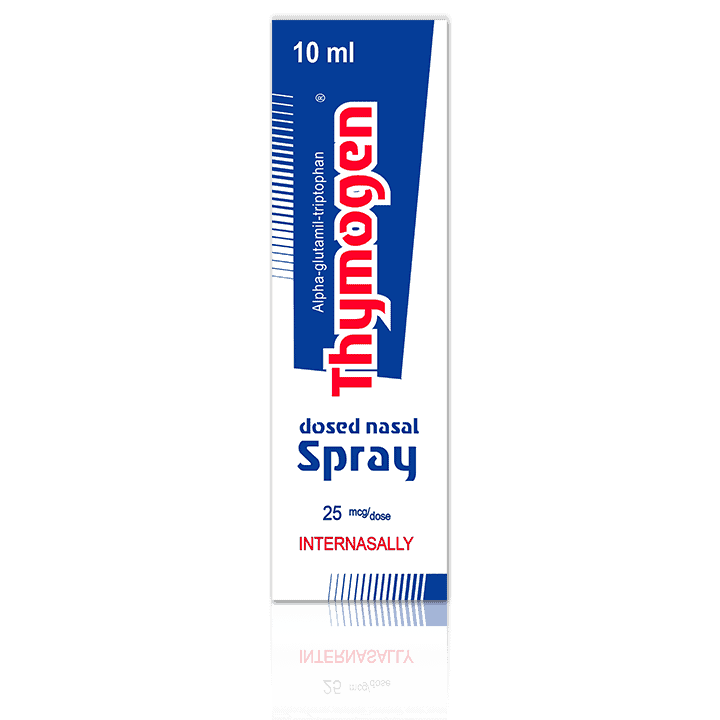 AUTHENTIC PRODUCTS
Only original pharmaceutical products that passed 3 stages of clinical trials.
GMP QUALITY
Our products are produced on GMP or state licensed factories.
10% CRYPTO DISCOUNT
10% discount for paying in BTC or other cryptocurrency.
PAYMENT BY CARD
Convenient Payment by Visa or MasterCard.
GUARANTEED DELIVERY
Guaranteed delivery times and clear Reshipment & Refund Rules.
PROMPT SHIPPING
Different shipping methods and same or next day shipping.
Buy Thymogen Online!
Thymogen is a synthetic dipeptide that can boost cellular immunity and increase the nonspecific resistance of the body. It is used as part of complex therapy for many bacterial and viral diseases and to speed up rehabilitation and recovery processes.
| | |
| --- | --- |
| Form: | 5 vials of 1ml / 30g cream / 10ml spray |
| Form description: | Colorless, transparent, odorless solution for intramuscular administration / White or yellowish cream for external use / Spray nasal with a colorless, transparent liquid; a characteristic odor of benzalkonium chloride is possible. |
| Active ingredient for vials: | Sodium alpha-glutamyl-tryptophan (Thymogen sodium) – 100 µg (as equivalent of alpha-glutamyl-tryptophan) |
| Active ingredient for spray: | Thymogen (glutamyl-tryptophan monosodium salt) – 25 µg |
| Excipients for vials: | Sodium chloride – 9,000 µg and water for injections up to 1 ml. |
| Excipients for spray: | Benzalkonium chloride and normal saline. |
| СAS Number: | 122933-59-9. |
| ATC code: | L03AX |
| Pharmacological action: | Immunostimulating agent |
| Shelf life: | 3 / 2 / 2.5 years. Do not use it beyond the expiration date printed on the package. |
| Storage conditions: | Store in a dry dark place at temperatures 2°C to 10°C (35.6°F to 50°F) / 2°C to 20°C (35.6°F to 68°F) / 2°C to 8°C (35.6°F to 46.4°F). Keep out of reach of children. |
| Terms of release: | Over-the-counter |
| Manufacturer: | Cytomed / Deko, Russia |
What is Thymogen?
Thymogen (int. Glutamyl-Tryptophan) is a peptide immunomodulator containing chemically synthesized dipeptide Glu-Trp (glutamyl-tryptophan) equal to a natural compound of thymus extract. Thymogen has been shown to restore immune reactivity as part of complex therapy of viral hepatitis, tuberculosis, pseudotuberculosis, influenza, and acute respiratory viral infection (ARVI), papillomatosis, and sepsis.
Thymogen improves patients' general condition and ensures a faster biochemical and immune restoration when used in the acute period of intestinal amebiasis, typhoid fever, acute dysentery, erysipelas, diphtheria, brucellosis, and hemorrhagic fever with renal syndrome. As a result of the use of the preparation, the incidence of prolonged recurrent and chronic disease is reduced.
What is the Mechanism of Action of Thymogen?
According to the manufacturer, Thymogen prevents the suppression of regeneration and enhances cell metabolism. It also promotes the expression of differentiation receptors on lymphocytes, normalizes the number and ratio of T-helper cells and cytotoxic T lymphocytes in patients with various immunodeficiency disorders.
The preparation quickly enters the systemic circulation after the injection or infusion. Peptidases cleave sodium alpha-glutamyl-tryptophan into L-glutamic acid and L-tryptophan, which are used in peptide synthesis.
What is Thymogen Used For?
Thymogen is used as part of complex therapy of acute and chronic viral and bacterial infections that are accompanied by weakened immunity such as:
Viral hepatitis;
Acute and chronic non-specific lung diseases (CNSLD): chronic bronchitis, acute and chronic pneumonia;
Dermal and subcutaneous tissue diseases (pyoderma, furunculosis, erysipelas);
As part of complex therapy of bacterial, viral, and fungal skin infections, as well as atopic dermatitis;
As part of complex therapy of severe mechanical, chemical, radiation, and thermal injuries (burns);
In combination treatment of wound and surgical infections, including purulent-septic complications in the postoperative period;
During the preoperative procedures before elective surgery in order to prevent infectious complications and stimulate regeneration;
After radiotherapy or chemotherapy treatment, as well as long-term antibiotic therapy in massive doses.
Which Form of Thymogen to Choose?
Thymogen is a versatile preparation that has several dosage forms available: ampoules, spray, and cream.
Its spray form is usually used as a prophylactic and treatment of acute and chronic non-specific lung diseases. The spray can be used to treat infectious, inflammatory, and allergic bronchopulmonary diseases, it helps reduce the disease duration, restore the immune system, and significantly reduce the likelihood of developing complications.
The injection form is used for the treatment of various acute and chronic viral and bacterial infections that are accompanied by weakened immunity.
The cream form is used for the treatment of dermatitis and as a regeneration aid for the treatment of wounds and scars.
Where Can I Order Thymogen Online?
You can buy Thymogen (Glutamyl-Tryptophan) online at different vendors. CosmicNootropic offers Thymogen in packs of 5x1ml vials, 30g cream, and 10ml spray. We offer worldwide shipping! Always be sure to do your research before purchasing any nootropic supplement to ensure you are getting a quality product.
You can order Thymogen and get it delivered to the USA, Europe, the UK, Asia, and many other regions and countries via CosmicNootropic.
Check the other products from the Immunomodulators category!
---
Legal Disclaimer
This product has not been approved by the US FDA. All statements on this page are for informational purposes only and have not been evaluated by the US FDA.
This product is not intended to diagnose, treat, cure, or prevent any disease. See more
What is Thymogen Dosage, Administration?
Injections: intramuscularly, once a day. The dosage for adults and children from 14 years of age is 100 µg (300–1,000 µg per course). The duration of the treatment course is from 3 to 10 days.
Spray: intranasally, 1 dose in each nasal passage twice a day. The duration of the treatment is 10 days for therapeutic purposes and 3–5 days for preventive purposes. The treatment can be repeated after 1 month at the soonest.
One spray bottle contains 100 doses, which last 25 days or 2.5 treatment courses. In case of prolonged storage, the spray should be stored in the fridge.
What are Thymogen Side Effects?
Side effects are rare and may include allergic reactions such as rhinitis.
The medication is said to be very safe: in experiments, an increase in the dose over 100-fold did not result in any side effects.
Thank you!
You will now receive regular updates from us!