We are currently working on replenishing our warehouse in the US as many products might be out of stock.
•
We are currently working on replenishing our warehouse in the US as many products might be out of stock.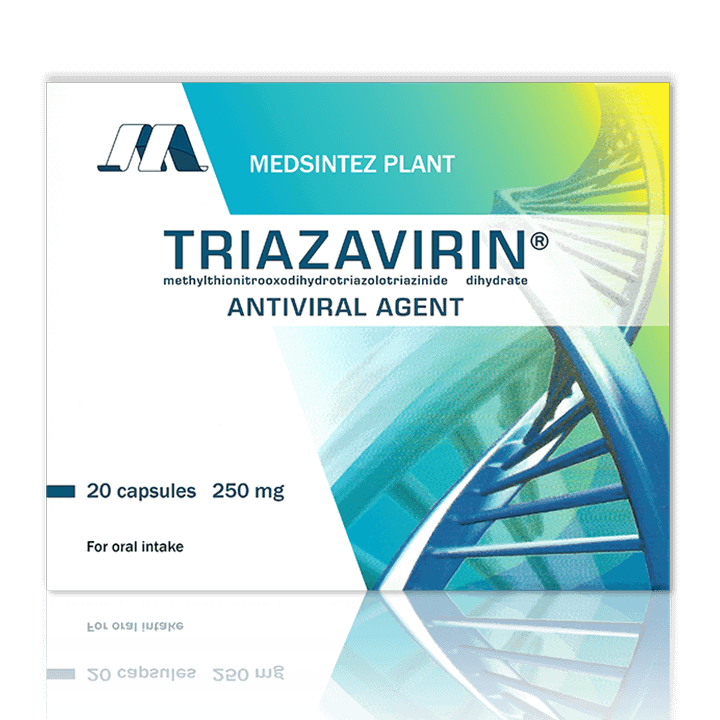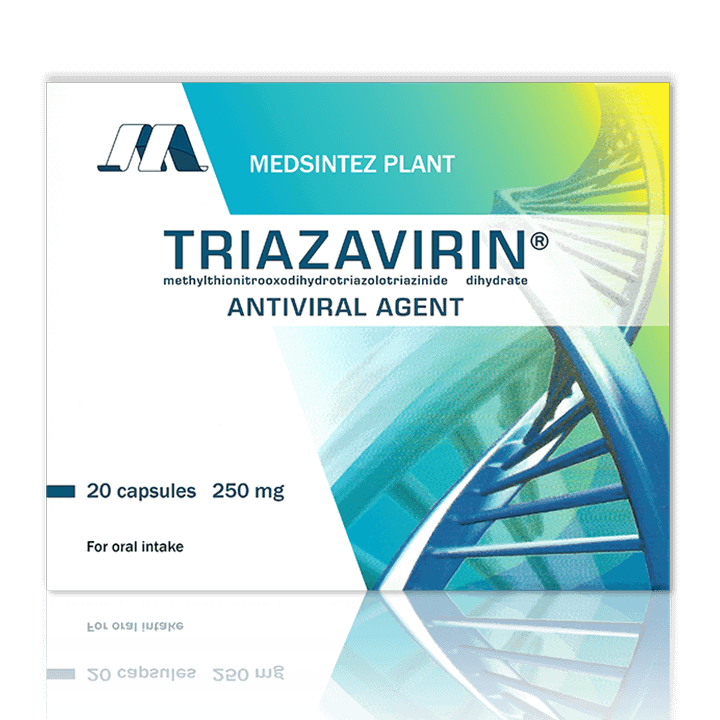 AUTHENTIC PRODUCTS
Only original pharmaceutical products that passed 3 stages of clinical trials.
GMP QUALITY
Our products are produced on GMP or state licensed factories.
10% CRYPTO DISCOUNT
10% discount for paying in BTC or other cryptocurrency.
PAYMENT BY CARD
Convenient Payment by Visa or MasterCard.
GUARANTEED DELIVERY
Guaranteed delivery times and clear Reshipment & Refund Rules.
PROMPT SHIPPING
Different shipping methods and same or next day shipping.
TRIAZAVIRIN ® (Riamilovir)
Buy Triazavirin (Riamilovir) Online!
Triazavirin ® is a broad-spectrum antiviral drug developed in Russia. Triazavirin inhibits the synthesis of viral ribonucleic acid (RNA) and does not allow the virus to produce its copies in affected cells. Triazavirin can fight a number of dangerous pathogenic viruses like Dengue and West Nile fever, tick-borne encephalitis, and other dangerous infections.
Other names
Riamilovir / TZV / Sodium methylthionitrooxodihydrotriazolotriazinide dihydrate
Form:
20 pills of 250 mg
Form description:
Hard gelatine capsules with a yellow body and a red cap and with a fine-grained powder or granules of yellow or yellow-green color inside.
Active ingredient:
Sodium methylthionitrooxodihydrotriazolotriazinide dihydrate (Triazavirin®) – 250 mg
Excipients:
Calcium stearate – 2 mg.
Composition of the capsule: titanium dioxide (E171), yellow quinoline (E104), yellow "sunset" (E110), azorubine (E122), medical gelatin.
ATC code:
J05AX
Pharmacological action:
Antiviral agent
Shelf life:
3 years. Do not use it beyond the expiration date printed on the package.
Storage conditions:
Store in a dry dark place at temperatures no higher than 25°C (77°F). Keep out of reach of children.
Terms of release:
Over-the-counter
Manufacturer:
Medsintez Plant, Russia
What is Triazavirin (Riamilovir)?
The antiviral drug Triazavirin is the first medicine in the azoloazine group and the pioneer of this class of drugs. It was created in the bowels of Soviet military medicine. It took scientists about 30 years to develop Triazavirin. The drug is an innovation that was created in collaboration with the Institute of Military Medicine and the Institute of Influenza of St. Petersburg, then other organizations joined: the Virology Center of the Ministry of Defense of Russia, the Ural Federal University, etc. A large group of people including chemists, biologists, physicians, technologists, economists, and other specialists, took part in the creation of this drug.
In 2014, Triazavirin was registered and has since been used as a treatment for influenza. It is effective against over 15 strains of influenza and fevers, including swine and avian ones. Use Triazavirin to fight a number of dangerous pathogenic viruses like Dengue and West Nile fever, tick-borne encephalitis, and other dangerous infections. Recently, they started using Triazavirin in case of exacerbations of bronchial asthma caused by viral infections.
In 2017, Triazavirin was included in the Federal Clinical Recommendations of the Ministry of Health of Russia as one of the four antiviral drugs with a direct antiviral effect. It has low toxicity, which is confirmed by many years of practice.
What is the Mechanism of Action of Triazavirin (Riamilovir)?
Chemically, it is a synthetic analog of guanine – an integral part of DNA with the help of which hereditary information is recorded. The instructions say that the drug inhibits the synthesis of the RNA virus and the replication of fragments of its genome. Simply put, it does not allow the virus to produce its copies in the affected cell. The drug is not aimed at eliminating the symptoms but acts directly on the contagious matron of the infection.
What are the Benefits and Effects of Triazavirin (Riamilovir)?
According to the results of clinical trials, Triazavirin can help even in case of a delayed start of the treatment of ARVI and influenza. It improves the general condition during the first days of the treatment, reduces the likelihood of complications; quickly inhibits clinical signs of rotavirus infection, and may prevent the worsening of the disease. It can reduce the time to recover and the duration of clinical symptoms (intoxication, fever, catarrhal phenomena), regardless of the treatment initiation. According to Dr. Chupakhin, Ph.D. in Chemistry and Academician of the Russian Academy of Sciences, the virus is not spotted in the blood as soon as on the second day of the treatment with Triazavirin.
What is Triazavirin (Riamilovir) Used For?
Intended uses of Triazavirin include:
Outpatient treatment of mild and moderate uncomplicated forms of influenza;
Inpatient treatment of severe/complicated forms of influenza.
Where Can I Order Triazavirin (Riamilovir) Online?
You can buy Triazavirin (Riamilovir) online from different vendors. CosmicNootropic offers Triazavirin in packs of 20x250mg pills. We offer worldwide shipping! Always be sure to do your research before purchasing any nootropic supplement to ensure you are getting a quality product.
You can order Triazavirin (Riamilovir) and get it delivered to the USA, Europe, the UK, Asia, and many other regions and countries via CosmicNootropic.
---
Legal Disclaimer
This product has not been approved by the US FDA. All statements on this page are for informational purposes only and have not been evaluated by the US FDA.
This product is not intended to diagnose, treat, cure, or prevent any disease. See more
What is Triazavirin Dosage, How to Use It?
Method of application: per os, regardless of meals.
The recommended dosage is one 250 mg capsule 3 times a day, for 5–7 days. The daily dose is 750 mg.
What are Triazavirin Side Effects?
The treatment with Triazavirin is well tolerated by patients and is rarely accompanied by the development of adverse reactions. It is important that the drug does not cause cardiovascular complications and does not interact with other agents.
Possible side effects include allergic responses and dyspeptic disorders (meteorism, diarrhea, nausea, vomiting).
Thank you!
You will now receive regular updates from us!