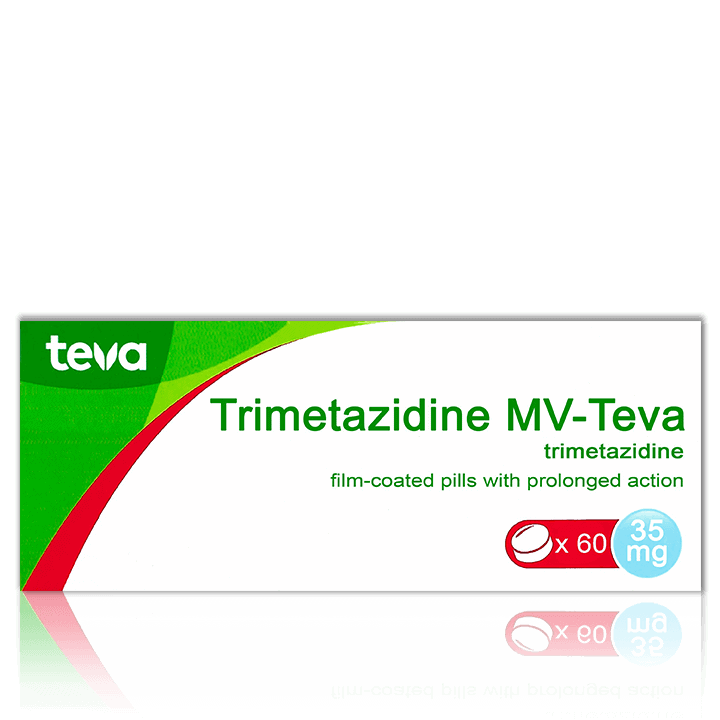 Trimetazidine-Teva is an antihypoxic drug stimulating the metabolism of the myocardium and sensorineural organs in case of ischemia. There is also another brand-name version of the drug called Vastarel.
Its active ingredient is trimetazidine which was the first cytoprotective anti-ischemic agent developed and marketed by Laboratoires Servier (France). Trimetazidine is usually prescribed as a long-term treatment of angina pectoris, and in some countries (including France) for tinnitus and dizziness. Controlled studies in angina patients have shown that trimetazidine increases coronary flow reserve, thereby delaying the onset of ischemia associated with exercise, limits rapid swings in blood pressure without any significant variations in heart rate, significantly decreases the frequency of angina attacks, and leads to a significant decrease in the use of nitrates.
It improves left ventricular function in diabetic patients with coronary heart disease. Recently, it has been shown to be effective in patients with heart failure of different etiologies.
Trimetazidine inhibits beta-oxidation of fatty acids by blocking long-chain 3-ketoacyl-CoA thiolase, which enhances glucose oxidation. By preserving energy metabolism in cells exposed to hypoxia or ischemia, trimetazidine prevents a decrease in intracellular ATP levels, thereby ensuring the proper functioning of ionic pumps and transmembrane sodium-potassium flow whilst maintaining cellular homeostasis.
Buy Trimetazidine to stimulate the metabolism of cardiomyocytes and brain neuronal cells, thereby stabilizing oxygen consumption and myocardial contractility. In patients with angina pectoris, the drug has a pronounced effect of reducing blood pressure and regulating the heart rate after several weeks of administration.
Indications
Coronary heart disease with angina pectoris manifestations. The drug provides symptomatic treatment and prevents vascular vertigo, tinnitus, hearing impairment, and chorioretinal vascular disorders. Trimetazidine-Teva can be administered both individually and in combination with other antianginals in case if they do not provide the required effect.
During Olympics 2022, Kamila Valieva, a figure skater of the Russian Olympic Committee, has tested positive for trimetazidine. The substance is banned by the World Anti-Doping Association (WADA).
Produced by Teva, Israel.
Check out more Adaptogens at our store!
Contents
Coated tablets. In 1 tablet:
Active ingredients: trimetazidine dihydrochloride 20 mg and macrogol;
Inactive ingredients: microcrystalline cellulose, mannitol, magnesium stearate, titanium dioxide, and dyes.
Dosage and administration
To be administered orally. Dosage is 40–60 mg per day divided into 2-3 intakes. The length of the treatment course is to be prescribed by a doctor.
Contraindications
Pregnancy, lactation, and hypersensitivity to the components of the drug.
Side effects
Allergic response (including skin allergies), vertigo, or headache.
Drug interaction
No significant drug interactions were registered.
Storage conditions
Store at a temperature not higher than 25°C (77°F). Keep out of the reach of children.
Shelf life is 2 years.
Manufacturer
Related products
Cytomaxes® are natural peptides extracted from organs and tissues of young calves by a patented method of thorough filtering. They have a low molecular weight of less than 5 kDa which does not allow for foreign DNA fragments and infectious particles to get into the preparation. Therefore these supplements are very safe for use. Cytomaxes are designed to optimize the functions of the body and regulate the processes of protein biosynthesis.