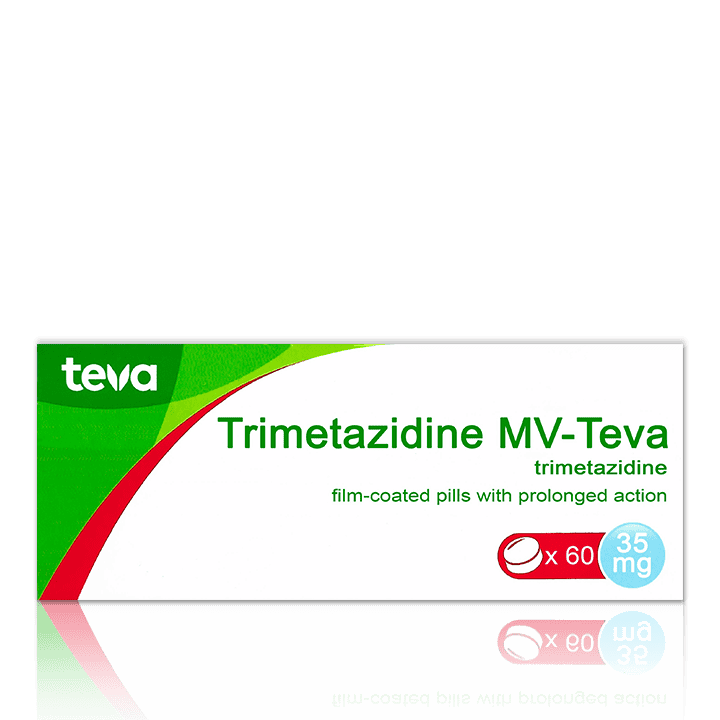 AUTHENTIC PRODUCTS
Only original pharmaceutical products that passed 3 stages of clinical trials.
GMP QUALITY
Our products are produced on GMP or state licensed factories.
10% CRYPTO DISCOUNT
10% discount for paying in BTC or other cryptocurrency.
PAYMENT BY CARD
Convenient Payment by Visa or MasterCard.
GUARANTEED DELIVERY
Guaranteed delivery times and clear Reshipment & Refund Rules.
PROMPT SHIPPING
Different shipping methods and same or next day shipping.
Buy Trimetazidine-Teva Online!
Trimetazidine-Teva is an anti-ischemic metabolic agent that improves myocardial glucose utilization through the inhibition of fatty acid metabolism. It is used as a long-term treatment for angina pectoris.
Buy Trimetazidine-Teva with fast US delivery. Save with the volume discount!
Synonyms
1-(2,3,4-trimybenzyl)piperazine / Vastarel
Form:
60 pills of 35mg
Form description:
Pink round biconvex film-coated tablets. On the cross-section of the tablet, the core is white or almost white.
Active ingredient:
Trimetazidine dihydrochloride – 35 mg
Excipients:
Hypromellose – 90 mg, calcium hydrophosphate dihydrate – 141 mg, magnesium stearate – 3 mg, colloidal silicon dioxide – 1 mg.
Film coating: water-based pink gloss – 7 mg (hypromellose, stearic acid, macrogol-6000, glycerol, titanium dioxide, iron dye red oxide).
СAS Number:
5011-34-7
ATC code:
С01ЕВ15
Pharmacological action:
Antihypoxic agent
Shelf life:
3 years. Do not use it beyond the expiration date printed on the package.
Storage conditions:
Store in a dry dark place at temperatures no higher than 25°C (77°F). Keep out of reach of children.
Terms of release:
Over-the-counter
Manufacturer:
Merkle, Germany / Teva, Israel
What is Trimetazidine?
Trimetazidine-Teva is an anti-hypoxic drug stimulating the metabolism of the myocardium and sensorineural organs in case of ischemia. Its active ingredient is trimetazidine which was the first cytoprotective anti-ischemic agent developed and marketed by Laboratoires Servier (France). Trimetazidine is usually prescribed as a long-term treatment of angina pectoris, and in some countries (including France) for tinnitus and dizziness.
What is the Mechanism of Action of Trimetazidine?
Trimetazidine inhibits beta-oxidation of fatty acids by blocking long-chain 3-ketoacyl-CoA thiolase, which enhances glucose oxidation. By preserving energy metabolism in cells exposed to hypoxia or ischemia, trimetazidine prevents a decrease in intracellular ATP levels, thereby ensuring the proper functioning of ionic pumps and transmembrane sodium-potassium flow whilst maintaining cellular homeostasis.
What are the Benefits and Effects of Trimetazidine?
Trimetazidine can stimulate the metabolism of cardiomyocytes and brain neuronal cells, thereby stabilizing oxygen consumption and myocardial contractility. In patients with angina pectoris, the drug has a pronounced effect of reducing blood pressure and regulating the heart rate after several weeks of administration. Controlled studies in angina patients have shown that trimetazidine increases coronary flow reserve, thereby delaying the onset of ischemia. It improves left ventricular function in diabetic patients with coronary heart disease. Recently, it has been shown to be effective in patients with heart failure of different etiologies.
What is Trimetazidine Used For?
Trimetazidine is prescribed to treat coronary heart disease with angina pectoris manifestations. The drug provides symptomatic treatment and prevents vascular vertigo, tinnitus, hearing impairment, and chorioretinal vascular disorders. Trimetazidine-Teva can be administered both as a monotherapy and in combination with other antianginals if they do not provide the required effect.
Is Trimetazidine Banned in Sports?
The substance is banned by the World Anti-Doping Association (WADA). It is believed to enhance endurance and performance in sports as it can make energy metabolism more efficient and improve tissue oxygenation.
During the Olympics 2022, Kamila Valieva, a figure skater of the Russian Olympic Committee, had been tested positive for trimetazidine.
Where Can I Order Trimetazidine Online?
You can buy Trimetazidine online from different vendors. CosmicNootropic offers Trimetazidine-Teva in packs of 60x35mg pills. We offer fast US delivery and worldwide shipping with volume discounts! Always be sure to do your research before purchasing any nootropic supplement to ensure you are getting a quality product.
You can order Trimetazidine-Teva and get it delivered to the USA, Europe, the UK, Asia, and many other regions and countries via CosmicNootropic.
Check out more Adaptogens at our store!
---
Legal Disclaimer
This product has not been approved by the US FDA. All statements on this page are for informational purposes only and have not been evaluated by the US FDA.
This product is not intended to diagnose, treat, cure, or prevent any disease. See more
What is Trimetazidine Dosage, How to Use it?
Trimetazidine is administered orally. The recommended dosage is 40–60 mg per day divided into 2-3 intakes. The length of the course treatment is to be defined by a doctor.
What are the Side Effects of Trimetazidine?
Trimetazidine can cause an allergic response (including skin allergies), vertigo, or headache.
Contraindications
Pregnancy, lactation, and hypersensitivity to the components of the drug.
Drug interaction
No significant drug interactions were registered.
Thank you!
You will now receive regular updates from us!