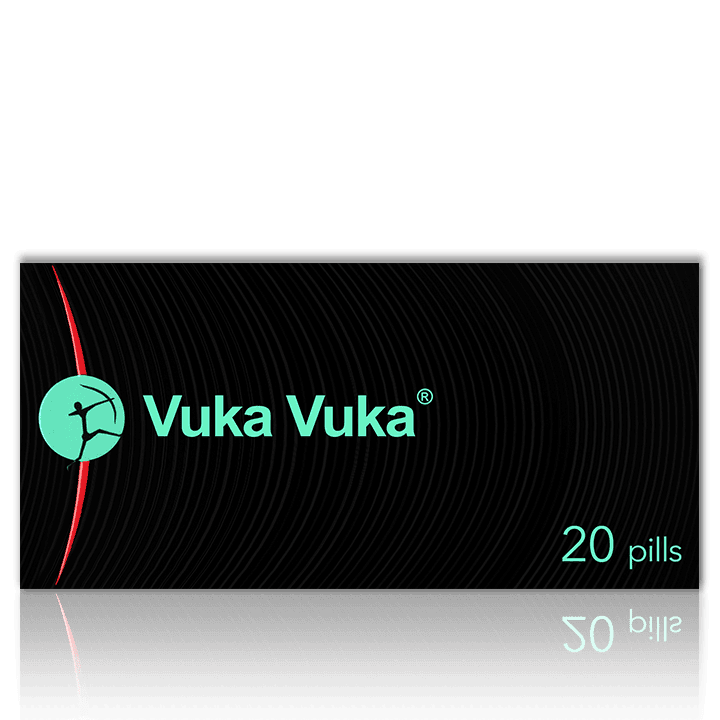 VUKA VUKA ® (Natural Herbal Complex)
Buy Vuka Vuka – a dietary supplement, which improves libido and treats sexual dysfunction.
It acts as a tonic, helps treat psychogenic erectile dysfunction, delays premature ejaculation, and exacerbates sexual sensations. The drug has also proved effective in preventing chronic abacterial prostatitis, as it improves blood supply in the prostate gland and bladder and precludes the development of thrombosis.
Vuka Vuka is based on a natural herbal complex, a source of flavonoids, saponins, and tannins extracted from rare medicinal plants that grow in Southern Africa. All these plants have a solid track record in traditional African medicine as aphrodisiacs and other medicines:
Carissa spinarum (conkerberry) improves potency. It also has antibacterial properties, which proved useful in treating bacterial infections in traditional African and Australian medicine.
Securinega virosa has a positive effect on sexual desire. It improves mood and reduces irritability. Therefore its extract is also used as part of complex therapy of mental illnesses in Africa.
Triumfetta welwitschii and ozoroa reticulata stimulate blood flow in the genitals and pelvic organs. Ozoroa reticulata also has anesthetic effect.
Heteromorpha arborescens has a tonic effect and many other medicinal properties. It has been used by African tribes as a treatment for inflammations, pains, respiratory diseases, skin infections, headaches, fever, and malaria.
Vuka Vuka is well tolerated. It does not cause headache, vertigo, indigestion, hyperemia, or nasal congestion. With therapy administration, there is no need to intake the drug before sexual intercourse. Vuka Vuka is compatible with alcohol, cardiac medications, and antibiotics.
Contents
Tablets 550 mg. In 1 tablet:
Active ingredients: herbal extracts of securinega virosa roots (100 mg), heteromorpha arborescens (100 mg), carissa spinarum (80 mg), triumfetta welwitschii (80 mg) and ozoroa reticulata (40 mg);
Inactive ingredients: lactose 145 mg and calcium stearate 5 mg.
Dosage and administration
To be administered orally with meals. Dosage is 2 tablets per day. Recommended length of the treatment course is 4 weeks.
Contraindications
Hypersensitivity to the components of the drug.
Side effects
Allergic response.
Drug interaction
No significant drug interaction was registered.
Storage conditions
Store at dark place at a temperature not higher than 25°C (77°F).
Shelf life is 3 years.
Manufacturer
Related products
Ceraxon® is a pharmaceutical preparation of CDP-choline (Citicoline), a choline-containing phospholipid. It is one of the most efficient supplemental forms of choline along with Alpha-GPC (Cereton). Ceraxon is used in case of choline-deficiency, cognitive and cerebrovascular disorders. Fast US domestic shipping is available.
Biotredin® is a nootropic which improves metabolism and boosts cellular energy. The drug is comprised of L-threonine and pyridoxine hydrochloride (vitamin B6). The resulting substance promotes active stimulation of inhibitory processes, oxidation-reduction, and supports respiratory function, and synthesis of adenosine triphosphate in the cells. Biotredin is mainly used for treating alcohol dependency.
Aralia is a well-known gentle adaptogenic tonic herb popular for its wide range of pharmacological properties. Aralia tincture contains a variety of beneficial oils and acids, as well as vitamins B1, B2. It is used to treat physical and mental fatigue, asthenic syndrome, arterial hypotension, decreased sex drive, depression, enuresis, radiation sickness and metabolic disorders. Aralia can also help to recover from craniocerebral injury, contusion, meningitis, post-infectious arachnoiditis and ARVI (in the complex therapy).