Payment
Please know that paying for nootropics is not the easiest of things. This is attributed to the fact that the FDA, MasterCard and Visa do not like such transactions and selling nootropics is placed in the same category as gambling, adult websites and debt collection services.
On top of that Russian laws prohibit online payments for medications.
We offer you one of the following payment options:
Bitcoin and other cryptocurrenices
This is the preferred payment option. We highly appreciate if you will pay with it.
This payment option is fully automated. You won't have to wait for any transfer details and the payment confirmation from us. It is the fastest method that also allows us to ship your order faster.
Fees are also rather low usually as well.
Here is the full guide on how to make payments with cryptocurrencies:
1) Set up Bitcoin (or any altcoin) wallet. This can be done either online with any Bitcoin wallet service. Here's a short guide, on how to set up a wallet and fund it using a credit card.
2) Proceed to checkout in the normal fashion. When finalizing your order choose Coingate as a payment option, as presented on the picture below. And don't forget to hit 'Complete order' button.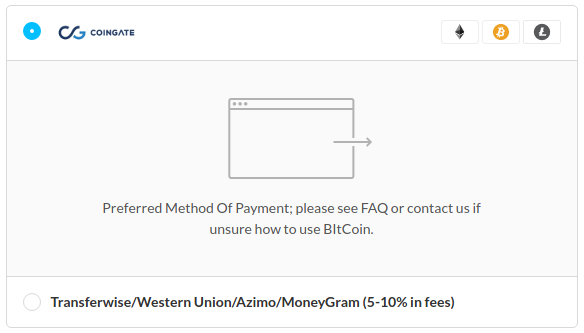 3) You will be redirected to our payment page (serviced by the Coingate). You should see something like this before you.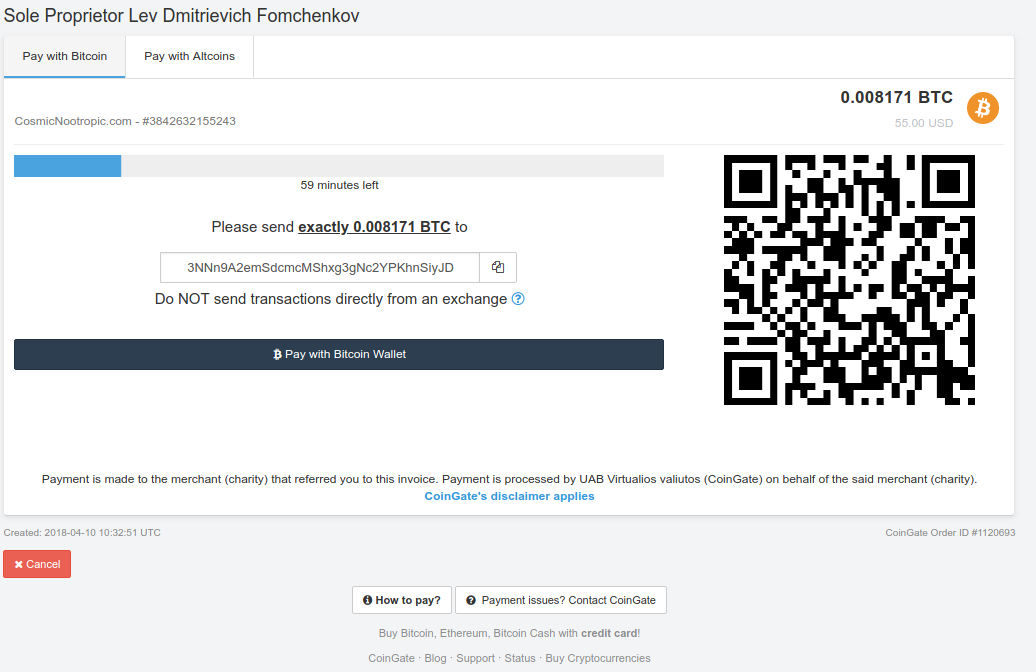 This page includes all the information you will need for the transfer. The most important info is your total in the cryptocurrencies (calculated at the current rate), it is presented in the bold text and underlined. 
Below that is the wallet you will need to make a transfer to. Each invoice will have new wallet address in it, do not pay to the wallet on the screenshot above. Please note that the transfer should be finished within the time limit. Otherwise your order will be cancelled and you will have to create it again.
4.1) If you have local wallet installed and running on your computer, just hit the 'Pay with Bitcoin Wallet' and you will be redirected to the wallet software.
4.2) If you have online wallet please visit your wallet and find the 'Transfer' option or something similar. Input the total and the wallet address that you've received back on the payment page.
4.3) If you have wallet app installed on your phone use the QR code on the payment page to transfer all the payment data.
5) Finalize the transfer process (it will depend on your software and wallet provider) and you are done. Our payment gateway will register your payment and mark your order as payed. Confirmation might be instant or take several hours, depending on how bitcoin network operates. You do not need to send us any confirmations, but you can do so just to make sure. 
If you are not getting any confirmations from us after your payment for a day or two, please contact us, so we can check the payment status manually.
We do not recommend paying directly from the online wallet and Coinbase in particular.
To be fair, we recommend you to use online services only to buy bitcoins, but keep the funds in your personal wallet locally. There are two main reasons:
If you are using online wallet, your money, essentially, are kept by the owners of the service. So if something happens to them or to their service you are likely to lose your money. There has been several such cases in the past: this one, for example.
Transfer time from the online wallets is usually longer. It may take even several hours before outbound transfer is confirmed by the online service. Our payment processing is set up to take this issue into account, but extremely long transfer times may still prevent you from paying.
As an addition, we are aware of several cases when
Coinbase
blocked wallets of people who have payed for nootropicts or other supplements.
 Please note, that we do not accept
Amazon eGift Cards
We now accept Amazon eGift Cards as well. It is safe and hassle free method that is also fast and simple. All it would take is to send us the eGift card with the same amount as your order. This method is safe and does not require to register or disclose you info to other services if you are already using the Amazon. 
Here is the full instruction on the payment process
1) Be sure to have your Amazon account ready
2) When finalizing order on our website choose 'Amazon gift card', as presented on the picture below. And don't forget to hit 'Complete order' button.
3) Your order will be completed and you will receive an email with the further instructions, including email address where you will send the gift card. 
4)  Visit eGift card order page (most of the fields will be filled with needed info already) and fill in all the info needed:
In the
Amount
field enter your order total
Select
Email
in the
Delivery
line
To: (copy the email from the order confirmation we will send you)
From:
your name (please note that this name should be the same as in the order, otherwise it will be hard for us to identify your payment)
Do not mention CosmicNootropic or any of our products in the
Message
field
(you can write something nice there though :) )
5) Finalize your gift card order and complete the payment. We will receive the card automatically.

6) 
Once it has been done, please contact us, confirming that the gift card has been sent.
That's it. Shortly afterwards, you will receive a confirmation from us and you order will be marked as 'Paid' and we will pass it to our fulfillment service.
Money transfer Services: 
Paysend, WesternUnion, MoneyGram, Azimo, TransferWise and others
Once you complete your order, you will receive an email with the payment options. Please reply with the preferred options and we will send you the full payment instruction. It usually takes only about 5-15 minutes of your time to complete the payment.
If you choose this method of payment you will also have to pay a small fee for money transferring, which ranges from ~2% (Paysend) to ~10% (Western Union).
Here is the feedback regarding our payment process on Reddit. 
How to pay via Paysend:
Paysend is a new British company established in 2017, which uses Visa and MasterCard services to allow transfers from card to card. Fees are minimal for these transfers and would usually be around 2 USD. Transfers are instant. 
You will have to register with the Paysend to complete the transfer. You will need to input some of your personal info and card number. You will need only card number and receiver's name form us.
Onсe you will complete the transfer please contact us with the exact total in rubles you've sent. If it is not done we will not be able to register your payment.
This service might be still unavailable for some countries, so please check if you are able to use it. 
We highly appreciate if you could try this option and share your experience with us. 
You can quickly register with the service or even sign up from your FB account.
Then you enter the details that were given to you. Once you receive the confirmation please send it to us. If you have a screenshot of payment this will also be enough.
The fees are between 3 and 5 percent in most cases.
 We temporary do not accept Western Union and Moneygram due to changes in their policy and 'fraud protection' algorithms. We are working on bringing this option back.
You need to enter the receiver's Last and First Name, Phone Number, country Russia and the amount to be paid. 
After completing the payment you will receive a reference number or confirmation which you have to send to us. This is needed to ship your order to you before the money is cleared to our accounts or before we pick up your money transfer.
The fees are between 5 and 15 percent in most cases.
Please note that the fees are to be paid by you if you want to use the money transfer option.