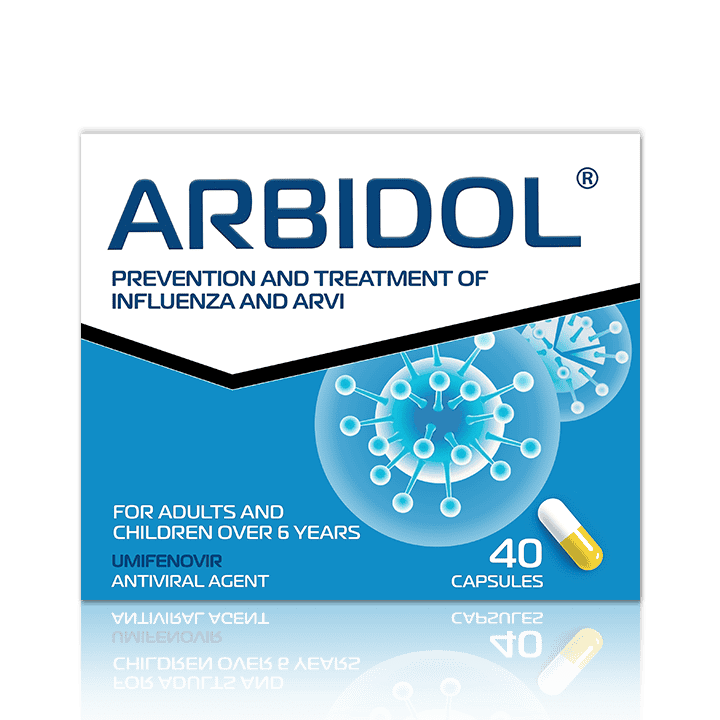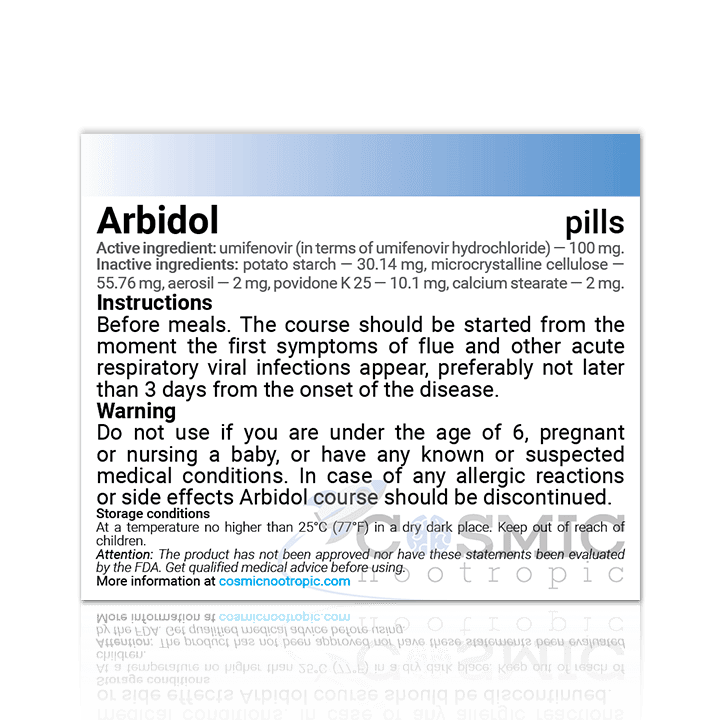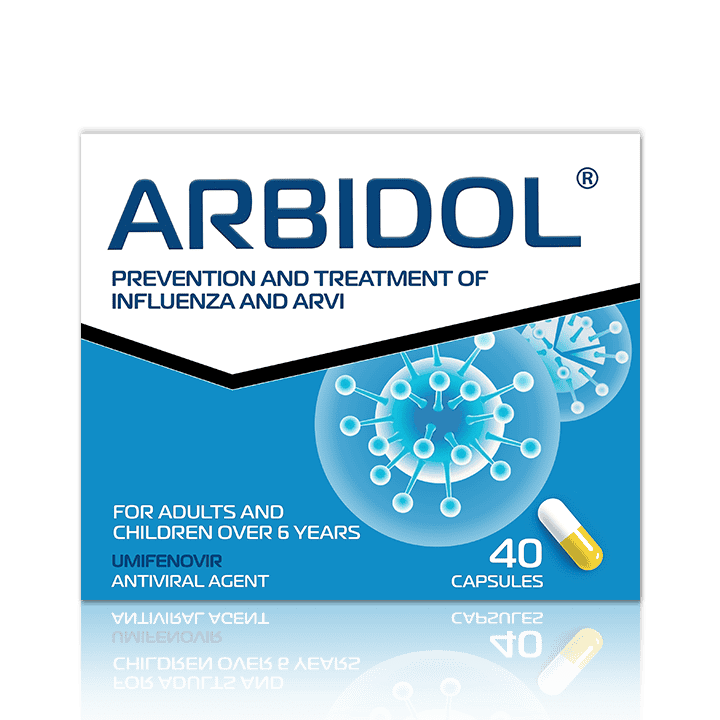 AUTHENTIC PRODUCTS
Only original pharmaceutical products that passed 3 stages of clinical trials.
GMP QUALITY
Our products are produced on GMP or state licensed factories.
10% CRYPTO DISCOUNT
10% discount for paying in BTC or other cryptocurrency.
PAYMENT BY CARD
Convenient Payment by Visa or MasterCard.
GUARANTEED DELIVERY
Guaranteed delivery times and clear Reshipment & Refund Rules.
PROMPT SHIPPING
Different shipping methods and same or next day shipping.
Buy Arbidol (Umifenovir) Online!
Arbidol (Umifenovir) is an antiviral medication for the treatment of influenza and other respiratory infections. The drug has been shown in studies to stimulate the immune response.
National Health Commission of the People's Republic of China has selected Umifenovir (ARBIDOL) as a medication to treat coronavirus 2019-nCoV. 
Read more in this blog post: China is Testing Russian Medications to Fight Coronavirus. You will find a bunch of useful information and links about Arbidol there.
Fast US delivery is available!
---
| | |
| --- | --- |
| Other names | AR-1I9514 |
| Form: | 40 pills of 100 mg |
| Form description: | White hard gelatin capsules with yellow caps. The content of the capsule is a mixture containing granules and powder of white, greenish, yellowish or creamy color. |
| Active ingredient: | Umifenovir – 100 mg |
| Excipients: | Potato starch – 30.14 mg, microcrystalline cellulose – 55.76 mg, fumed silica – 2 mg, povidone K 25 – 10.1 mg, calcium stearate – 2 mg. |
| СAS Number: | 131707-25-0 |
| ATC code: | J05AX13 |
| Pharmacological action: | Antiviral agent |
| Shelf life: | 3 years. Do not use it beyond the expiration date printed on the package. |
| Storage conditions: | Store in a dry dark place at temperatures no higher than 25°C (77°F). Keep out of reach of children. |
| Terms of release: | Over-the-counter |
| Manufacturer: | OTCPharm, Russia |
---
What is Arbidol (Umifenovir)?
Arbidol hydrochloride is a broad-spectrum antiviral drug of various uses, which is most often used in the treatment of influenza A and B infections (including swine and avian) and other ARVI and rotavirus pathogens. The drug inhibits fusion between the viral capsid and the cell membrane of the target cell. This prevents viral entry to the target cell and therefore protects it from infection.
Arbidol was developed in the USSR by a team of scientists from All-Union Scientific Research Chemical and Pharmaceutical Institute, Institute of Medical Radiology of USSR Academy of Medical Sciences, and Leningrad Bacteriological and Diagnostic Institute. The international nonproprietary name is Umifenovir. The tests conducted in the USSR and later in Russia showed that the drug has significant antiviral effects. For instance, in a direct comparison with Tamiflu, Arbidol was shown to achieve a similar efficiency both in vitro and in a clinical setting.
What are Arbidol Benefits and Effects?
Arbidol reduces the severity of influenza and ARVI and minimizes the incidence of complications. Prophylactic administration significantly reduces the risk of infection in case of contact with a patient with influenza or ARVI. Arbidol exhibits modulatory effects on the immune system. The drug stimulates a humoral immune response (the growth of T-cells, T-helpers, and NK cells), induces interferon-production, and stimulates the phagocytic function of macrophages. The drug has also been investigated as a candidate drug for the treatment of hepatitis C.
Arbidol hydrochloride is a low-toxic drug and has almost no side effects. It is quickly absorbed and distributed to the organs and tissues of the body. Then, it is metabolized in the liver.
What is Arbidol (Umifenovir) Used For?
Off-label indications of Arbidol include:
Prevention and treatment of influenza A and B infections and ARVI;
As part of the complex therapy of recurrent herpetic infection;
Prevention of postoperative infectious complications;
As a part of the complex therapy of rotavirus infections.
Where Can I Order Arbidol (Umifenovir) Online?
You can buy Arbidol (Umifenovir) online at different vendors. CosmicNootropic offers Arbidol (Umifenovir) in packs of 40x100mg pills. We offer fast US delivery and worldwide shipping! Always be sure to do your research before purchasing any nootropic supplement to ensure you are getting a quality product.
You can order Arbidol (Umifenovir) and get it delivered to the USA, Europe, the UK, Asia, and many other regions and countries via CosmicNootropic.
---
Legal Disclaimer
This product has not been approved by the US FDA. All statements on this page are for informational purposes only and have not been evaluated by the US FDA.
This product is not intended to diagnose, treat, cure, or prevent any disease. See more
What is Arbidol Dosage, How to Use It?
To be administered orally, before meals. For children aged 6–12, Arbidol single dosage is 100 mg (1 capsule). For adults and children from 12 years, Arbidol single dosage is 200 mg (2 capsules).
Recommendations for the treatment of ARVI and influenza:
take one single dose 4 times a day (every 6 hours) for 5 days in a row. For adults, a treatment course may take 40 pills of 100 mg.
What are Arbidol Side Effects?
Possible side effects include allergic responses.
Contraindications
Hypersensitivity to umifenovir and other components of the drug, children under 6 years, pregnancy, lactation.
Drug interaction
No significant drug interactions were registered.
Related products
Buy Nootropics Bundle, give yourself an edge in improving your brain functions. Find your perfect nootropic supplement without spending lots of money. The Nootropics Bundle contains five most popular nootropics. Choose what work best for you. US fast delivery and international shipping available! 
Thank you!
You will now receive regular updates from us!