We are currently working on replenishing our warehouse in the US as many products might be out of stock.
•
We are currently working on replenishing our warehouse in the US as many products might be out of stock.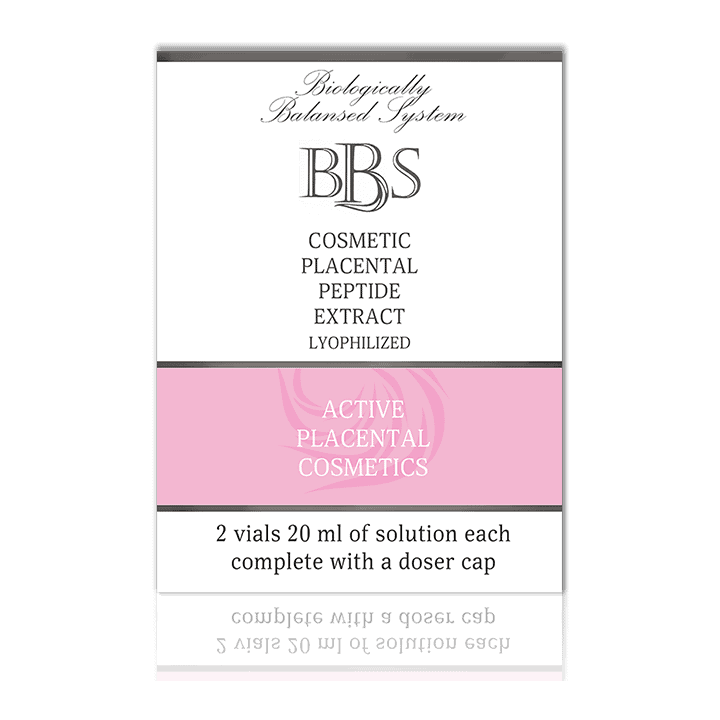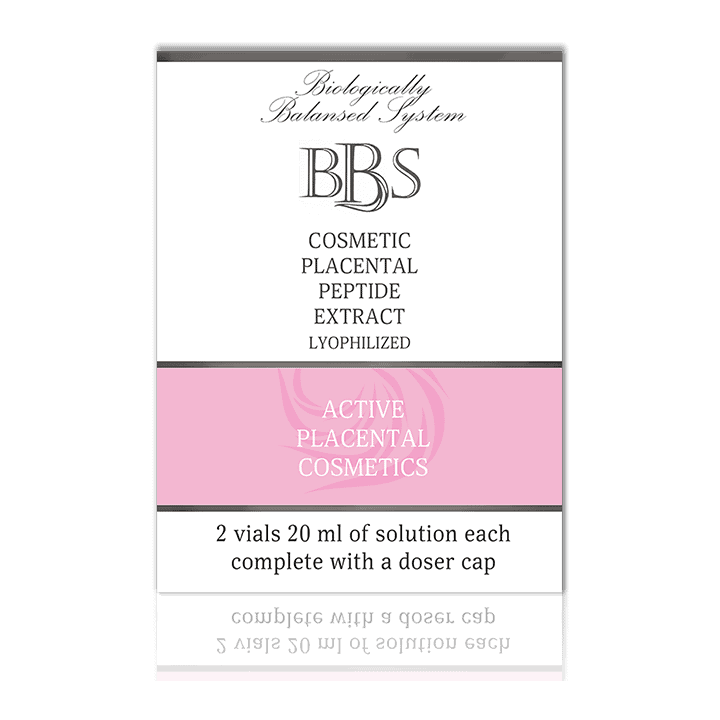 PLACENTAL PEPTIDE (BBS Cosmetic Placental Peptide)
AUTHENTIC PRODUCTS
Only original pharmaceutical products that passed 3 stages of clinical trials.
GMP QUALITY
Our products are produced on GMP or state licensed factories.
10% CRYPTO DISCOUNT
10% discount for paying in BTC or other cryptocurrency.
PAYMENT BY CARD
Convenient Payment by Visa or MasterCard.
GUARANTEED DELIVERY
Guaranteed delivery times and clear Reshipment & Refund Rules.
PROMPT SHIPPING
Different shipping methods and same or next day shipping.
Buy Placental Peptide Online!
BBS Cosmetic Placental Peptide is a placenta-based cosmetic product from Russia. It contains hyaluronic acid, linoleic acid, and other biologically active substances. Regular use of this cosmetic product can enhance regenerative processes and can improve skin, hair, and nails.
| | |
| --- | --- |
| Form: | 2 vials of 20ml |
| Form description: | Homogeneous cream-colored lyophilisate. When diluted with water, it turns into a light yellow transparent liquid. Formation of natural sediment is possible. |
| Ingredients: | High-molecular proteins, peptides, amino acids, glycoproteins, glycosaminoglycans, including hyaluronic acid, nucleic acids, biologically active substances, Kathon CG (not more than 0.05%). |
| Shelf life: | Do not use it beyond the expiration date printed on the package. After opening the vial, store the solution in the refrigerator for no more than a month. |
| Storage conditions: | Store in a dry dark place. Keep out of reach of children. |
| Terms of release: | Over-the-counter |
| Manufacturer: | Panagene and the Institute of Cytology and Genetics of the Siberian Branch of the Russian Academy of Sciences, Russia |
What is Placental Peptide?
BBS (Biologically Balanced System) Сosmetic Placental Peptide Extract is a joint development of Panagene LLC and the Institute of Cytology and Genetics of the Siberian Branch of the Russian Academy of Sciences. It targets various layers of the skin and its integumentary structures. Regular use of this cosmetic product makes the skin resilient and supple. It can enhance the regenerative processes and make hair shiny and silky and nails strong and smooth.
Hyaluronic acid in the BBS Placental Extract binds and holds free fluid, and together with linoleic acid, another component of the product, prevents its loss. Amino acids, which are building blocks of proteins, in combination with other biologically active substances have a beneficial effect on skin function, promote the natural production of collagen, regeneration, improvement of metabolism and blood supply, and ultimately smoothing wrinkles and increasing skin tone. Placental Peptide Extract also includes the amino oxidase enzyme, which helps reduce the irritability of the skin in response to the action of adverse factors.
What are the Benefits and Effects of Placental Peptide?
Due to a molecular purification method, the BBS Placental Extract is a mildly active biologically active polypeptide complex free from steroid hormones. It does not demonstrate any side effects and has no addiction hence it can be used for cosmetic purposes at any age. Moreover, there are no added perfume agents or flavoring substances in the Extract, thus the risk of allergic reactions is reduced to the minimum.
The BBS Peptide Extract has a bio-stimulating effect on the skin, as a result, the activity of the skin stem cells increases, the aging process slows down, and the active cell regeneration begins, thereby it can make the skin look younger and healthier. The biologically active substances in the extract contribute to the maintenance of the functional activity of skin cells, hair follicle cells, and cells that form the nail plate and stimulate healing processes.
What is Placental Peptide Used For?
Placental Peptide Extract can be used in cosmetology and has the following properties:
Rejuvenation of the face, neck, décolleté, and hand skin (the product improves elasticity, and skin texture, increases moisture, and smoothes deep and surface wrinkles and nasolabial folds);
Improvement of hair and nails (regeneration of hair follicles, growth acceleration);
Antioxidant and immunostimulating properties.
Where Can I Order Placental Peptide Online?
You can buy Placental Peptide online at different vendors. CosmicNootropic offers BBS Cosmetic Placental Peptide in packs of 2x20ml vials. We offer worldwide shipping! Always be sure to do your research before purchasing any nootropic supplement to ensure you are getting a quality product.
You can order Placental Peptide and get it delivered to the USA, Europe, the UK, Asia, and many other regions and countries via CosmicNootropic.
Check out other products in the Antioxidant category!
---
Legal Disclaimer
This product has not been approved by the US FDA. All statements on this page are for informational purposes only and have not been evaluated by the US FDA.
This product is not intended to diagnose, treat, cure, or prevent any disease. See more
How to Use Placental Peptide?
Open the bottle. Dissolve the contents of the vial by adding 20 ml of boiled water of room temperature. Place the dispenser tip on the neck of the bottle.
Option 1: Skin Care. Apply 3–7 drops of the BBS Placental Peptide Extract on a selected area of your face, neck, or décolleté, massage it gently into your skin and let it absorb. After that, you can also apply your favorite cosmetics.
Option 2: Hair Care. After washing your hair, dry it with a towel. Using a dispenser tip, apply the Extract to hair roots and massage them until the essence is completely absorbed. Do not wash off. Apply it for a month after every hair wash. It is recommended to repeat the course several times a year.
Option 3: Nail Care. Treat the surface of the nail and its cuticle with the BBS Placental Peptide Extract and massage it until the essence is completely absorbed. Apply once a day (preferably in the evening) for a month.
Option 4: the Extract can be used as an integral part of various cosmetics (creams, balms, shampoos, masks, lotions, etc.). You need to add up to 5% of the volume of the Placental Peptide Extract to your favorite cosmetics and blend until the substance becomes smooth. The shelf life of the cosmetics with the Peptide Extract added to them is equivalent to the shelf life of the original cosmetics.
Before use, conduct a sensitivity test: it is necessary to apply a small amount of the Extract upon the skin of the wrist or elbow. In the absence of hyperemia and itching, the Extract can be used without dilution. In case of redness, select an individual concentration, diluting the Extract with more warm water.
What are Placental Peptide Side Effects?
Clinical trials have not revealed any side effects.
Thank you!
You will now receive regular updates from us!