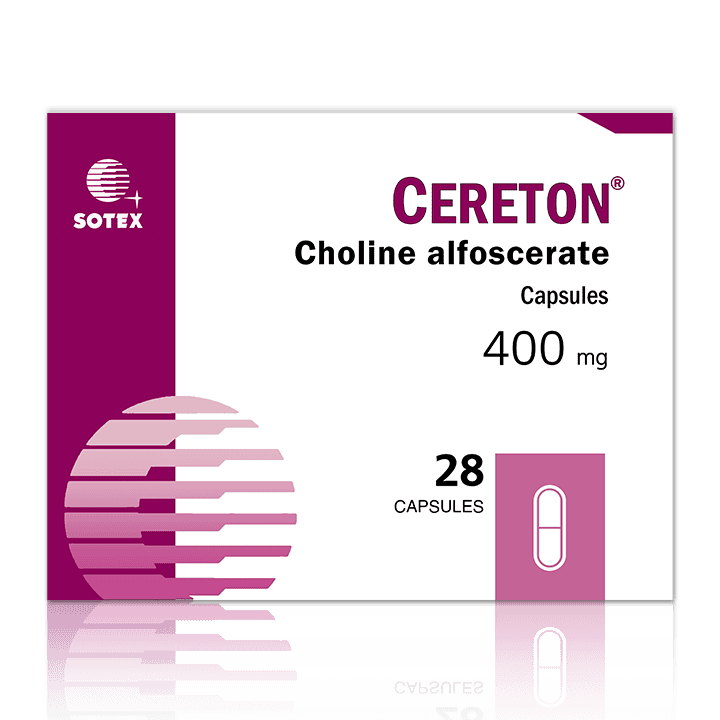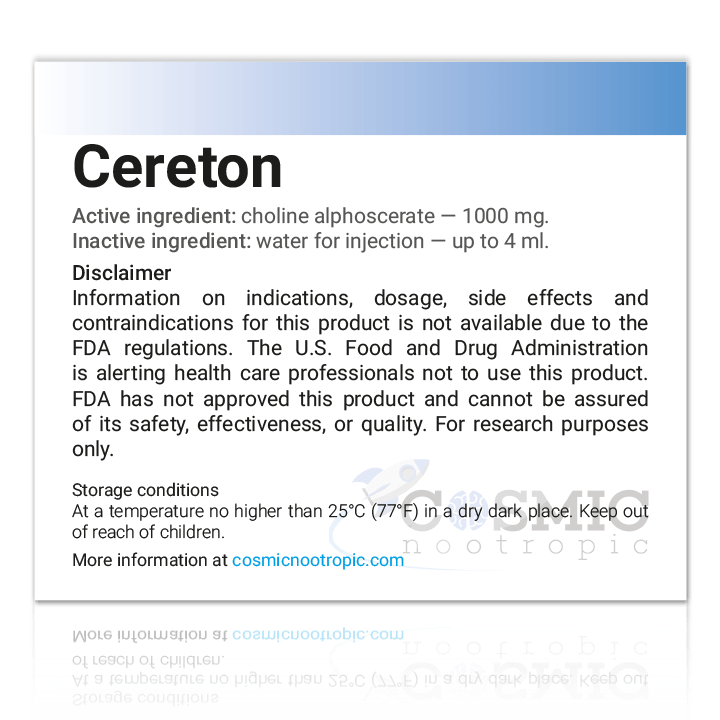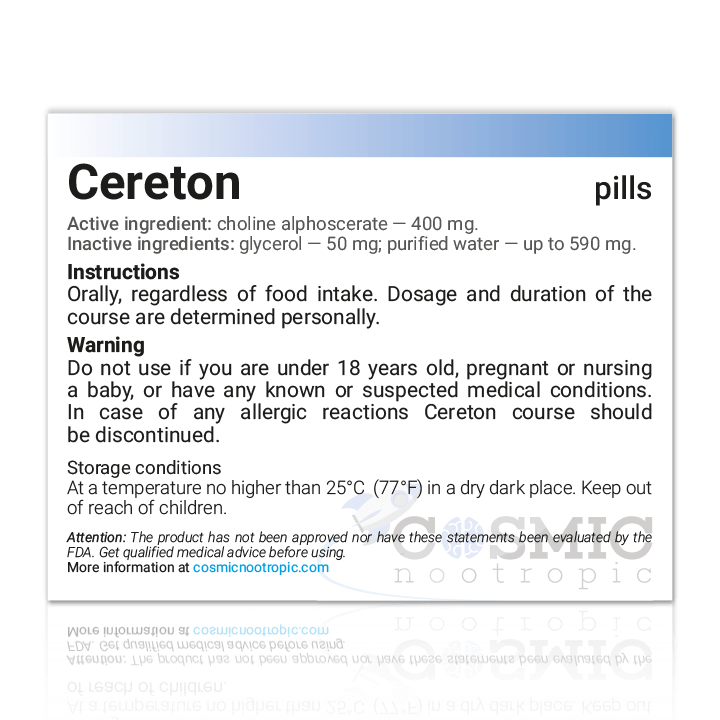 AUTHENTIC PRODUCTS
Only original pharmaceutical products that passed 3 stages of clinical trials.
GMP QUALITY
Our products are produced on GMP or state licensed factories.
10% CRYPTO DISCOUNT
10% discount for paying in BTC or other cryptocurrency.
PAYMENT BY CARD
Convenient Payment by Visa or MasterCard.
GUARANTEED DELIVERY
Guaranteed delivery times and clear Reshipment & Refund Rules.
PROMPT SHIPPING
Different shipping methods and same or next day shipping.
Buy Alpha-GPC (Cereton®) Online!
Alpha-GPC (Cereton®) is a cholinergic compound that helps to improve brain health. It is said to support cell membranes and may help prevent cognitive decline.
Order Alpha-GPC capsules and injections with fast US delivery.
One pack of Alpha-GPC capsules is sufficient for a course treatment of 9–14 days. The drug can be taken for up to 6 months. Save with the volume discount!
Synonyms
L-Alpha glycerylphosphorylcholine / choline alfoscerate / α-GPC
Form:
3 vials of 4ml /  28 capsules of 400mg
Form description:
Clear, colorless liquid / Soft, gelatine, oval capsules of yellow or brownish color with oily, clear, colorless or slightly colored liquid.
Active ingredient:
Choline alphoscerate polyhydrate – 1000 mg / choline alphoscerate – 400 mg
Excipients for vials:
Water for injections
Excipients for pills:
Glycerol, purified water;
Capsules composition: gelatine, sorbitol, glycerol, methylparahydroxybenzoate, propyl parahydroxybenzoate, titanium dioxide, iron oxide yellow, purified water.
СAS Number:
28319-77-9
ATC code:
N07AX02
Pharmacological action:
Nootropic
Shelf life:
5 years. Do not use it beyond the expiration date printed on the package.
Storage conditions:
Store in a dry dark place at temperatures no higher than 25°C (77°F). Keep out of reach of children.
Terms of release:
Over-the-counter
Manufacturer:
Sotex, Russia https://www.sotex.ru/
What is Alpha-GPC?
Alpha-GPC is one of the most effective sources of choline, first discovered in 1864. Alpha-GPC is a natural choline compound found in the brain. Alpha-GPC rapidly delivers choline to the brain across the blood-brain barrier.
It is routinely prescribed by doctors in Europe as a treatment for Alzheimer's disease and other degenerative conditions. Alpha-GPC is frequently compared to CDP-choline, another effective source of choline.
What is the Mechanism of Action of Alpha-GPC?
Alpha-GPC easily crosses the blood-brain barrier. In the brain, it is metabolized into choline and glycerophosphate. Choline enhances the synthesis of acetylcholine, a neurotransmitter involved in memory, attention, and skeletal muscle contraction. Glycerophosphate is said to support cell membranes. It improves blood flow and enhances metabolic processes in the central nervous system.
Alpha-GPC can naturally boost brain functions, including memory retention, focus, and neuroplasticity.
Alpha-GPC can promote the normalization of spatiotemporal characteristics of spontaneous bioelectric activity of the brain, regression of local neurological symptoms, and restoration of consciousness.
What are the Benefits and Effects of Alpha-GPC?
Alpha-GPC increases choline levels and treats choline deficiency;
Intake of Alpha-GPC has a positive effect on the cognitive and behavioral responses of patients with cerebrovascular diseases (discirculatory encephalopathy and residual effects of cerebral circulation disorders);
This medication provides a preventive and corrective effect on the pathogenetic factors of the involutional psycho-organic syndrome;
Alpha-GPC changes the phospholipid composition of neuronal membranes and participates in the synthesis of phosphotidylcholine – a membrane phospholipid – and improves the plasticity of neuronal membranes;
Alpha-GPC stimulates dose-dependent ejection of acetylcholine under physiological conditions, it can increase synaptic transmission and improve receptor function;
Alpha-GPC does not affect the reproductive cycle and does not have teratogenic and mutagenic effects.
What is Alpha-GPC Used For?
In medical practice, Alpha-GPC has been proven to be useful for treating:
Strokes and post-stroke complications;
Alzheimer's disease and other types of dementia;
Traumatic brain injuries;
Psychoorganic syndrome;
Various cognitive disorders e.g. disorientation, low motivation, concentration difficulties, etc.
Where Can I Order Alpha-GPC Online?
You can purchase Alpha-GPC online from different vendors. CosmicNootropic offers Alpha-GPC under the brand name Cereton in packs of 3x4ml vials and 28x400mg pills. We offer fast US delivery and worldwide shipping with volume discounts! Always be sure to do your research before purchasing any nootropic supplement to ensure you are getting a quality product.
You can order Alpha-GPC capsules and injections and get them delivered to the USA, Europe, the UK, Asia, and many other regions and countries via CosmicNootropic.
---
Legal Disclaimer
This product has not been approved by the US FDA. All statements on this page are for informational purposes only and have not been evaluated by the US FDA.
This product is not intended to diagnose, treat, cure, or prevent any disease. See more
What is Alpha-GPC Dosage, How to Use It?
Vials
In acute conditions, the recommended course treatment is 1000 mg (1 ampoule) per day for 10–15 days.
The medicine is slowly administered intravenously or intramuscularly.
Capsules
Alpha-GPC in capsules has indication-specific dosing. Usually, the recommended dosage is 400 mg (1 capsule) three times a day after meals.
In the recovery period of craniocerebral injury, ischemic or hemorrhagic stroke, the recommended dosage is 800 mg in the morning and 400 mg in the afternoon for 6 months.
In chronic cerebrovascular insufficiency and dementia, the recommended dosage is 400 mg 3 times a day after meals, for 3–6 months.
What are the Side Effects of Alpha-GPC?
Possible side effects of Alpha-GPC include allergy reactions, constipation, diarrhea, dry mouth, pharyngitis, headache, drowsiness, insomnia, agitation, anxiety, aggression, brain ischemia, dizziness, convulsions, rashes, urticaria, pain in the area of ​​injection, increased urination.
In case of nausea due to dopaminergic activation, the dose shall be decreased.
Note: Alpha-GPC works particularly well with racetams, like Piracetam and Aniracetam. These racetams boost acetylcholine receptors in the brain, which means your brain needs to produce more acetylcholine. Alpha-GPC gives your brain the acetylcholine it needs by delivering high amounts of choline.
Thank you!
You will now receive regular updates from us!