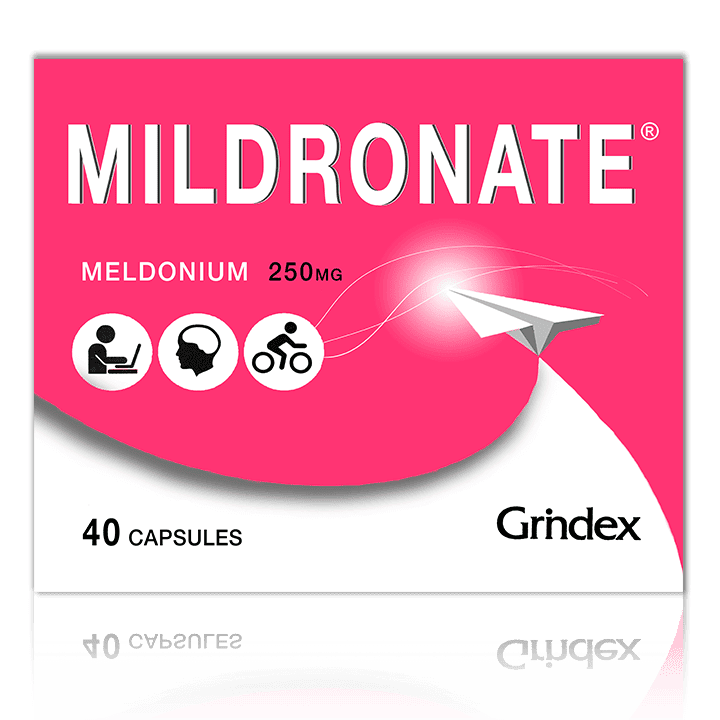 Buy Mildronate (Meldonium) tablets and injections with 3–7 day fast domestic delivery within the US ($5) – just choose "Ships from: US (+15%)"
Back in 1975, the creator of Mildronate (also known as Meldonium), professor Kalvins, was studying all body chemicals that can be deplenished during endurance trainings. He found that one particular chemical – Gamma Butyrobetaine – is being deplenished under physical workloads. He changed this molecule by replacing one atom of Silicon with that of Nitrogen so that the new molecule would not decompose and could act as a transmitter from CNS to peripheral cells.
Mildronate was approved for use to general public in 1984. It is a metabolic enhancer that can normalize cellular energy metabolism. As such, it is usually used to treat angina, myocardial failure, and reduce alcohol withdrawal symptoms. Why buy Mildronate (Meldonium)? Off-label use of Meldonium in otherwise healthy individuals includes increasing exercise tolerance, learning, memory, and even sexual function.
Mildronate gained popularity after Sharapova, a famous tennis player, said that she has been taking this drug for the last 10 years because of health reasons. Also, a number of other world and Olympic champions admitted taking it, e.g. world record holder in short track – Semen Elistratov, Olympic champion figure skater – Ekaterina Bobrova, a racing cyclist from team Katyusha – Eduard Varganov, world champion weightlifter Aleksey Lovchev and world champion runner from Sweden – Abeba Aregawi.
Interesting facts about Mildronate:
Latvia is selling about 70 million euros of Mildronate annually, which is about 0.7% of the total exports of this country.
The creator of the drug, professor Ivars Kalvins, claims that Meldonium has never been found to have anabolic properties; it is rather a cardioprotector that can protect the cardiovascular system of athletes from ischemia under high physical workloads. He also says, that, as such, most athletes actually should use it to diminish the negative effects associated with high-intensity training.
In 2015, 17% of Russian athletes were tested positive for Meldonium, compared with 2.2% of athletes of other nationalities.
Like Semax and Cerebrolysin, Mildronate is on the Russian List of Vital & Essential Drugs.
We recommend you this video explanation of Mildronate's effect in the cell.
Produced by Grindex, Latvia. Read more about the producer in this blog post.
---
Legal Disclaimer
This product has not been approved by the US FDA. All statements on this page are for informational purposes only and have not been evaluated by the US FDA.
This product is not intended to diagnose, treat, cure, or prevent any disease. See more
Dosage and administration
For the purpose of increasing tolerance to mental and physical overload, you should take 250 mg of Mildronate 2–4 times per day. Before and during the athletic events, athletes should take up to 500–1000 mg prior to workouts, preferably in the morning. The duration of a course is between 14 and 21 days.
Side effects
Mildronate is, in general, well-tolerated and side effects are rare. They may include high blood pressure, agitation, and allergy reactions.
Overdose
Cases of overdose have not been reported.
Manufacturer
Grindex, Latvia.
Related products
Omaron® is a combination drug which stimulates blood flow and neuronal metabolic processes in the brain. It has antihypoxic, nootropic and vasodilating effects. Its active ingredients are piracetam and cinnarizine. Piracetam activates metabolic processes. And Cinnarizine enhances antihypoxic effect of piracetam. Fast US domestic shipping is available.
Noben® (Idebenone) is a nootropic used to treat various neurological disorders. It is a synthetic derivative of Coenzyme Q10, an endogenous compound involved in mitochondrial energy production. Noben was shown to improve cerebral blood flow and oxygen delivery to human brain. It also improves metabolic processes. Fast US domestic shipping is available.
Encephabol® (Pyritinol) is a cholinergic nootropic drug that is used to restore impaired cognitive functions and treat dementia. Pyritinol is a vitamin B6 derivative. Its main mechanism of action is cholinergic, antioxidant, and vasodilatory. Encephabol is also used to treat developmental delays in children. Fast US domestic shipping is available.