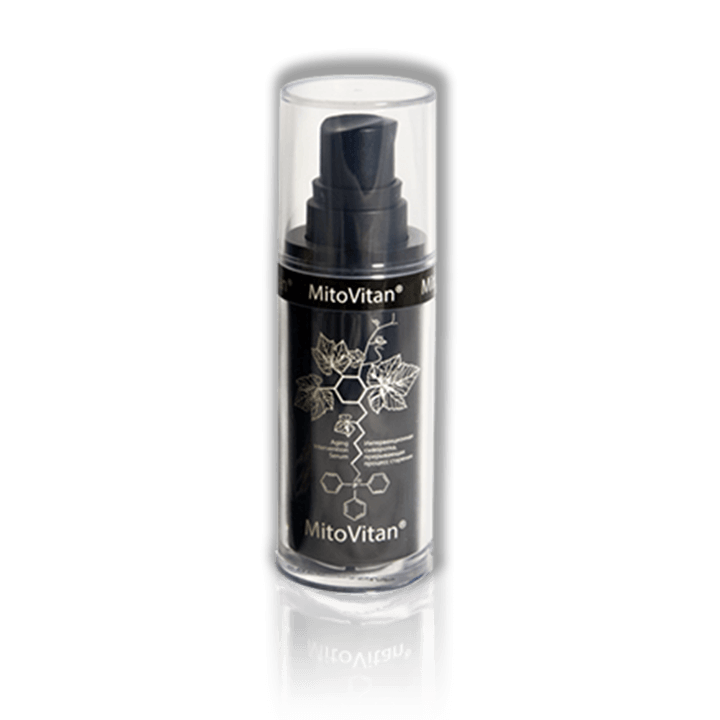 MITOVITAN ® (SKQ1 Anti-Aging Serum)
Buy MitoVitan SKQ1 Anti-Aging Serum with the fastest delivery!
MitoVitan is a completely new approach in interrupting the biological mechanism of aging. It disables the aging program at the cellular level and helps to maintain the youthfulness of the skin. Daily use of the serum prevents the formation of deep and mimic wrinkles, reduces the visibility of already existing ones, and restores natural moisture balance and elasticity of the skin.
The active substance of MitoVitan is an innovative directional antioxidant SkQ1 (Skulachev's Quinone). In contrast to the common nondirectional antioxidants "Skulachev Ions" are sent directly to the mitochondria and reduce the activity of the free radicals at the cellular level, therefore interrupting the aging program. Due to its unique properties, the effectiveness of the SkQ1 is 1000 times greater than that of the other well-known antioxidants, including the famous coenzyme Q10.
The essential advantage of MitoVitan serum is its light structure so that it is quickly absorbed and is invisible on the skin.
Main benefits:
Slows down the aging process;

Improves the overall skin condition;

Restores the skin's natural water balance and elasticity;

Smoothes wrinkles and prevents the formation of new ones.
Also, check MitoVitan Active (SKQ1 Anti-Aging Concentrate)!
Produced by Mitotech, Russia. Read more in our blog post!
Buy MitoVitan SKQ1 Serum at our store!
Contents
The MitoVitan serum comes in a 30 ml flacon.
Dosage and administration
Gently apply the MitoVitan serum to the clean face and neck, massage until it is completely absorbed. Apply the MitoVitan serum 1-2 times a day (preferably in the morning and in the evening). It can be used as the main skin-care product or as the base for your preferred face cream.
For dry or sensitive skin, it is recommended to use the MitoVitan serum in combination with a moisturizer.
Contraindications
Individual intolerance to the ingredients.
Storage conditions
Store the MitoVitan serum in a dry place at room temperature up to 25°C. Protect from direct sunlight. Keep out of the reach of children.
Shelf Life is 2 years. Do not use after the expiration date.
Manufacturer
Produced by Mitotech, Russia.
Related products
Demoxytocin® (desamino oxytocin) is a synthetic analogue of oxytocin peptide. It is more potent compared to oxytocin, has a longer half-life and can be used sublingually. Demoxytocin was shown to improve trust between people. It can therefore help people come to an agreement easier. You can also buy Oxytocin pills to decrease craving for unhealthy foods, alcohol, and nicotine. Fast US domestic shipping is available.