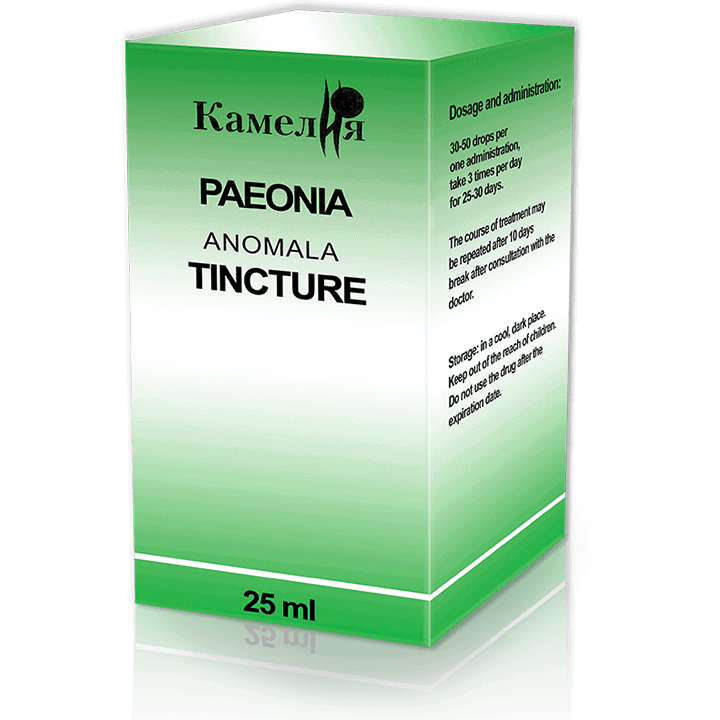 Buy Peony Evading Tincture at the best price!
Peony anomala tincture is a herbal sedative medicine. Peony anomala (Maryin root) is a perennial herbaceous plant. Its roots contain essential oils, digestible carbohydrates, vitamin C, benzoic acid, sitosterol, terpenoids, tannins, potassium, calcium, and manganese. Its aerial part contains glycosides, bioflavonoids, and tannins and its seeds are rich with fatty oils. The plant was widely used in Chinese, Mongolian, and other traditional medicines to treat gastrointestinal diseases, malaria, fever, and as a sedative drug, and even as an antidote for poisonings. It belongs to the group of natural adaptogens, the means that stimulate the immune system.
The tincture is used as a sedative and a natural hypnotic in patients with sleep disorders, the excitability of the nervous system, and dysautonomia. Buy Peony anomala tincture to stimulate endorphin production and help to cope with stress and emotional overload. It can also be used as part of complex therapy of chronic alcoholism and hormonal imbalance during menopause and in order to relieve cramps, involuntary spasms, and contractions in patients with epilepsy. Moreover, the tincture has been proven to have antispasmodic and anti-inflammatory effects.
Produced in Russia.
Check out other organic products!
Contents
Active ingredients: Peony anomala stems and leaves – 50 g, Peony anomala roots and rhizomes – 50 g.
Inactive ingredient: ethanol (ethyl alcohol) 40% – in the amount essential to make a tincture.
One bottle contains 25 ml of tincture, which is approximately 1000 drops.
Dosage and administration
To be administered orally. Dosage for adults and children from 12 years of age is 30–40 drops 3 times a day for 25–30 days. If prescribed by a doctor, the treatment course can be repeated after 10 days.
Contraindications
Hypersensitivity to the components of the tincture, liver and/or kidney failure, pregnancy, breastfeeding period, and children under 12 years of age.
To be applied with caution in case of kidney and liver diseases, gastritis, traumatic brain injury, or brain disorders.
Side effects
Allergic response.
Overdose
It is recommended to follow the application instructions, as Peony anomala is a poisonous plant. In case of overdose perform gastric lavage and consult a doctor.
Drug interaction
The tincture lowers the effect of CNS stimulants and enhances the effect of hypnotic, sedative, and analgesic drugs.
Storage conditions
Store at a dark place at a temperature of 15–25°С. Keep out of the reach of children.
Shelf life is 2 years.
Country of manufacture
Russia.
Related products
Mexidol® is a unique development of the Russian pharmaceutical industry. It's an inhibitor of free-radical processes and membrane protector with antihypoxic, stress-protective, nootropic, anticonvulsant and anxiolytic action. Mexidol increases the resistance of the body to various damaging factors: stress, hypoxia, ischemia, cerebral circulation disorders, and intoxication. Fast US domestic shipping is available.
Magne B6® (Magnesium + Vitamin B6) is a drug intended to restore the amount of magnesium in the body. Normal levels of magnesium are important for the maintenance of heart and nervous system function. Pyridoxine (vitamin B6) improves magnesium absorption from the digestive system into the body's cells. Fast US domestic shipping is available.
Biotredin® is a nootropic which improves metabolism and boosts cellular energy. The drug is comprised of L-threonine and pyridoxine hydrochloride (vitamin B6). The resulting substance promotes active stimulation of inhibitory processes, oxidation-reduction, and supports respiratory function, and synthesis of adenosine triphosphate in the cells. Biotredin is mainly used for treating alcohol dependency.