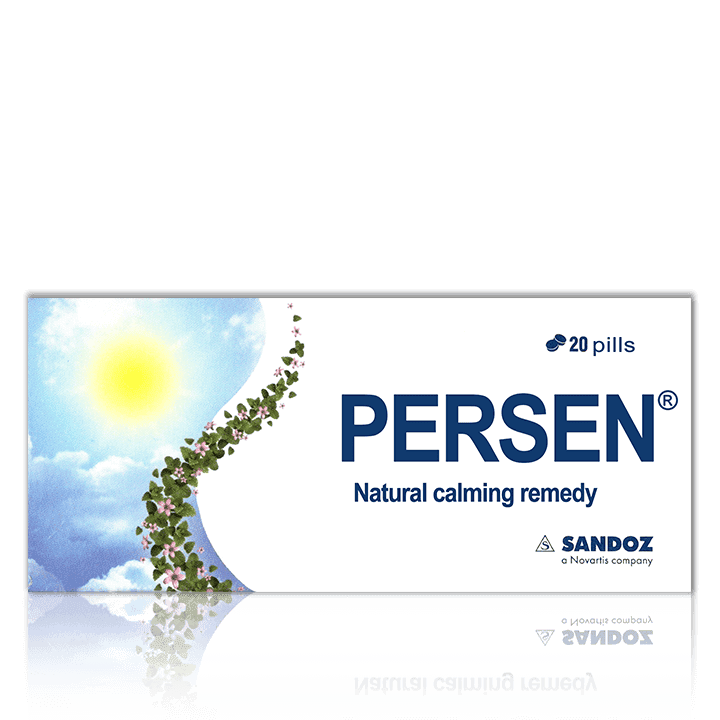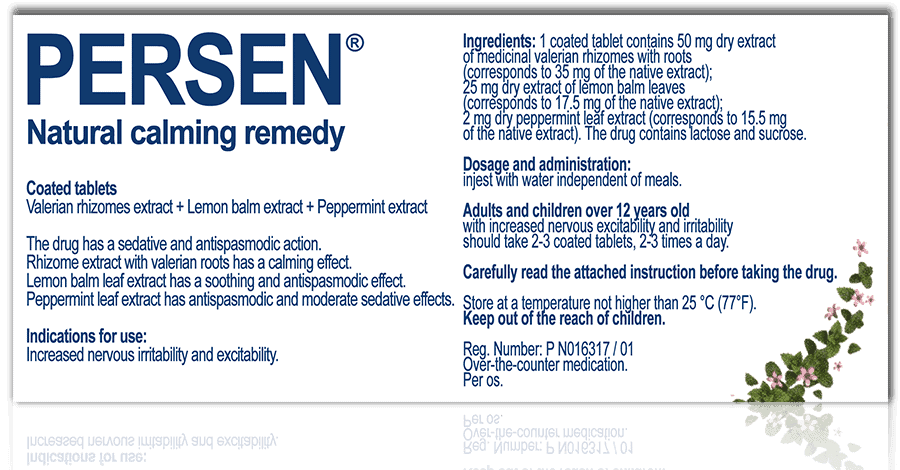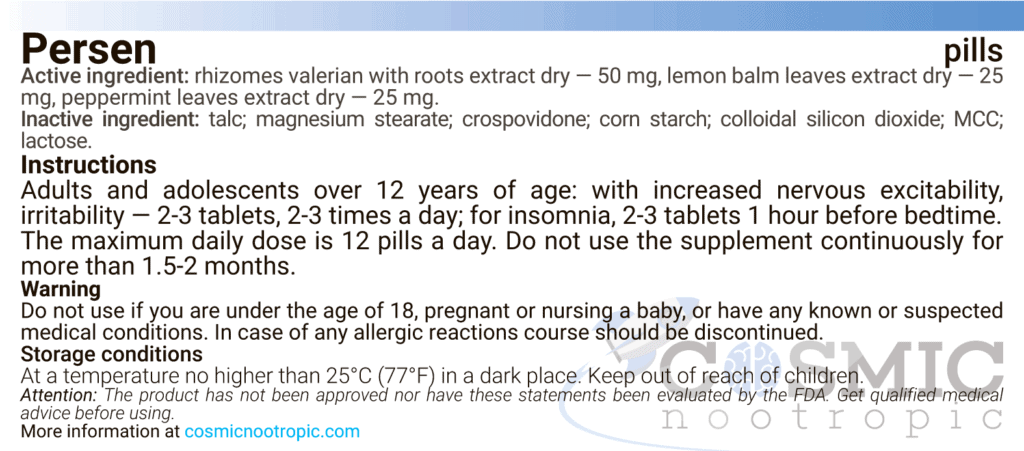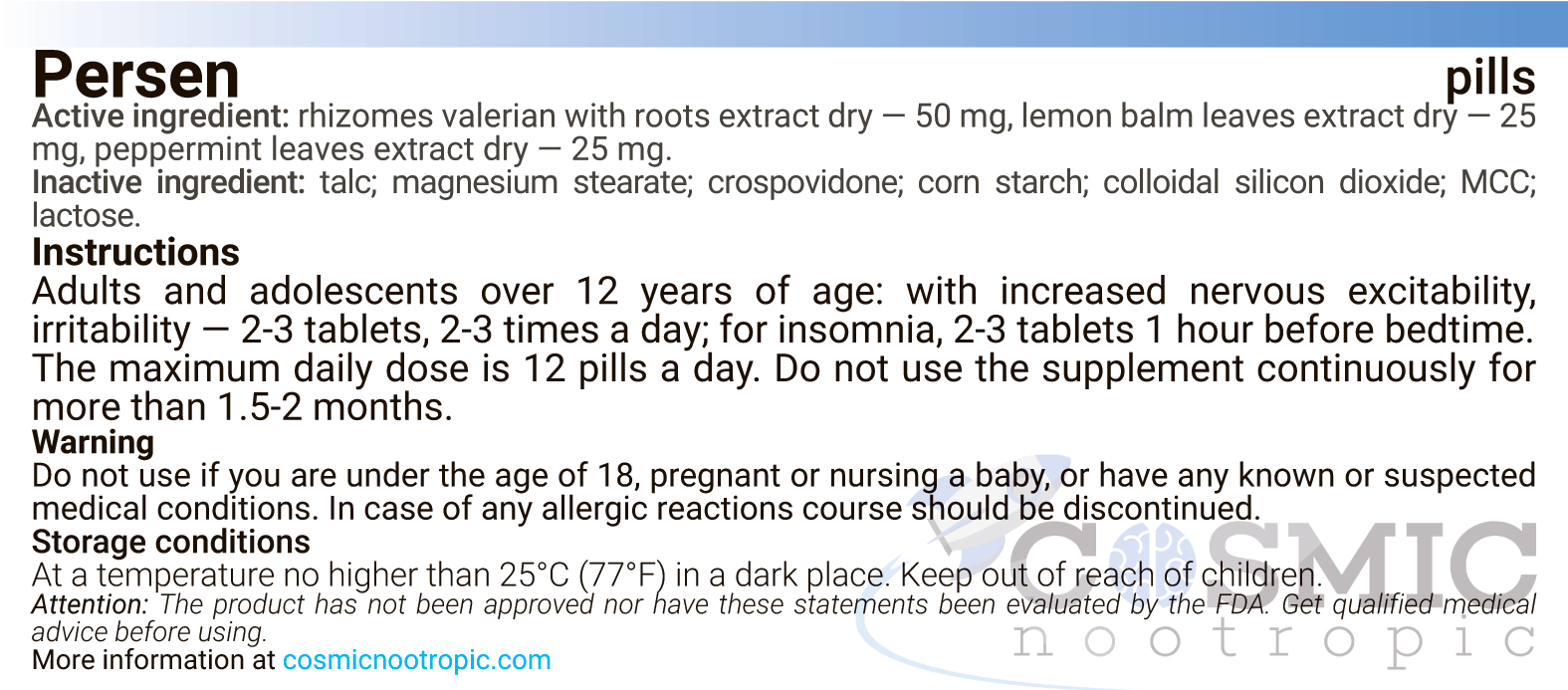 PERSEN ® (Valerian, Lemon Balm, Peppermint)
Buy Persen with the fastest delivery!
Persen is a sedative and antispasmodic herbal drug.
It is used to treat neurosis accompanied by stress, impaired attention, anxiety, and insomnia that are usually treated with potent therapy.
It can also be used as a replacement therapy after the withdrawal of strong sedatives. Persen can be prescribed for the prevention of psychosomatic disorders caused by stress. It has also proved to be effective in dysautonomia treatment.
Pharmacodynamic properties
Valerian root and rhizome extract has a calming effect.
Lemon balm leaf extract has a soothing and antispasmodic effect.
Peppermint leaf extract has antispasmodic and moderate sedative effects.
Indications:
Increased nervous irritability and excitability;
Insomnia;
As a part of complex therapy of dysautonomia.
Produced by Sandoz, Slovenia.
Contents
One coated tablet contains:
Active ingredients: 50 mg of dry extract of medicinal valerian rhizomes with roots (corresponds to 35 mg of the native extract), 25 mg of dry extract of lemon balm leaves (corresponds to 17.5 mg of the native extract), 2 mg of dry peppermint leaf extract (corresponds to 15.5 mg of the native extract);
Inactive ingredients: talc, magnesium stearate, crospovidone, corn starch, silica, lactose, and sucrose.
Dosage and administration
To be administered orally, independent of meals.
Dosage for adults and children over 12 years of age: 2-3 tablets 2-3 times a day.
Contraindications
Hypersensitivity to the components of the drug;
Lactose intolerance, lactose deficiency or glucose-galactose malabsorption;
Sucrase/isomaltase deficiency or fructose intolerance;
Arterial hypotension;
Cholangitis or biliary disease;
Pregnancy and lactation;
Children under 12 years of age.
Side effects
Allergic response or bronchospasm. Prolonged drug administration can cause constipation.
Overdose
Overdose can cause fatigue, abdominal pain, dizziness, dilated pupils, chest pain, or shaking hands. If the symptoms do not disappear on their own within 24 hours, perform gastric lavage and consult a doctor.
Drug interaction
Persen enhances the effect of hypnotic drugs and other CNS depressants, antihypertensive drugs, and painkillers, thus requiring dosage adjustment.
Storage conditions
Store at a temperature not higher than 25°C (77°F). Keep out of the reach of children.
Manufacturer
Sandoz Pharmaceuticals, Slovenia.
Related products
Pantocalcin® is a nootropic drug that is used in the treatment of various neurotic disorders and psychoemotional stress. The active ingredient is Hopantenic acid which has neuroprotective, neurometabolic and neurotrophic properties. Pantocalcin if often prescribed in combination with other drugs as a part of complex therapy for the normalization of the brain function including ADHD in children.