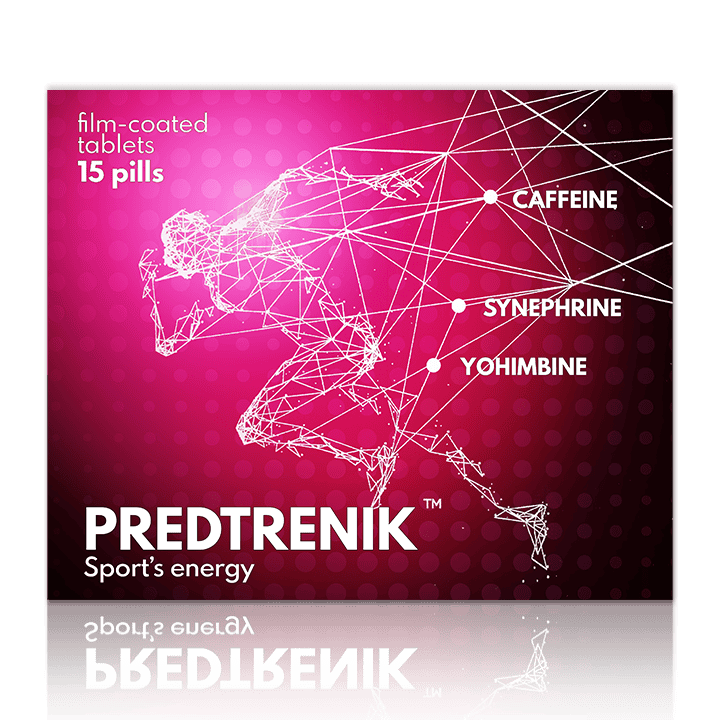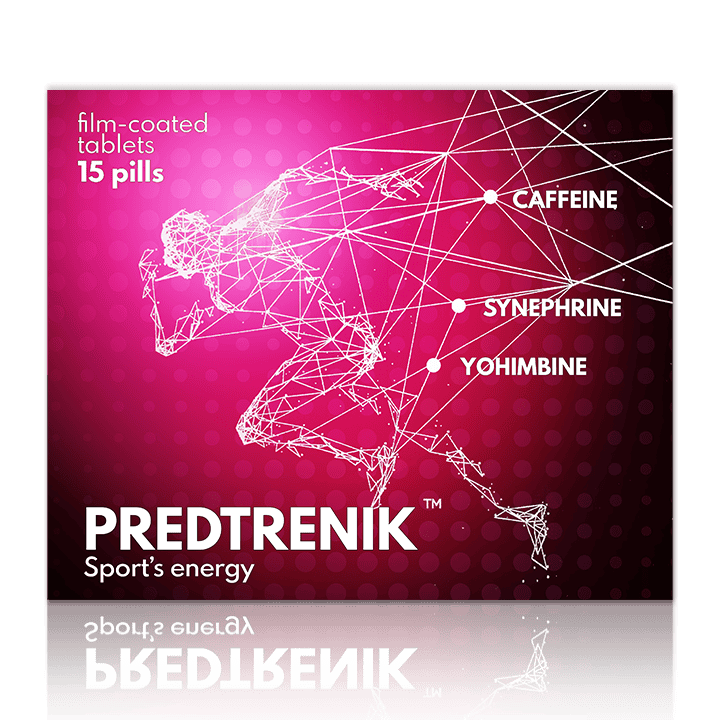 AUTHENTIC PRODUCTS
Only original pharmaceutical products that passed 3 stages of clinical trials.
GMP QUALITY
Our products are produced on GMP or state licensed factories.
10% CRYPTO DISCOUNT
10% discount for paying in BTC or other cryptocurrency.
PAYMENT BY CARD
Convenient Payment by Visa or MasterCard.
GUARANTEED DELIVERY
Guaranteed delivery times and clear Reshipment & Refund Rules.
PROMPT SHIPPING
Different shipping methods and same or next day shipping.
WHAT IS PREDTRENIK?
Predtrenik is a combination supplement designed to increase endurance and improve qualitative and quantitative indicators in athletics and training. The supplement composition includes caffeine, yohimbine, synephrine, and other agents. 
When combined with daily exercise and a balanced diet, the components of Predtrenik also contribute to the weight loss process.
Name:
Predtenik
Form:
Coated tablets

Composition:

microcrystalline cellulose (carrier), succinic acid, caffeine, synephrine, nicotinamide (vitamin PP/B3), yohimbe extract (Yohimbine), magnesium stearate (anti-caking agent), cyanocobalamin (vitamin B12)

Tablet coating:

hydroxypropyl methylcellulose (thickener), polyethylene glycol (stabilizer), titanium dioxide (dye), Carmine dye

Pharmacological group:

Food supplement – a source of synephrine, caffeine, succinic acid, an additional source of vitamins: PP, B12, yohimbine

Shelf life:

2 years. Do not use beyond the expiration date printed on the package

Storage:

Store in a dark, dry place at room temperatures below

25°C (77°F).

Keep away from children

.
Manufacturer:

OOO Kvadrat-C
PREDTRENIK – SOURCE OF CAFFEINE, YOHIMBINE, AND SYNEPHRINE
Predtrenik contains powerful components that can help you cope with fatigue and multiply the effectiveness of your workouts.
Caffeine

in the composition of Predtrenik stimulates the central nervous system, increases mental and physical performance, shortens reaction time, and reduces fatigue and sleepiness.

Yohimbine

is a substance extracted from the bark of the evergreen African Yohimbe tree. It has pronounced fat-burning properties due to the blockade of alpha-adrenoreceptors, which stimulate the breakdown of fat.

Synephrine

, which is another active substance of Predtrenik, originates from the fruit of the Pomeranian plant of the Citrus species. It is an alkaloid that has some structural

similarities to

adrenaline

 but acts as a safer compound for the cardiovascular system. Synephrine supports thermogenesis (heat production) and enhances energy generation by breaking down fat, increasing metabolic rate, and reducing appetite.
OTHER COMPONENTS IN PREDTRENIK TO TONE UP YOUR BODY
In addition to the mentioned above, Predtrenik also contains ingredients that can help tone your body before workout, increase your productivity and endurance during exercise, and help your body recover afterwards. These are: 
Succinic acid

which is produced in the mitochondria. It has an antioxidant effect and promotes energy production in cells. Consumption of amber acid in the process of weight loss gives the body energy and increases stress resistance and endurance.

Vitamin B12

(cyanocobalamin) is beneficial for fat metabolism in the liver tissue. It also reduces the level of the "bad" cholesterol in the blood and can enhance the functioning of the nervous system.

Vitamin PP/B3

(nicotinamide) participates in the synthesis of energy from glucose and fat. Helps dilate small blood vessels in the brain, improving microcirculation. Supports protein metabolism and all energy processes in the cells.
WHAT ARE THE BENEFITS OF PREDTRENIK?
With Predtrenik athletes notice increased endurance, lower fatigue and improved metabolism in the body. And for amateurs it is beneficial in terms of higher work-out effectiveness and motivation.  
Unlike most pre-training complexes, Predtrenik is available in tablet form, so you do not need to prepare it. All you need to do is take it a few hours before your workout!
WHERE TO BUY PREDTRENIK?
Predtrenik is a food supplement that is available to purchase online. You can buy Predtrenik at CosmicNootropic. We offer fast US delivery and worldwide shipping. Always be sure to do your research before purchasing any supplement to ensure you are getting a quality product.
HOW TO TAKE PREDTRENIK?
For adults, 1-2 tablets in the first half of the day, with meals.
The duration of course is 2-3 weeks. If necessary, it can be repeated.
CONTRAINDICATIONS
individual intolerance to the components, 

pregnancy, lactation, 

increased nervous irritability, insomnia, 

high blood pressure, cardiac arrhythmias, 

coronary artery disease, heart disease, 

marked atherosclerosis, 

severe liver and kidney disease, 

when treated with adrenomimetics, administration in the evening.
It is recommended to consult a physician before use of any medications and supplements. 
Thank you!
You will now receive regular updates from us!