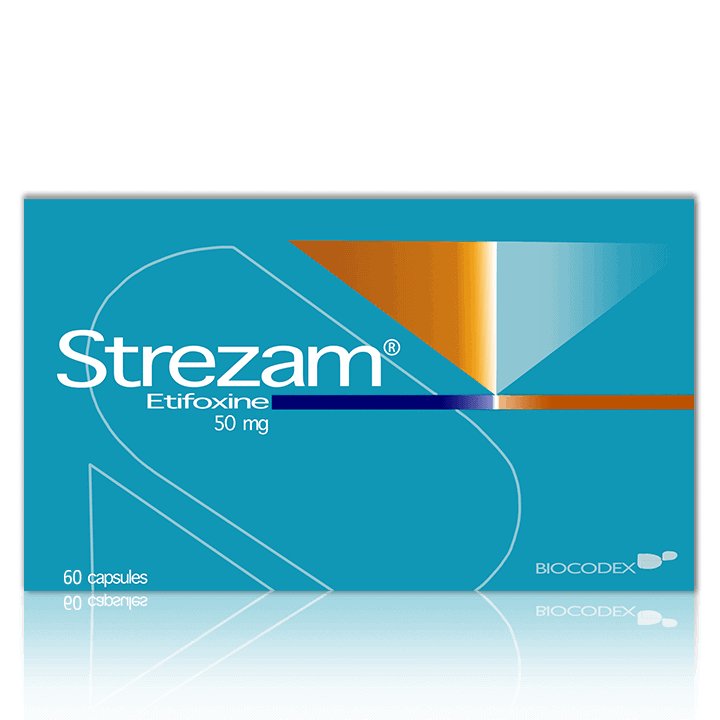 STRESAM IS NOT AVAILABLE ANYMORE. Take your chance to get the last packages!
Also, check other similar products from the ANTI-ANXIETY category.

Buy Stresam (Etifoxine) pills with 3–7 day fast domestic delivery within the US ($5) – just choose "Ships from: US (+15%)"
Stresam is a drug manufactured by the French company Biocodex. Its active substance – etifoxine, a benzoxazine derivative – has an original mechanism of action that distinguishes it from all other anxiolytics. It is characterized by maximum selectivity and physiological action in relation to the influence on the development of the symptom complex of anxiety.
The active substance was developed back in the 1960s by the German pharmaceutical company, when benzodiazepines (psychoactive substances with sedative effects), dominated the market of sedatives and drugs for anxiety disorders. However, despite their popularity, tranquilizers of the benzodiazepine structure have significant side effects: psychomotor inhibition, drowsiness, lethargy, dizziness, muscle relaxation, memory impairment, development of addiction, etc. An alternative way to develop drugs to eliminate anxiety was the synthesis and implementation of new generation anxiolytics of non-benzodiazepine nature. Etifoxine was one of several anxiolytics with enough potential to replace benzodiazepine drugs.
It has anxiolytic properties and can relieve various psychosomatic disorders (anxiety, internal tension, sleep disturbances, irritability, inadequate emotional reactions), without a negative effect on psychomotor and cognitive domains. The compound produces neurosteroids in the brain that can indirectly modulate the activity of GABAA response. Enhancing neurosteroids in the brain has a lot of potential in keeping the functional yet calm state of body and mind.
Stresam (Etifoxine) demonstrates the following effects:
The drug effectively eliminates manifestations of anxiety (stress, discomfort, insomnia, a sense of fear, etc.).
Since the active substance of Stresam does not have a withdrawal syndrome and does not cause dependence, etifoxine is of great interest for narcologists: the drug has shown its effectiveness in reducing the manifestation of alcohol withdrawal syndrome, reducing tremor, anxiety, and paroxysmal sweating. Stresam helps to reduce the pathological craving for alcohol, improving the quality of life in the post-withdrawal period.
Additional effects of Stresam are due to the fact that the drug has a mediated effect at the intracellular level: it stimulates mitochondrial benzodiazepine receptors, thereby enhancing the synthesis of neurosteroids. According to preliminary data, these effects stipulate an improvement in concentration and memory functions, which increases the ability to learn.
Another property of Stresam that has been recently discovered is neuroprotection. Stresam was shown to promote neuron growth; in particular, it accelerates axonal regeneration and might serve as a treatment for polyneuropathy.
Stresam was also proven to have the ability to alleviate mild depressions which are widespread nowadays.
Stresam has an indirect effect on the course of cardiovascular, pulmonary, gastroenterological, and other diseases of psychosomatic nature.
The facts mentioned above make this drug a decent alternative to other anxiolytics currently used in everyday medical practice in the treatment of anxiety disorders of various origins. The drug is approved in more than 40 countries.
Does Stresam (Etifoxine) cause weight gain?
Since many anxiolytics cause weight gain, we are often asked if it is the same with the Stresam. Good news! No, you won't gain weight using etifoxine. A recent study on mice even shows that etifoxine may reverse weight gain (see Ibrahim et al. (2020))!
Is Stresam an antidepressant?
Strictly speaking, it is not an antidepressant. Stresam is what usually called anxiolytic. It produces milder effects compared to conventional antidepressants. This is also a reason why you can buy Stresam (Etifoxine) prescription-free.
Produced by Biocodex, France.
---
Legal Disclaimer
This product has not been approved by the US FDA. All statements on this page are for informational purposes only and have not been evaluated by the US FDA.
This product is not intended to diagnose, treat, cure, or prevent any disease. See more
In general, it can be argued that the etifoxine anxiolytic Stresam is effective in treating a very wide range of anxiety-neurotic disorders and psychosomatic pathologies, sleep disorders, vegetative-vascular dystonia, etc. The drug does not adversely affect psychomotor and cognitive functions and muscle tone; it does not cause dependence, tolerance and does not have a withdrawal syndrome.
Dosage and administration
Very few side effects in Stresam administration provide possibilities for dose variations in accordance with the therapeutic necessity (taken existing recommendations, patients' peculiarities, and the specifics of symptoms). The usual dose is 1-2 capsules 2-3 times a day from 1 week to 2 months. For the full information on the administration, please refer to the official description.
Contraindications
Liver and kidney diseases; pregnancy, lactation; child age.
Side effects
Stresam is devoid of a significant amount of side effects of its precursors (benzodiazepines). Rare side effects include dizziness, insomnia, and the development of skin allergic reactions.
Overdose
Overdose is noted only in doses many times higher than the recommended ones and is limited to the effects of hypotension, eliminated by the appropriate treatment.
Analogs
Stresam does not have structural analogs. Sedatives with a similar mechanism of action are:
Xanax;
Ativan;
Valium;
Atarax, etc.
Manufacturer
Biocodex, France.
Related products
Mexidol® is a unique development of the Russian pharmaceutical industry. It's an inhibitor of free-radical processes and membrane protector with antihypoxic, stress-protective, nootropic, anticonvulsant and anxiolytic action. Mexidol increases the resistance of the body to various damaging factors: stress, hypoxia, ischemia, cerebral circulation disorders, and intoxication. Fast US domestic shipping is available.
Aralia is a well-known gentle adaptogenic tonic herb popular for its wide range of pharmacological properties. Aralia tincture contains a variety of beneficial oils and acids, as well as vitamins B1, B2. It is used to treat physical and mental fatigue, asthenic syndrome, arterial hypotension, decreased sex drive, depression, enuresis, radiation sickness and metabolic disorders. Aralia can also help to recover from craniocerebral injury, contusion, meningitis, post-infectious arachnoiditis and ARVI (in the complex therapy).
Aminalon® is a substance with nootropic and psychostimulatory qualities. The active component of Aminalon is Gamma-Aminobutyric acid (GABA). The main property of GABA is that it regulates blood flow in the brain, improves memory, speech, and coordination. Patients suffering from diabetes also notice lowered blood sugar after Aminalon administration.