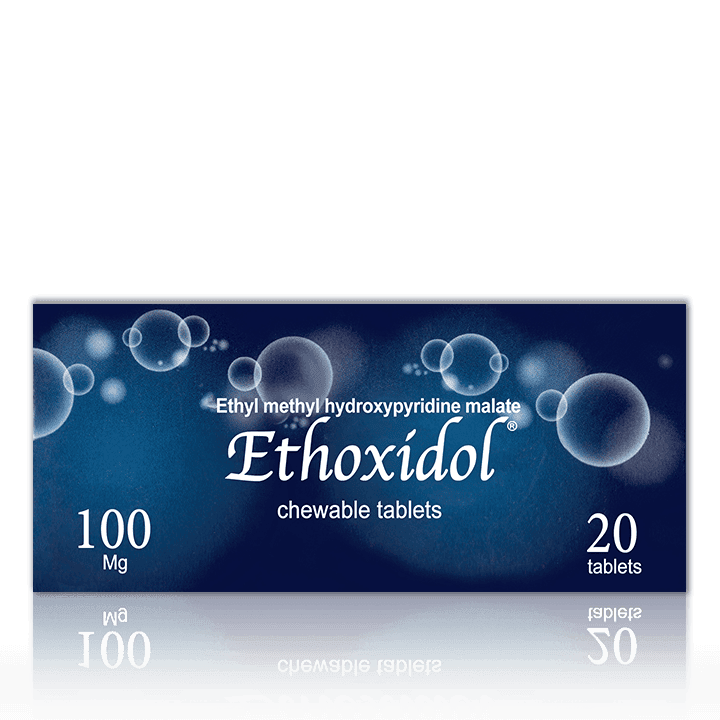 ETHOXIDOL ® (Ethylmethyl-Hydroxypyridine Malate)
Buy Ethoxidol at the best price! Also, check out this review of the Ethoxidol on Reddit! 
Ethoxidol is a combination drug that inhibits free radical processes and has antioxidant, membrane-protective, anti-hypoxic, nootropic, anticonvulsant, anxiolytic, and stress-protective effects. It contains ethyl methyl hydroxypyridine malate, which is a compound that is very closely related to another drug Mexidol. Ethoxidol was shown to be more effective than Mexidol in cardiac antiarrhythmic effects, while other effects were very similar.
Apart from that, it should be noted that Ethoxidol contains other active ingredients such as dimethylethanolamine (DMAE), N-Acetyl-DL-glutamic acid, and glycine.
Buy Ethoxidol for usage in anti-ischemic therapy as it stimulates blood flow in the penumbra. It also reduces total cholesterol and low-density lipoproteins.
The drug increases resistance towards various damaging factors, as well as pathological conditions such as shock, hypoxia, ischemia, cerebrovascular accidents, and intoxication with alcohol and antipsychotics (neuroleptics).
Ethoxidol improves brain metabolism, brain blood supply, microcirculation, and blood's rheological properties and reduces platelet aggregation. It stabilizes membrane structures of erythrocytes and platelets that are involved in hemolysis.
Indications
As part of complex therapy of coronary heart disease;
As part of complex therapy of ischemic stroke;
Encephalopathy;
Mild to moderate cognitive impairment.
Produced by Valenta Pharm, Russia / Sintez Pharmaceuticals, Russia.
Contents
1 pack contains 20 chewable tablets with 100 mg of the active ingredient. The pills have an orange flavor. In 1 tablet:
Active ingredients: ethylmethylhydroxypyridine malate 100 mg, N-Acetyl-DL-glutamic acid 68 mg, dimethylethanolamine 32 mg, and glycine 20 mg;
Inactive ingredients: microcrystalline cellulose 206.1 mg, povidone 1.6 mg, lactose monohydrate 36 mg, pregelatinized starch 30 mg, fumed silica 9.5 mg, magnesium stearate 6 mg, croscarmellose sodium 12.8 mg, sodium cyclamate 18 mg, and orange flavoring 6 mg.
Pharmacodynamic properties
Ethoxidol's effect is driven by its antioxidant, anti-hypoxic, and membrane-protective properties. It inhibits lipid peroxidation, increases the lipid-protein ratio, stabilizes the membrane fluidity, and stimulates the membrane-bound enzymes and receptors.
Pharmacokinetic properties
After ingestion, the drug is absorbed from the gastrointestinal tract and gets distributed to the organs and tissues of the body. It stays in the blood plasma for 7–10 hours. Then Ethoxidol is extensively metabolized in the liver.
Dosage and administration
Oral administration, chewable tablets.
As part of complex therapy of coronary heart disease, the recommended dosage is 1 tablet (100 mg) 3 times a day. The dosage can be gradually increased to obtain the therapeutic effect. The maximum single dose is 200 mg, the maximum daily dose is 800 mg. The minimum recommended treatment course is 2 months. The course can be repeated upon a doctor's prescription. Individual duration of treatment course and dosage are to be prescribed by the doctor.
As part of complex therapy of mild or moderate cognitive impairment, the recommended dosage is 1 tablet (100 mg) 3-4 times a day with no limit to the duration of treatment.
Contraindications
Hypersensitivity to the components of the drug, lactose intolerance, lactose deficiency, glucose-galactose malabsorption, acute kidney injury, acute liver failure, children under 18 years of age, pregnancy and lactation.
Side effects
Ethoxidol is generally well tolerated. In rare cases, it can cause allergic reactions, dyspeptic disorders, nausea, and dry mouth or diarrhea. The symptoms disappear on their own or upon the withdrawal of the drug. Prolonged drug administration can cause flatulence and sleep disorders.
Overdose
Overdose is unlikely due to the low toxicity of Ethoxidol. If occurred, overdose can cause sleep disorders that are to be treated symptomatically.
Drug interaction
Ethoxidol enhances the effect of anticonvulsant drugs (carbamazepine), antiparkinson medication (levodopa) and benzodiazepine anxiolytics. It also reduces the toxic effects of ethanol.
Storage conditions
Store in a dark place at a temperature not higher than 25°C (77°F). Keep out of the reach of children.
Shelf life is 3 years.
Manufacturer
Valenta Pharm, Russia / Sintez Pharmaceuticals, Russia.
Related products
Pantocalcin® is a nootropic drug that is used in the treatment of various neurotic disorders and psychoemotional stress. The active ingredient is Hopantenic acid which has neuroprotective, neurometabolic and neurotrophic properties. Pantocalcin if often prescribed in combination with other drugs as a part of complex therapy for the normalization of the brain function including ADHD in children.
Intellan® is a powerful brain tonic which contains a natural blend of vital amino acids, trace elements, alkaloids and glycosides. Being natural neurostimulants, the active substances that make up the drug activate neurons, enhance metabolic processes in the brain and improve blood circulation in the vessels. Try Intellan if you want to improve memory, treat mild mood depression, and dizziness.