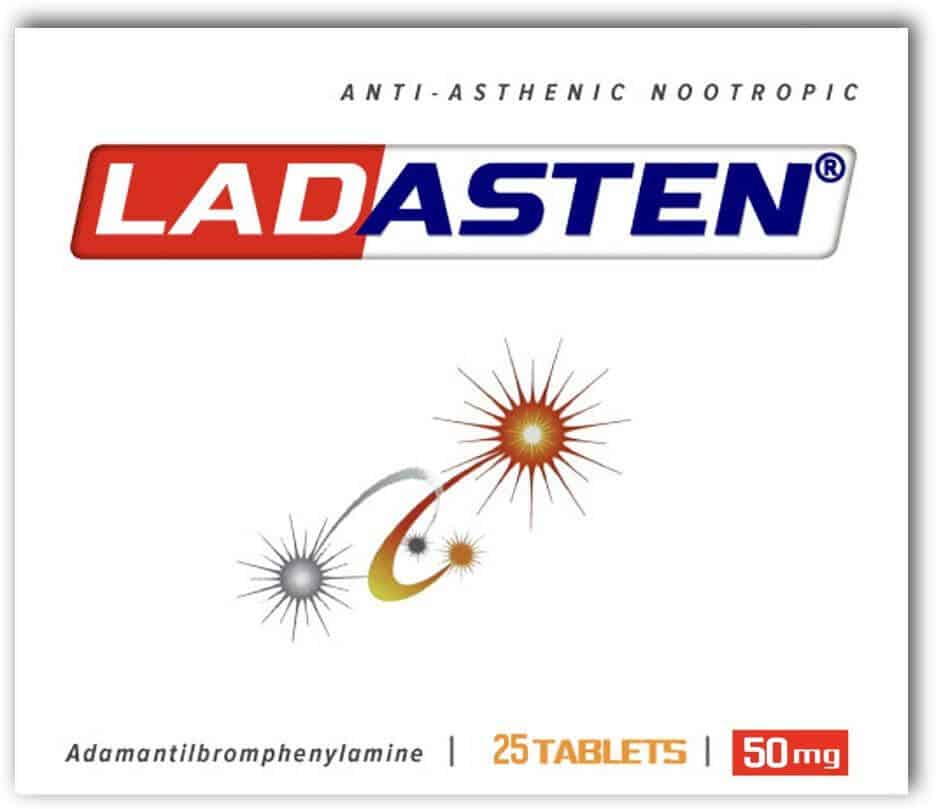 LADASTEN ® (Bromantane)
AUTHENTIC PRODUCTS
Only original pharmaceutical products that passed 3 stages of clinical trials.
GMP QUALITY
Our products are produced on GMP or state licensed factories.
10% CRYPTO DISCOUNT
10% discount for paying in BTC or other cryptocurrency.
PAYMENT BY CARD
Convenient Payment by Visa or MasterCard.
GUARANTEED DELIVERY
Guaranteed delivery times and clear Reshipment & Refund Rules.
PROMPT SHIPPING
Different shipping methods and same or next day shipping.
Availability: Not Available
Bromantane has been discontinued and will not be available in the nearest future. We have contacted the manufacturer Pharmstandard – one of the largest pharmaceutical companies in Russia – and they told us that the drug has been discontinued because its registration has expired. We are not sure if it is an actual reason since Ladasten was not a popular product compared to Noopept and other drugs of this company. The representative of Pharmstandard also said that they might start to produce Ladasten again in the new factory and with a new registration but this is a long process and, so it is not yet clear if they will do it.
In the meantime, we can offer you some other interesting products that might be somehow similar to Ladasten: Bemitil, Actovegin, and Mildronate.
Developed in the 1970s in the Research Institute of Pharmacology (Russia), Bromantane was the first pharmaceutical of its kind that could exhibit simultaneously both mild psychostimulating and anxiolytic effects.
Bromantane is very different from typical psychostimulants in that it does not work on any particular receptor in the brain but acts on the expression of 1116 genes, all of which affect the central nervous system. Its unique mild psychostimulating effect can be attributed particularly to an increase in the expression of tyrosine hydroxylase – the key ferment responsible for dopamine synthesis. In other words, bromantane indirectly stimulates the expression of dopamine, unlike typical stimulants, which simply release dopamine already stored in the synaptic cleft. As a result, Ladasten has a weaker stimulating effect and does not cause dopamine depletion.
Bromantane was also found to have an anxiolytic effect that was attributed to a decrease in the expression of the GABA-transporter gene. This results in an increase in GABA in the synaptic cleft, which explains its anxiolytic properties. This compound was extensively studied in Russia and was found to be very safe.
Bromantane was used by seven Russian athletes, including two medalists, during the 1996 Atlanta Olympic Games, following which the compound was added to the banned list as a stimulant and a masking agent.
Ladasten can be used by those who have the following symptoms:
Asthenic disorders of different types, e.g. somatic symptoms disorders and after-effects of infections
Neurasthenia (exhaustion of the central nervous system's energy reserves).
One pack of Ladasten contains 25 or 50 pills, each with 50 mg of the active ingredient; one pack is sufficient for approximately 5–10 days of administration.
Produced by Pharmstandard, Russia.
Dosage and administration
Ladasten should be taken following meals. The normal daily dose is 100–200 mg: 50–100 mg twice daily (morning and afternoon). The duration of a course of treatment is 2–4 weeks. The drug should not be taken after 4 PM.
Side effects
Allergic reactions, insomnia, and overstimulation. If side effects occur it is usually sufficient to decrease the dosage.
Overdose
A significant overdose can cause a sedative effect.
Manufacturer
Pharmstandard, Russia.